Expanding Our Capacity to Serve
It was a joy this month to provide some good news about the resources in place to support Central Virginia healthcare today and in the future. Our annual endowment report, which outlines the performance of more than 1,700 endowed scholarships, professorships, research and program funds, showed encouraging growth and more scholarships available for aspiring physicians, nurses, dentists, pharmacists, therapists and others.
The MCV Foundation is as strong as ever thanks to donors who are driven to make an impact on the future of healthcare delivery, research and education here and around the world. Below, you'll find some of the numbers, and several stories about the generous, inspiring people who make the funds so impactful. If you're interested in reading the full report or seeing other financial information, visit our financial page.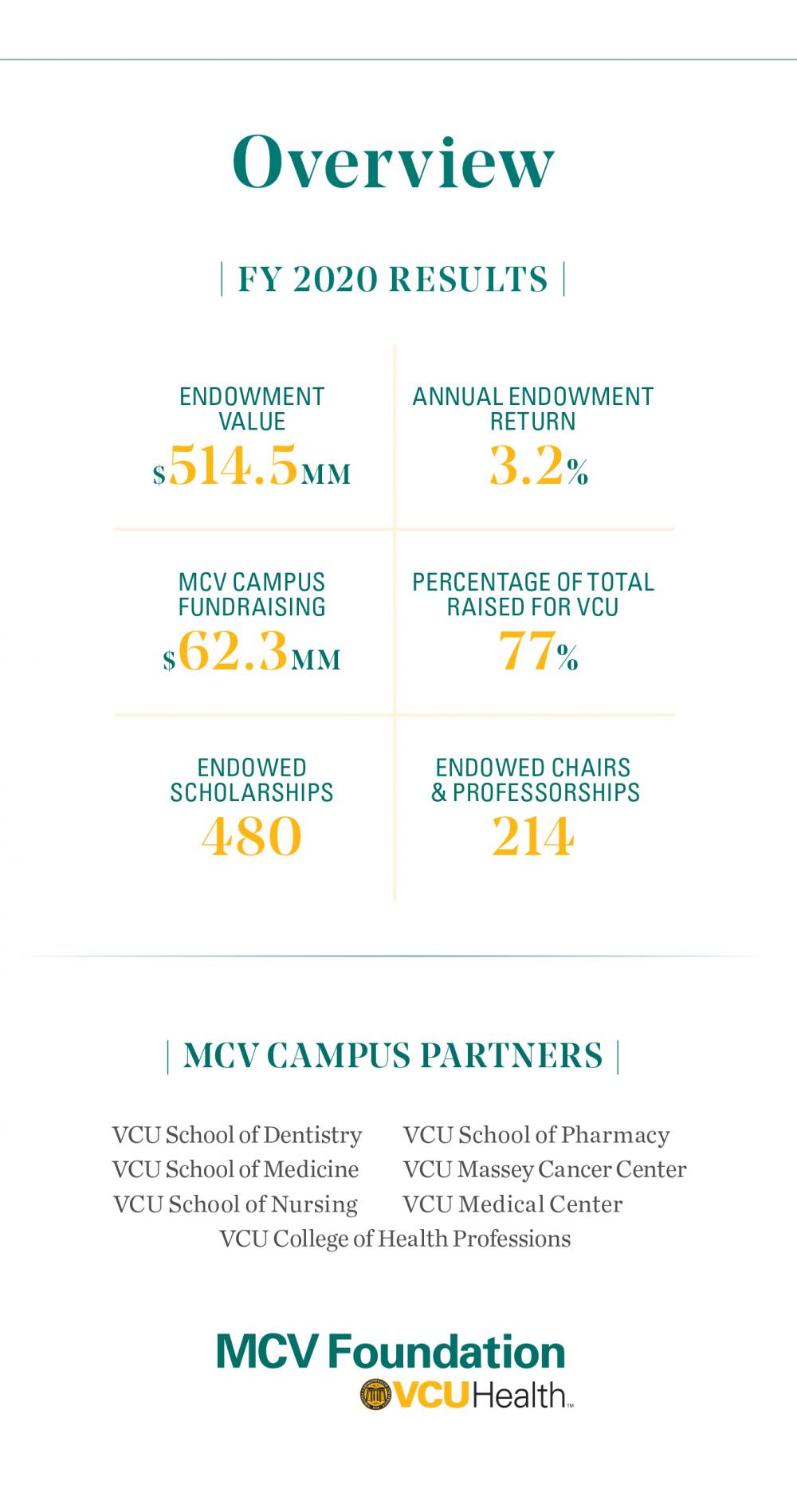 ---
A Scholarship to Remember 'How Much She Gave to the World'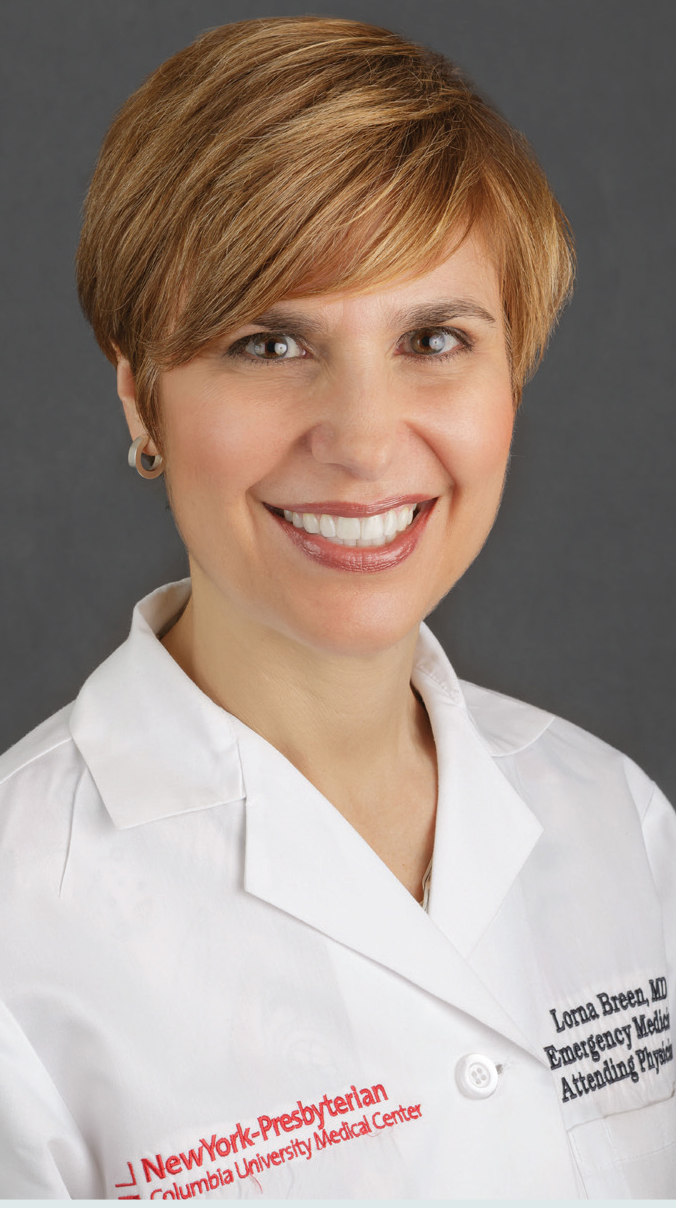 One of the most heartbreaking stories to come from the COVID-19 pandemic is that of Lorna M. Breen, M.D., a 1999 VCU School of Medicine alumna and emergency department medical director who worked in New York City, the pandemic's early U.S. epicenter.
In April, news outlets including The New York Times and NBC's "Today" reported that after Dr. Breen began treating COVID-19 patients in March, she contracted the virus, recovered, returned to working 12-hour shifts, then took time off to concentrate on her own mental health. She died April 26.
"She had such a beautiful soul," Dr. Breen's sister Jennifer Feist told "Today." "She was brilliant, she cared so much about her friends, her colleagues, her patients, her family. I just would want people to know how much she gave to the world in her time here."
Following Dr. Breen's death, many of her medical school classmates remembered very well the lessons in positivity, optimism and hard work that Dr. Breen left with them, and they decided a scholarship in her name would help her legacy live on.
---
Compassionate Neonatal Care Inspires Nursing Scholarship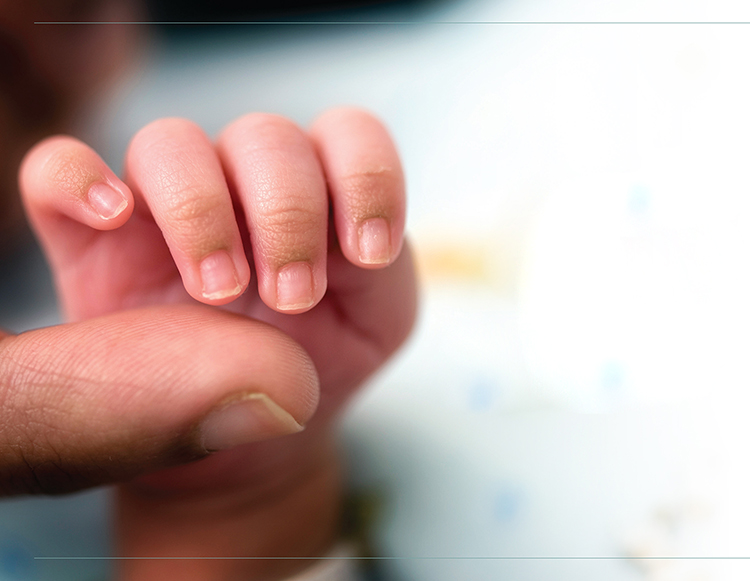 One small moment had a huge impact on Judi Starkey. While touring the MCV Campus, she had the chance to observe VCU Health nurses caring for newborn babies. She remembered being impressed that each nurse kept watch over only two newborns, staying with their patients for extended periods of time.
After her initial visit, Judi returned to the same unit later in the afternoon and was amazed as she watched that same nurse from earlier talking to and comforting each infant as she monitored their care.
"It was the caring and the kindness I saw — that was when I knew I needed to do something," Judi recalled.  "I wanted to do something to promote this kind of caring and this kind of nursing. Not only did they provide excellent medical care, but I could sense this nurse also truly cared about these babies."
Judi established the Judith Forehand Starkey Endowed Nursing Scholarship to support students at the VCU School of Nursing. In setting up the fund, she was very familiar with the MCV Foundation. She currently serves as a trustee and helped launch the foundation's popular Discovery Series in Williamsburg and Richmond to highlight VCU Health's excellence in care and research.
---
Power Over Parkinson's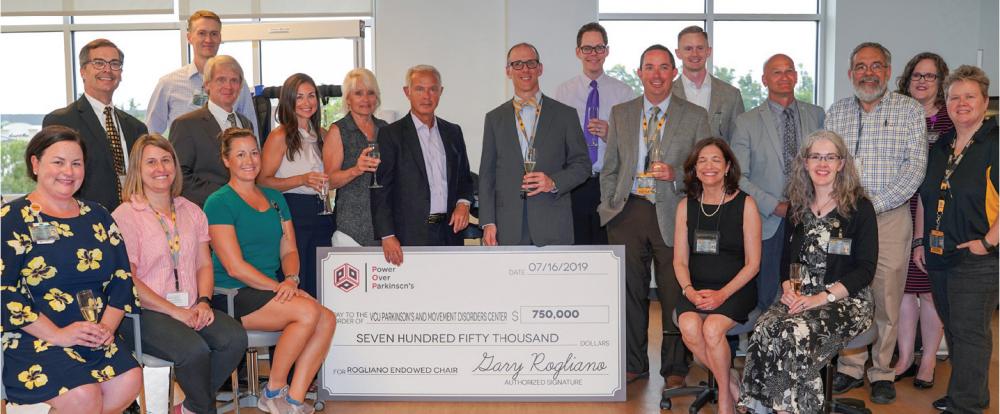 Gary Rogliano's nonstop lifestyle was upended in May 2018 when doctors confirmed something his wife Angela had feared for months. Gary had Parkinson's disease. "I had no idea what to do, and I had no idea what Parkinson's was," he said.
Gary's daughter Margaret Preston found the help their family was looking for in the Parkinson's and Movement Disorders Center at the VCU Health N.O.W. Center, where Gary began physical therapy, occupational therapy, speech therapy and sleep therapy.
Staying active is critically important for people with Parkinson's, so Margaret also found various options to help Gary keep moving, such as boxing, taekwondo and yoga. Seeing a need for a central organization that can connect Parkinson's patients with activities, educational resources and financial assistance, the Rogliano family launched Power Over Parkinson's (POP), a 501(c)(3) nonprofit organization, to serve Central Virginia.
Part of POP's mission is to get Parkinson's patients moving, so one of its biggest initiatives has been its partnership with VCU Health. In July 2019, the Rogliano family and POP committed $750,000 to help develop a Parkinson's and Movement Disorders Exercise and Wellness Program.
---
Encouraging Future Generations of Dentists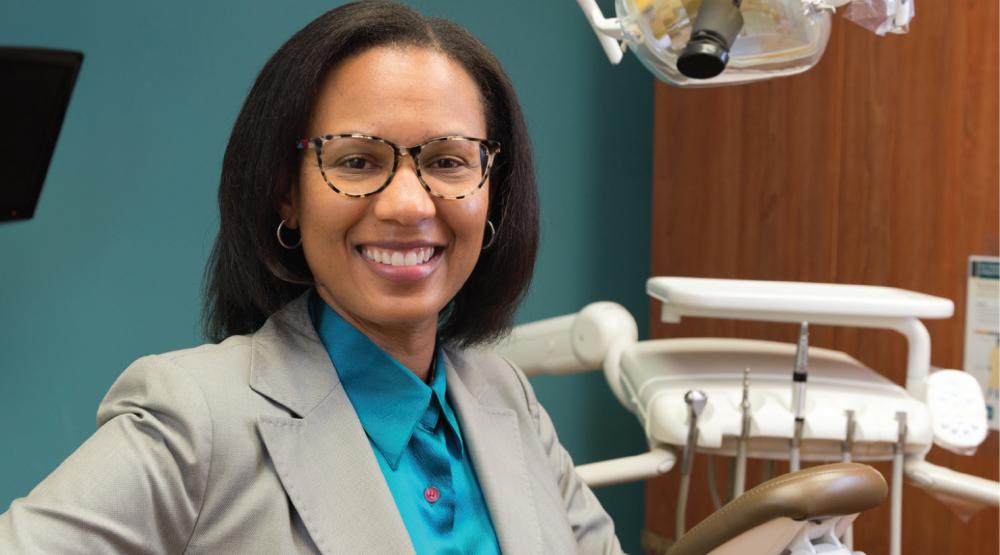 Childhood trips to the dentist are among some of the most vivid memories for Tamesha Morris, D.D.S. She recalls being unafraid and finding the visits comfortable — two things she strives for now in her own practice.
Dr. Morris knew she wanted to become a dentist by the 10th grade after researching possible careers.  She enjoyed helping people, and she also liked working physically with her hands and had honed sharp spatial perception skills through years of painting and sewing. "It just seemed natural for me," Dr. Morris said, "I knew that's what I wanted to be."
During dental school, she recalls a real sense of camaraderie among the classmates she keeps in touch with and the rigorous but excellent education she received in labs and clinics. "We were pushed, and it was greatly appreciated," she said. "It was hard, but I learned a lot."
Recently, Dr. Morris established the Dr. Tamesha Morris Scholarship Fund at the VCU School of Dentistry to help ensure future generations of dentists receive the support she did as a student. Her scholarship is something she hopes will offer encouragement for students to keep going and succeed. She also hopes to be a mentor to those entering the field to help share what she's learned along the way.
---
Giving a Boost to Massey's Immuno-Oncology Program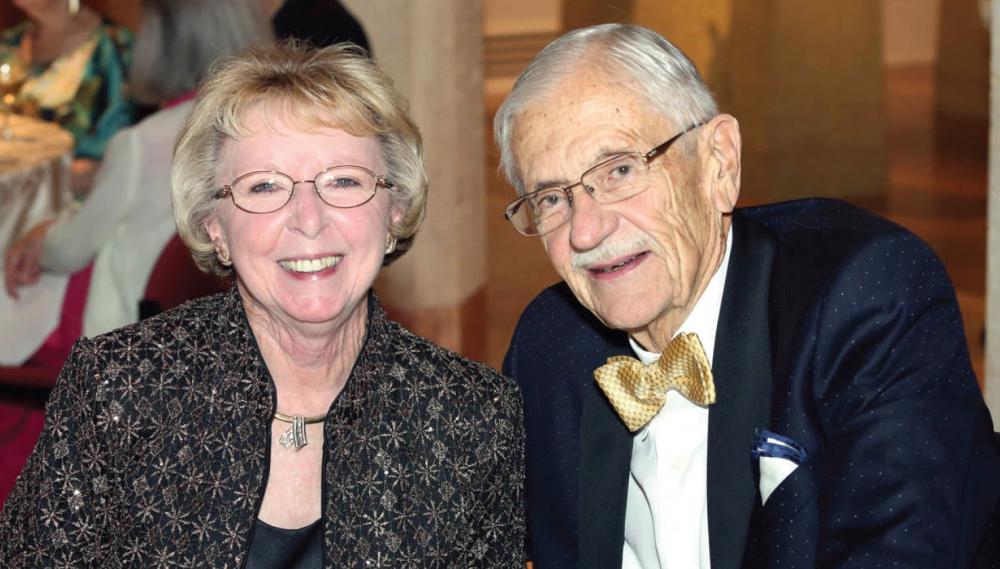 Advances in cancer research generate excitement around the promise of immunotherapy as a treatment option. Using this innovative approach, doctors are able to strengthen or train a patient's immune system to use the body's natural defense to target cancer cells.
Both Judy and Harry Wason have experienced the heartache that comes when close family members receive a cancer diagnosis. The couple came to know about VCU Massey Cancer Center through their friend Becky Massey, a longtime supporter and volunteer leader for Massey. Becky invited them to attend the foundation's Discovery Series in Williamsburg, and the rest was history.
"We've been hooked ever since," Harry said.
On a tour of the cancer center, they were particularly impressed by the vision of leaders to grow Massey's strength in immuno-oncology, and thanks to Judy and Harry's generosity, Massey's immunotherapy program received a booster shot. 
The Wasons were able to double the impact of their donation through a 1:1 gift match from the Glasgow Fund. Their goal was to create an endowed professorship on the MCV Campus, and they were inspired to fully fund it when a need arose.
If you are interested in learning about or contributing to an existing endowed fund, or if you're interested in establishing your own, please contact Brian Thomas, the MCV Foundation's vice president and chief development officer, at 804-828-0067 or brian.thomas@vcuhealth.org.
To read the full 2020 Endowment Report, click the link below.