2022 Annual Awards Ceremony
Tenacious medical pioneers, lifelong health care advocates committed to patient care and professionals who embody the heart and soul of their respective fields – the MCV Campus of VCU Health is home to a diverse spectrum of transformative leadership.  
This year on June 6, the MCV Foundation recognized some of the individuals who personify that spirit at its annual awards dinner.
The lush flora and dazzling fauna of Lewis Ginter Botanical Garden served as the backdrop for an evening filled with gratitude and inspiration as the foundation announced its four annual awards and named three individuals as lifetime honorary trustees. 
Lifetime Honorary Trustees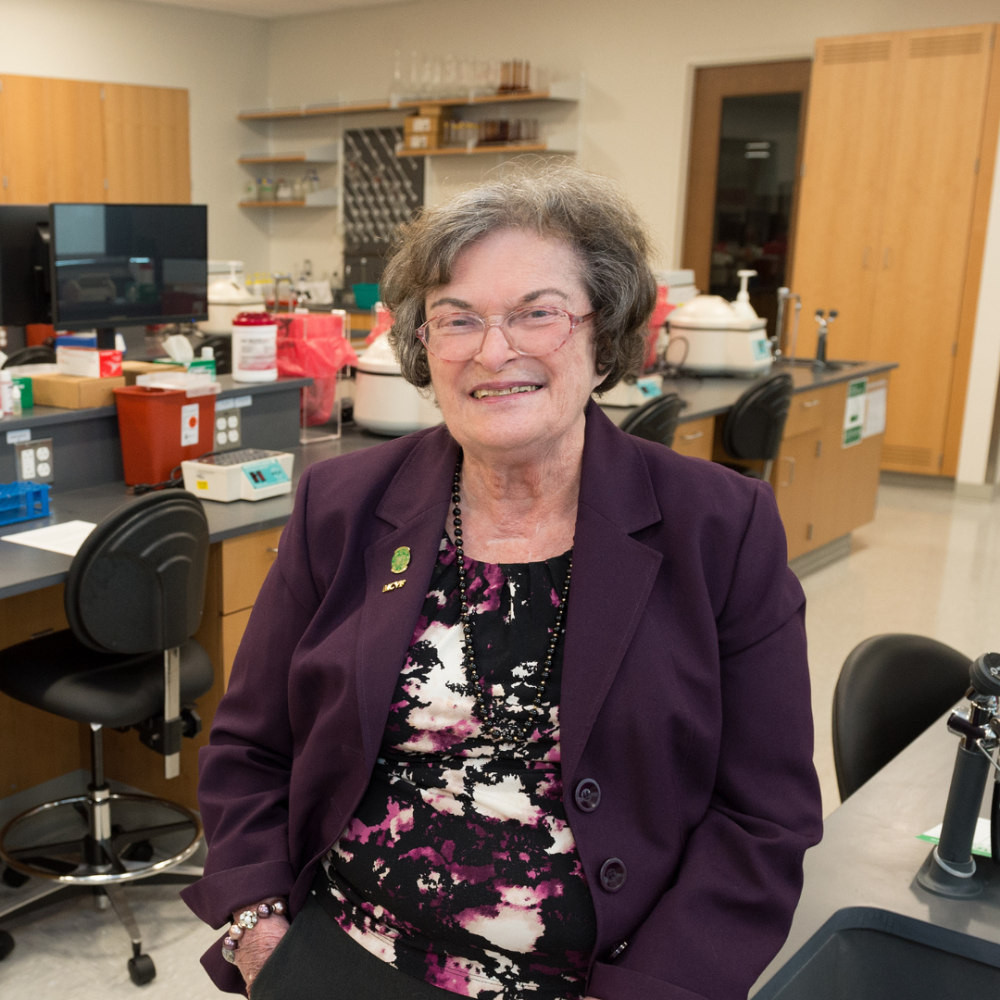 Rebecca Purdue, who served on the MCV Foundation Board of Trustees for more than a decade, has been a tireless advocate for the MCV Campus and the medical laboratory science profession for nearly 60 years. She's led hospital laboratories and served on several elected industry positions at both the state and national levels. She served on the MCV Foundation Board of Trustees for 12 years with service on four committees or task forces.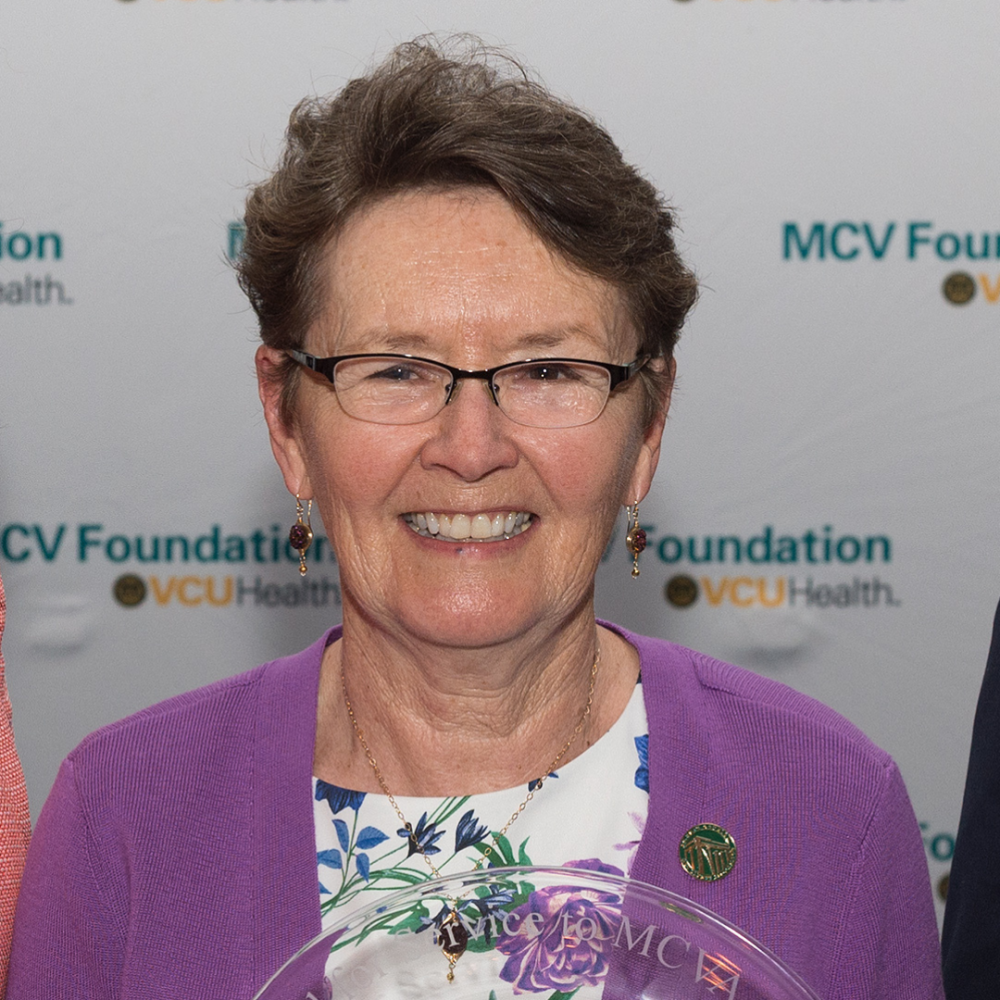 Barbara Dunn, Ph.D., served on the MCV Foundation Board of Trustees for 6 years. She nearly single-handedly took the lead on the transition from two independent nonprofit organizations – the MCVAA and the VCUA – to a unified Alumni Council. Her tenacity and thoughtful consideration among all stakeholders cleared the way for a successful synergy. Dunn also worked closely with the MCV Foundation to develop gift agreements and secure assets that honor the legacies of MCV alumni.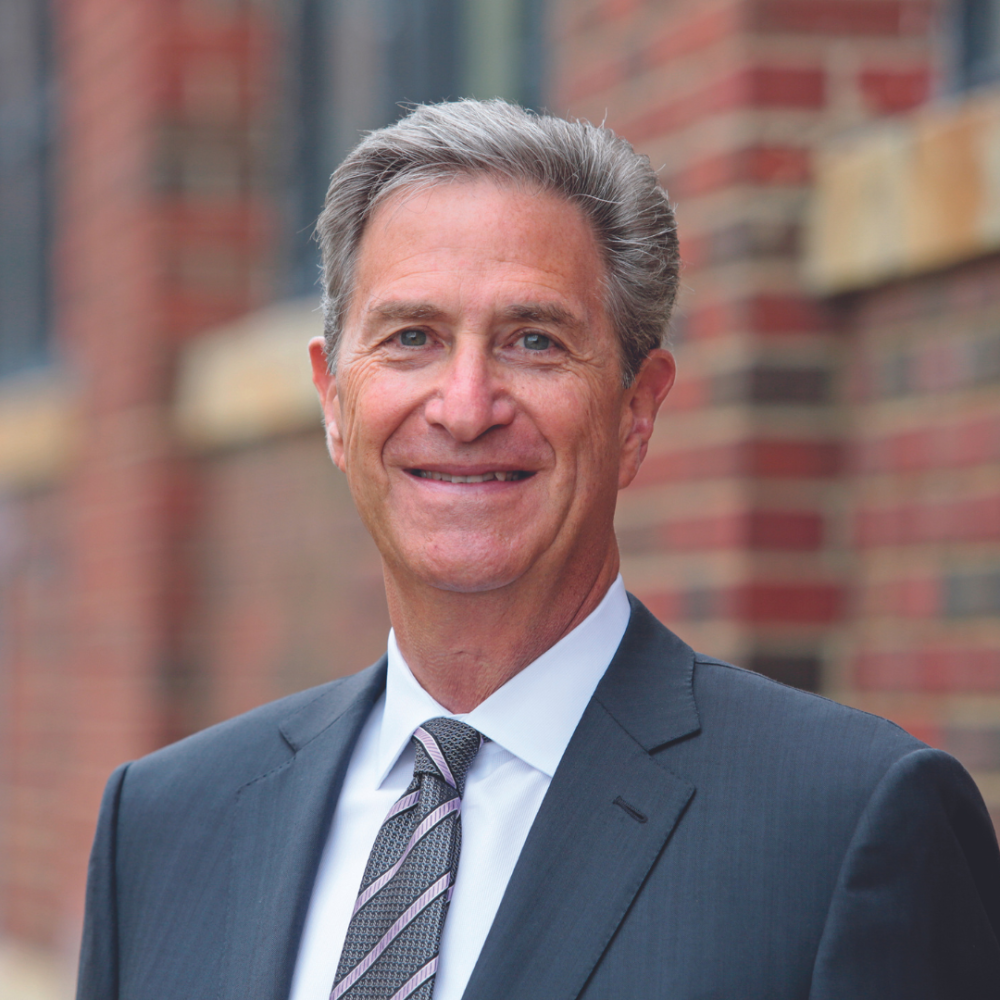 Harry Thalhimer's involvement at VCU spans more than 30 years, including work on the MCV Campus, the School of Business, the Institute for Contemporary Art, VCU's Fashion Department, VCU Athletics and the Brandcenter. He served on the MCV Foundation Board of Trustees for 12 years, and as board chair from 2016 to 2019. In his time as chair, he oversaw significant expansion and improvement in the foundation's communications, finance and development offices.
Awards and Special Recognition
W. Robert Irby, M.D., Award
Recipient: Joseph T. DiPiro, Pharm. D.
A legacy of caring and strategic success follows Dr. DiPiro, who retired this spring after eight years as dean of the VCU School of Pharmacy. On top of overseeing the School of Pharmacy's trajectory into a top-20 national ranking, Dr. DiPiro and his wife established a pharmacy scholarship that has thus far impacted the lives of six students. Endowments to the School of Pharmacy doubled under Dr. DiPiro's leadership, philanthropic gifts quadrupled, and the number of annual donors increased by 40%. The percentage of underrepresented minority students in Pharm. D. classes doubled during his tenure – leading to the School of Pharmacy twice being named VCU's top division for diversity and inclusive culture.
Dr. DiPiro guided the launching of the nation's first Ph.D. program in pharmaceutical engineering, in partnership with VCU College of Engineering. Adding to that bevy of accomplishments, the School of Pharmacy exceeded its ambitious $12 million Make it Real fundraising campaign goal.
Dr. DiPiro plans to continue teaching and will serve as associate vice president of faculty affairs.
Dr. DiPiro is a past president of the American Association of Colleges of Pharmacy and past chair of the Council of Deans. He has served as president of the American College of Clinical Pharmacy, where he's also a Fellow and has served on the Research Institute Board of Trustees. He has been a member of the American Society of Health-System Pharmacists, having served on the Commission on Therapeutics and the Task Force on Science. Dr. DiPiro was elected a Fellow in the American Association for the Advancement of Science.
A published author of more than 250 journal papers, books, book chapters and editorials, Dr. DiPiro earned his B.S. in pharmacy (Honors College) from the University of Connecticut and his Doctor of Pharmacy from the University of Kentucky. He completed a residency at the University of Kentucky Medical Center and a fellowship in Clinical Immunology at Johns Hopkins University. Prior to joining the VCU School of Pharmacy, he spent more than two decades on the faculty of the University of Georgia College of Pharmacy before serving as executive dean at the South Carolina College of Pharmacy.
Established in memory of Robert Irby, M.D., an MCV rheumatologist who was devoted to securing financial support for campus, this award is presented to a faculty member who has assisted with major fundraising efforts.
Michael B. Dowdy Award
Recipient: Florence Neal Cooper Smith
A piqued childhood curiosity about a then little-known disease led to Smith's tireless efforts over more than 50 years to raise awareness of Sickle Cell Disease.
She's widely regarded as the "Mother of Sickle Cell Disease" in Virginia.
Smith was instrumental in lobbying Congress to pass the National Sickle Cell Anemia Control Act in 1972, which authorized funding for project grants and contracts for research around diagnosis, treatment and control of Sickle Cell Disease, an inherited blood disorder.
She organized Richmond's first city-wide survey in 1969 to determine the extent of sickle cell awareness regionally. Smith then worked with VCU Health to implement and lead the Virginia Sickle Cell Awareness Program, which provides screening services for newborns at birth and counseling for couples who are at risk of having children with Sickle Cell Disease.
Today, 95% of children screened at birth live to adulthood thanks largely to Smith's efforts.
The Florence Neal Cooper Smith Professorship – one of a few professorships in the country named for an African-American woman – was established in 2014 as a vehicle for securing funding for aggressive, cutting-edge research that could ultimately lead to a cure for Sickle Cell Disease.
Smith is a graduate of Virginia Union University and completed graduate studies in pathology at the MCV Campus of VCU.
Established in honor of Mickey Dowdy, who served as president of the MCV Foundation from 1993 to 2006, this award recognizes a volunteer who has played a lead role fundraising for the MCV Campus at VCU Health.
Dr. Eugene P. Trani Award  
Recipient: Richard P. Wenzel, M.D.
One of the world's foremost experts on infectious diseases, Dr. Wenzel stepped back from retirement into a familiar role during the COVID-19 pandemic. His steadfast presence during countless local, national and international webinars cut through the tumultuous scientific and political landscape at the time to offer relatable information for faculty and laypeople alike.
Dr. Wenzel has been a foundation trustee since 1999. He is the emeritus chair of the VCU School of Medicine's Department of Internal Medicine and former president of MCV Physicians (Practice Plan), as well as former senior associate dean for clinical affairs.
He has trained dozens of fellows and hundreds of visitors.
A former president of the International Society for Infectious Diseases, he has been the editor-at-large for The New England Journal of Medicine since 2001. The National Institutes of Health named him one of the ten "Great Teachers" in Clinical Medicine Service in 2001, and in 2010 he received the Maxwell Finland Award for Scientific Achievement.
Dr. Wenzel is the founding editor of two journals: Infection Control and Hospital Epidemiology as well as Clinical Performance and Quality Health Care.
Dr. Wenzel earned a bachelor's degree in biology from Haverford College, a medical degree from Jefferson Medical College at Thomas Jefferson University and a master's degree in epidemiology from the University of London.
Established in honor of Eugene P. Trani, Ph.D., who served as president of VCU from 1990 to 2009, this award recognizes exceptional dedication and support of the MCV Campus.
Jerome F. Strauss III Award
Recipient: Sheryl Garland
The mission within VCU Health System is access for all and the change agent behind it is Garland, who has worked to improve the health care system for the Richmond community for more than 30 years.
A foundation trustee, Garland is VCU Health System's chief of health impact and executive director of the VCU Office of Health Equity.
Described as the "moral center" of VCU Health System for her commitment to challenging others to be better and do better, Garland excels at collaborating with health care leaders, federal and state governmental entities and practitioners to create actionable strategies that improve health care access. During the COVID-19 pandemic, Garland spearheaded institutional engagement with the Department of Health and community partners to secure and distribute vaccines within VCU Health System clinical areas and affiliated community sites.
Garland served in various leadership roles in Planning and Ambulatory Care Services. Outside of her health system responsibilities, she's been the director of community outreach for the VCU Institute for Women's Health as well as the administrative director of the VCU Center on Health Disparities.
Garland earned a bachelor's degree in biology from Wake Forest University and a master's degree in health administration from VCU. She completed an administrative residency at MCV Hospitals. A former trustee of the Richmond Memorial Health Foundation, she currently serves on the boards of CrossOver Health Ministry and the University Health Services - Professional Education Programs. 
Established in honor of Jerry Strauss, M.D., Ph.D., former dean of the VCU School of Medicine, this award is presented to a VCU administrator, faculty or staff member who has demonstrated extraordinary service and stewardship to MCV Campus alumni, donors or other members of the community to support and advance the mission of the MCV Foundation.
Healthier for All
Support the foundation's continued mission to support the greater Richmond community.