$2.4M Raised to Honor Dr. Ken Ellenbogen, 'A Legend in the Field' of Cardiology
When Rick Burton and his husband Mike Shebelskie first visited VCU Health Pauley Heart Center in 2017, their world finally began to change after a challenging year.
Shebelskie — an attorney, a 5-time marathoner and a skilled cyclist — had been battling a debilitating heart arrhythmia that kept him from activities as simple as walking up a flight of stairs. The couple's visit to Pauley came on the advice of a physician and friend who told them the person who "wrote the book on arrhythmias" was practicing right here in their hometown of Richmond – Kenneth Ellenbogen, M.D.
"From the very first meeting, when we went into the room to talk to him, it was like we were the only patients he had," Burton said. "And ultimately, Dr. Ellenbogen gave Mike his life back."
On the day before Christmas, and the day his first grandchild was born, Dr. Ellenbogen performed an urgent ablation on Shebelskie to restore his normal heart rhythm.
"It was transformative," Burton said. "Within two weeks of the ablation, Mike was back to normal — biking, rowing and heading up a major trial."
'A Legend in the Field'
Dr. Ellenbogen's nearly 40-year career at VCU Health is full of stories just like Burton and Shebelskie's, which is why it was fitting and unsurprising that friends, grateful patients, colleagues and others raised more than $2.4 million over the past year to establish the Kenneth A. Ellenbogen Chair in Cardiology at VCU School of Medicine.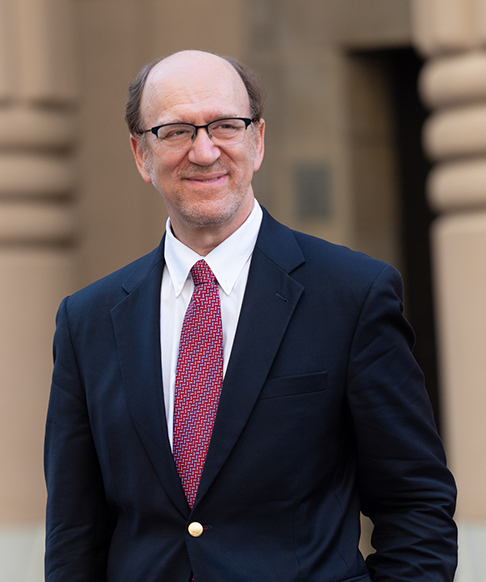 Led by Burton and Pauley Heart Center Advisory Board Chair Roger Boevé, the new endowment will enable Pauley to recruit an associate or full professor-level faculty member with expertise in cardiac arrhythmias.  In addition to the chair, pending approval from the VCU Health System Authority board, part of the gifts will name the Electrophysiology Lab in Gateway Hospital in honor of Dr. Ellenbogen.
The named chair and lab are acknowledgements of the influence and impact Dr. Ellenbogen has made not just in individual lives at VCU Health, but worldwide in the field of cardiac electrophysiology.
Dr. Ellenbogen, who has held the Martha M. and Harold W. Kimmerling Chair of Cardiology since 2018, has served as editor or on the board of nearly all the leading industry journals in his field. He has published more than 250 scientific reports, 140 book chapters and is the editor or co-editor of five textbooks on cardiac electrophysiology. As such, the American College of Cardiology recently described him as a "legend in the field."
"Ken came along at a time in cardiovascular medicine when more the plumbing side of things was being emphasized — pipes that are supplying the heart muscle," said Greg Hundley, M.D., director of the VCU Health Pauley Heart Center and the George W. Vetrovec Chair. "Not a lot of people were focused on the wiring system."
Dr. Ellenbogen is director of cardiac electrophysiology and pacing at VCU Health. His academic, clinical and research efforts include an interest in newer, more effective ways to perform ablation and to develop methods for ablation of atrial fibrillation. He is involved in the development of new types of pacemakers and exploring the role of pacemakers in treating congestive heart failure and atrial fibrillation. In this work, he has a highly successful record of attracting both public and private funding and has served as principal investigator on over 100 funded grants and contracts.
His body of work has led to worldwide recognition among his peers.
"Ken is a giant in the field of electrophysiology and cardiology," said Vig Kasirajan, M.D., the Stuart McGuire Professor and Chair of the Department of Surgery. "When you go anywhere in the world and mention 'Ellenbogen,' people know who he is. And his contributions to this institution are just simply immeasurable. His tireless work against cardiovascular disease must be recognized, so I think this chair is a fitting honor for him."
Thanks to Dr. Ellenbogen's wide-ranging influence, there will be countless families and individuals like Rick and Mike around the world whose lives will benefit from his pioneering work.
In May, when the newly named chair and lab were announced, Burton told Dr. Ellenbogen, "Mike and I will never forget you giving us his life back."
Make a Difference
Support VCU Health and the Pauley Heart Center today.