Arts and Medicine Converge at VCU
When VCU School of Medicine students stepped into the lives and bodies of older patients through virtual reality, some didn't expect it to be a learning experience.  
What many found though, were revelations of empathy and feelings of reduced bias toward a patient population with which they had little in common.
The students were part of a study conducted last fall led by VCUarts assistant professors Jill Ware and John Henry Blatter, and John E. Nestler, M.D., MACP, who is professor of medicine in the Division of Endocrinology, Diabetes and Metabolism at VCU School of Medicine and physician-scientist in residence at VCUarts.
"We used VR to create full-body transfer illusions so that participants could literally walk in someone else's shoes," John Henry Blatter said. "In working with medical students, we looked at whether the embodied VR experience could decrease their bias and increase empathy toward geriatric patients."
Students in the experimental group completed the process by wearing the VR headsets and mimicking the pre-recorded movements and actions of geriatric patients they embodied. The students wore weights on their torsos and limbs to make the experience more realistic. Students in the control group saw the prerecorded movements and actions on a TV, but did not use the headsets or weights.
Based on pre- and post- experience measures of empathy and bias, the research team found there was significant positive change in the experimental group.
"There's nuance to movement, to how you move, to how I move," Jill Ware said. "All of that has information about who a person is. It's fascinating. Some aren't things that you notice face-to-face, but if you're inside of it, you get clues into who that person is and what their life is like."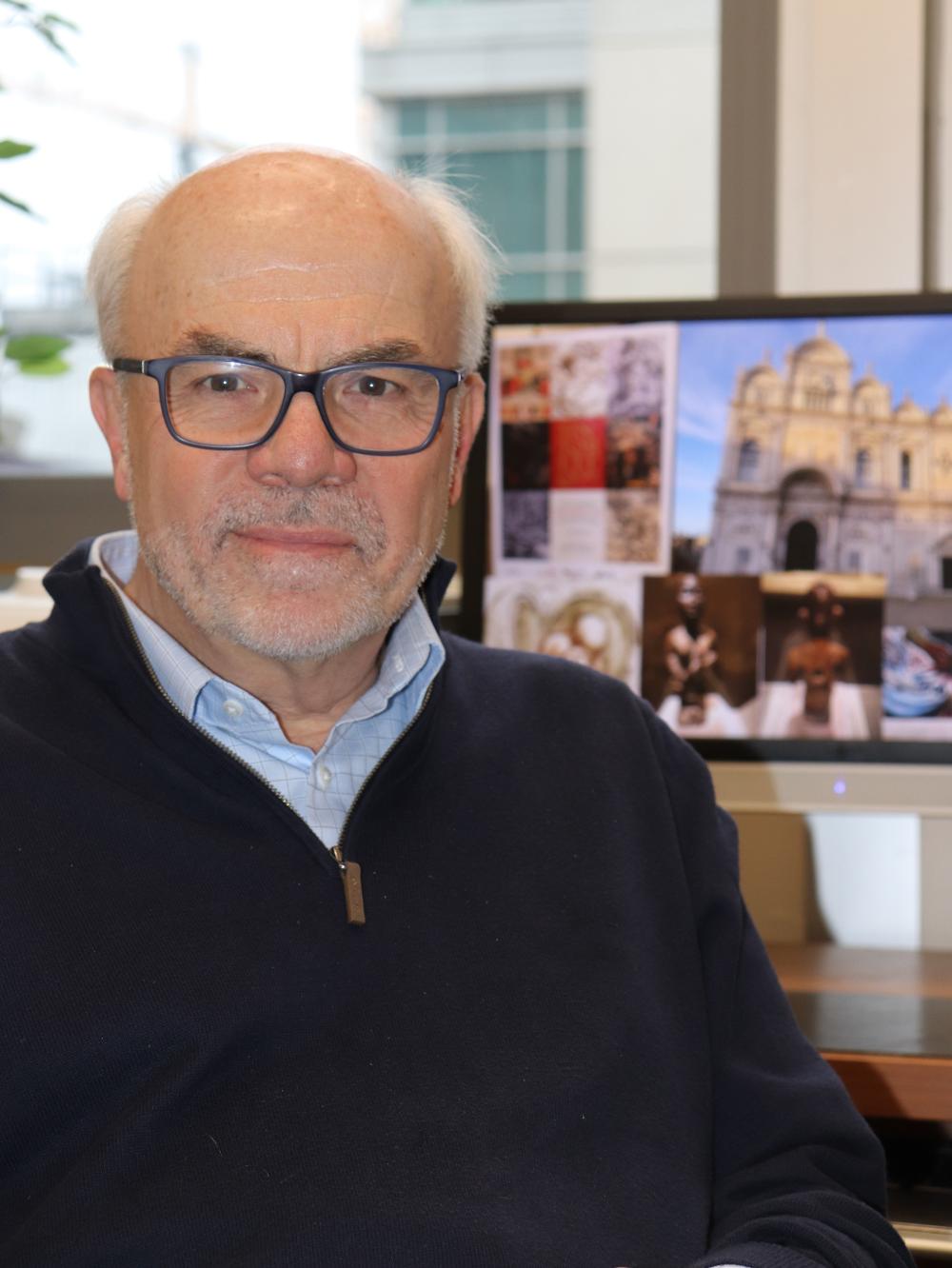 Arts + Medicine
This and other projects are part of an ongoing partnership between VCUarts and the MCV Campus. The partnership helps improve medical education and advance the clinical health and well-being in the community by addressing and solving problems through art and design.
Dr. Nestler, former chair of VCU's Department of Internal Medicine, is the partnership's first physician-scientist in residence, a position he has held since 2018 and one of the first of its kind in an arts program. He brings his in-depth knowledge of medical science, the local medical environment and clinical research to the arts school. His presence has initiated several new projects and accelerated many existing collaborations.
Some of the other projects Dr. Nestler has worked on or helped facilitate with fellow medical and arts faculty include improvisation training for medical students and the use of virtual avatars to help patients self-reflect and manage pain.
The improvisation training to improve communications skills among medical students was part of a recently completed research study spearheaded by Catherine Grossman, M.D., an associate professor in the School of Medicine, and Aaron Anderson, Ph.D., an associate professor and chair at VCUarts.
"When you go to a doctor, studies have shown that a mean time of 11 seconds elapses before the doctor interrupts you," Dr. Nestler said. "Doctors are not good listeners."
The research team divided about 160 students into two groups. Half of the students received 45 minutes of improvisation training from theater faculty. The other half received no training. The students then completed a standardized patient scenario in which they worked with actors who are trained to be patients and to assess students in various categories. There was a highly significant improvement in listening and explaining among the group that had improvisation training.
Dr. Nestler has also taken medical students to art museums to enhance observational skills and critical thinking.
"Usually people look at art for 30 seconds and move on," Dr. Nestler said. "When we take the medical students, we do four pieces of art in two hours. We say, 'Look, tell us what you see and why. Look again, what else do you see?' As they see more things, their comprehension and explanation of the work changes. We'll also show them sculpture and view it from 100 ft. away, 20 ft. away, 10 ft away. We explore how that perspective, that distance, changes their interpretation of the art."
As these projects were taking shape, Dr. Nestler, along with Megan Lemay, M.D., an assistant professor at the School of Medicine, and Sara Wilson McKay, Ph.D., an associate professor and chair at VCUarts, created an elective at the School of Medicine that incorporates the ideas and approaches for finding new perspective. The recent study results have excited Dr. Nestler and his colleagues about the impact the course can make on medical students.
"I thought it would be enriching to bring the humanities back into medical education," Dr. Nestler said. "Art and medicine have always been intertwined in one way of another. Art has been involved in anatomy through painting and sculpture. And getting the information that you need from patients so you can take care of them is communication and observation. All of those skills are art skills and medical skills. If you're a plastic surgeon, for example, you're a sculptor."
Arts + Medicine is an Evolution
Virtual reality is simply an evolution of the sketches and sculpting used to teach anatomy in centuries passed, and Jill and John are finding new ways to use the technology all the time.
They recently created three VR experiences — with a late-stage ALS patient, a mid-stage ALS patient and an early-stage ALS patient — and made them available for families and their caregivers. They plan to complete a study with neurological residents in the spring with Kathleen Pearson, M.D., an assistant professor at the School of Medicine.
Anecdotally, they've heard from caregivers of people who are battling ALS that completing the experiences gave them new helpful perspectives about what their loved ones were going through.
"I think we can all benefit from embodying anyone," Jill said. "Being able to see any other person's perspective — because there's so many ways to go about this world and to live a life — I think is always exciting."
If you are interested in helping advance the ALS project or other research, contact Carrie Bickford, interim director of development at VCU Health, at 804-828-3652 or carrie.bickford@vcuhealth.org.
To continue exploring novel life-changing projects and ideas like these arts and medicine collaborations, researchers across the MCV Campus need support. To learn more about the ways to provide this support, visit our giving page.