Charitable Gift Annuities: Gifts That Pay Back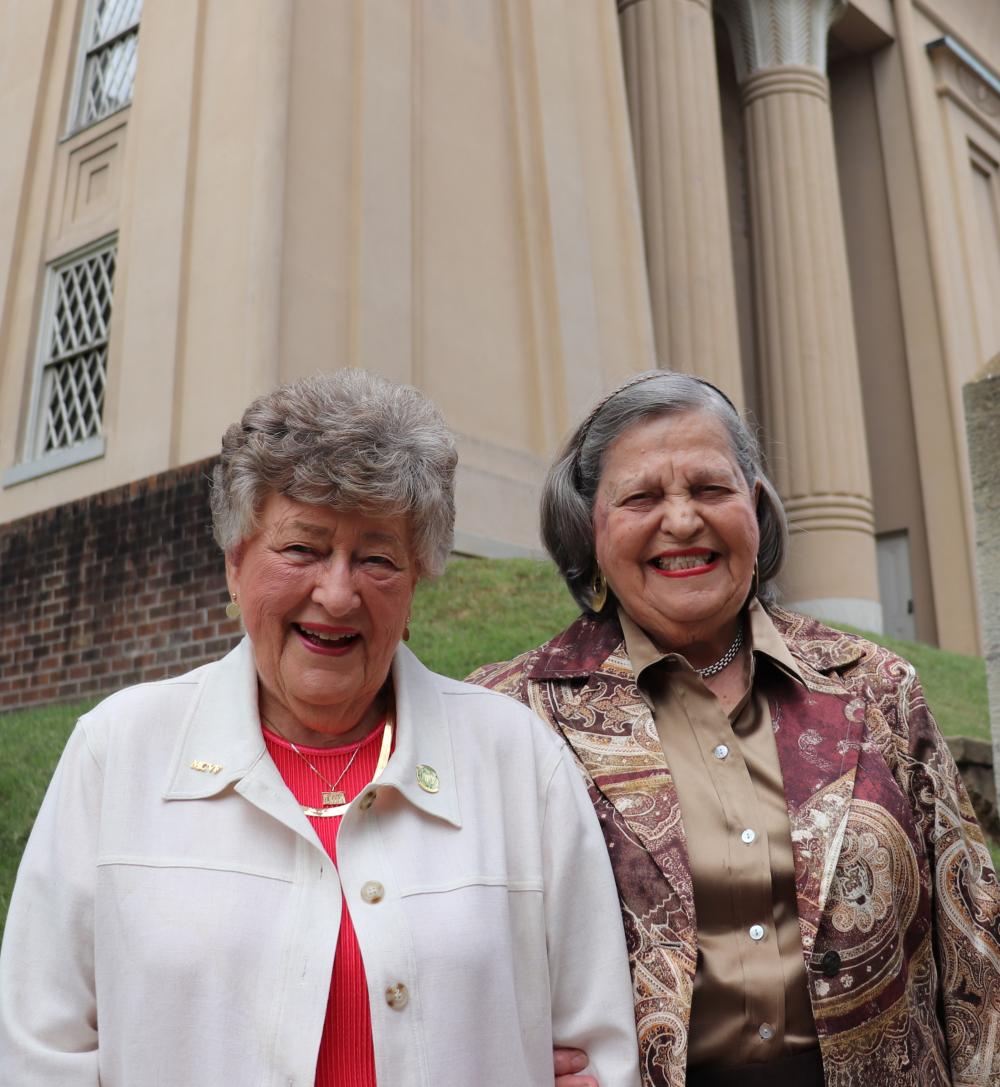 Kathy Bobbitt, Ed.D., and Bertha Rolfe, R.Ph., are long-time friends. "Since forever," they tell us.
Both are MCV Campus graduates — Kathy from the School of Nursing in 1956 and Bertha from the School of Pharmacy in 1947 — both are former faculty members, both are Lifetime Honorary Trustees on our board, and both served our campus through its alumni association.
They also share a particularly creative way of giving to the MCV Campus, which is through charitable gift annuities. While this tool is just one of the many ways Kathy, Bertha and others support the MCV Campus with their time and resources, it's one of the most impactful and mutually beneficial for donors and the university.
A charitable gift annuity is a method of giving in which donors contribute cash or appreciated securities in support of their passion on the MCV Campus, and in return receive lifetime fixed payments for themselves and/or another beneficiary.  
Now is a particularly beneficial time to take advantage of this type of giving arrangement because payment rates have just increased for the first time in six years, and that is exactly why we wanted to promote charitable gift annuities by asking Kathy and Bertha about their impressions and experiences with this method of giving.
What we learned is they're using the tool in two different, yet equally impactful ways.
In the mid-1990s, Kathy and three of her psychiatric nursing colleagues at the School of Nursing were retiring and wanted to create a legacy lectureship fund that would continue educating the school's students in perpetuity. Each contributed in their own way, and Kathy chose a charitable gift annuity.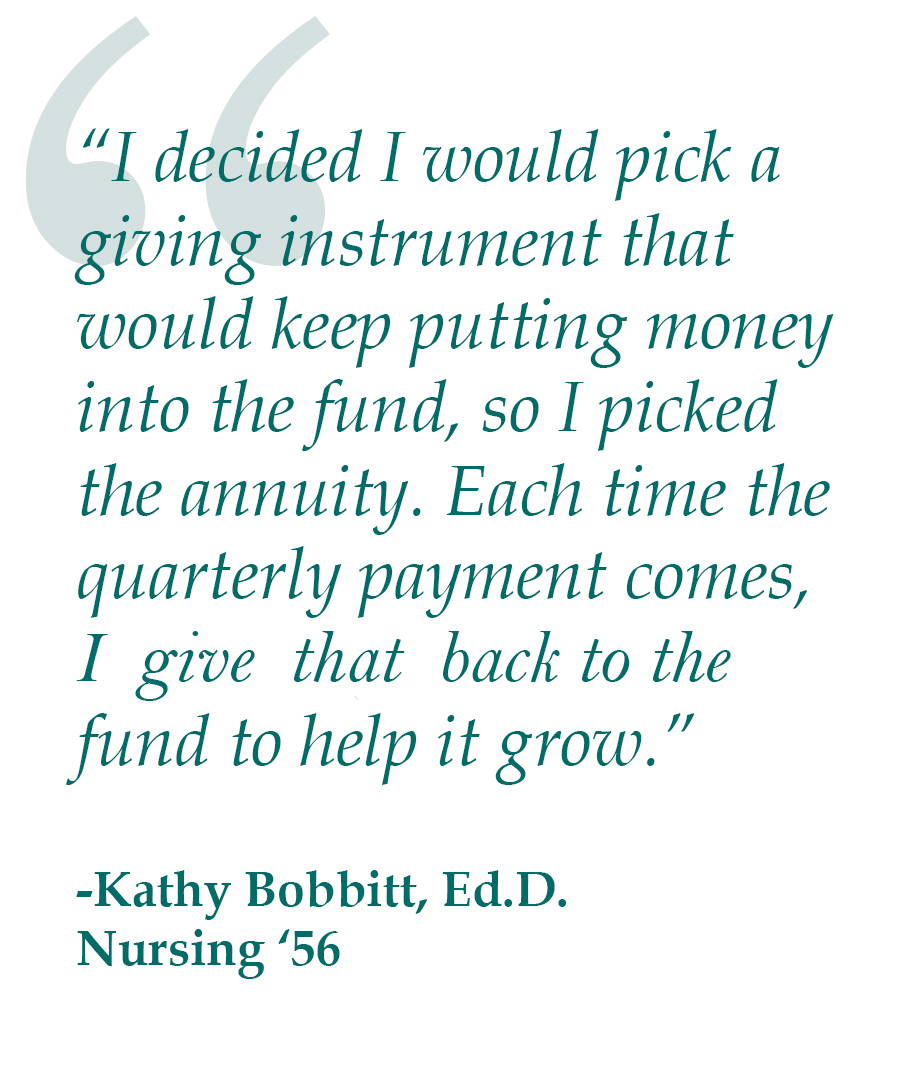 "I decided I would pick a giving instrument that would keep putting money into the fund, so I picked the annuity," she said. "Each time the quarterly payment comes, I give that back to the fund to help it grow. Now, because of that growth, we have moved beyond a lectureship and it's almost a professorship. Maybe it will be even more than that as time goes on."
In 2000, Bertha also decided to use a charitable gift annuity as a tool for supporting the MCV Campus. In her case, she chose a charitable gift annuity to support herself while also supporting the MCV Campus.
"I chose a charitable gift annuity because I don't have a pension and I wanted the income from the annuity," she said. "That was 18 years ago, and I've been getting the payments all these years. It has certainly contributed to my ability to continue to give to the university. I like to support the Massey Cancer Center, School of Medicine, School of Nursing, School of Pharmacy and the Alumni Association, so I'm very interested in being able to continue to give to all of those."
Bertha said that when she made her gift almost 20 years ago, she used appreciated stock. She recommends this method of giving because contributing this type of asset offers favorable tax benefits.
In addition to providing extra income for life, Kathy and Bertha said they like the fact that charitable gift annuities make for solid investments.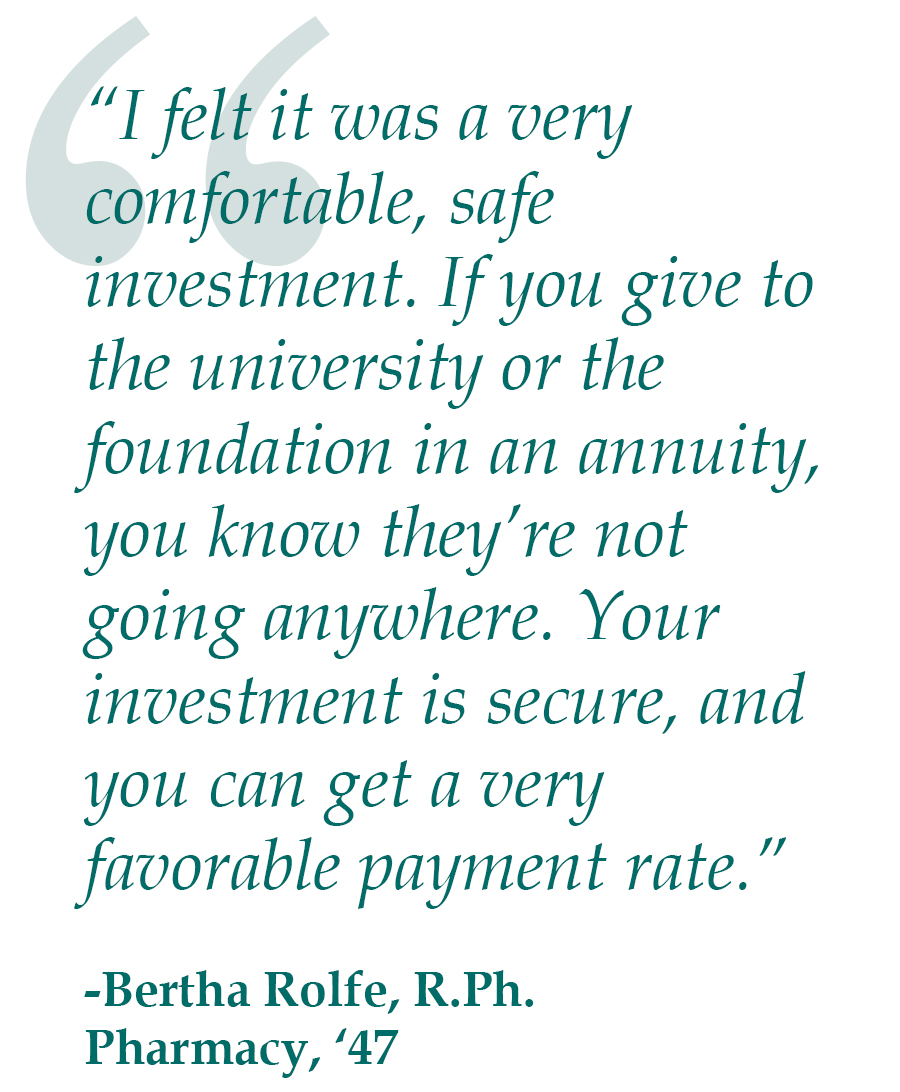 "I felt it was a very comfortable, safe investment," Bertha said. "If you give to the university or the foundation in an annuity, you know they're not going anywhere. Your investment is secure, and you can get a very favorable payment rate."
Our staff at the foundation are here to make the process even more safe and comfortable on top of providing a secure investment, which was Kathy's experience.
"The foundation walks you through the process and you don't feel alone," she said. "And when I finalized the agreement, I knew I had done the right thing."
Now is a great time to consider a charitable gift annuity with the MCV Foundation. The payment rates associated with these popular give arrangements have increased for the first time in six years.
Creating a charitable gift annuity is simple:
You make a gift of cash or appreciated securities to the MCV Foundation and in return, the foundation pays you and up to one other individual a fixed income for life.
Your gift will qualify for a federal income tax deduction.
The remainder of your gift will support the cause you choose on the MCV Campus.
If you're interested in speaking with someone about charitable gift annuities and how your gifts can be creative and impactful, please contact Brian Thomas, MCV Foundation vice president and chief development officer, at brian.thomas@vcuhealth.org or 804-828-0067.
If you'd like to learn about all the creative tools available for giving to the MCV Campus, please visit our giving page.