A 'Comprehensive' Win for Massey
By Annie Harris and Paul Brockwell Jr.
Since 1975, the MCV Campus has been home to a cancer center considered among the top 4% of its peers in the U.S. A year after its founding, the new center at VCU received one of the earliest designations from the National Cancer Institute (NCI). Nearly a decade later, it was named VCU Massey Cancer Center to honor William and Evan Massey for their transformative gift.
The center has been continuously NCI-designated since 1975. Now, nearly 50 years later, a new word is being added to its name: Comprehensive. In June, Massey received designation as a Comprehensive Cancer Center, which is the highest level of recognition from the NCI, the country's authority on cancer research and training at the National Institutes of Health.
Receiving this designation places Massey among an elite group of cancer centers influencing a new standard of care through research, education and community engagement. The center's director, Robert A. Winn, M.D., is the first African American to lead a cancer center to comprehensive status.
This is an incredibly exciting moment for Massey and VCU Health and for the patients and families who come through our doors.

Paula Fracasso, M.D., Ph.D., deputy director, VCU Massey Comprehensive Cancer Center
Under Dr. Winn's leadership, Massey has effectively championed a community-centered approach, recognizing community members as equal experts and strategic partners in its research efforts. With the support of philanthropic investment from the community, VCU Massey Comprehensive Cancer Center is better positioned than ever to provide lifesaving care, conduct innovative research on new treatments and engage patients across its catchment area in education, outreach and clinical trials.
"We are so proud to reach this milestone and to be leading the charge, not just in research but in building trust and breaking down barriers between medical institutions and communities," said Dr. Winn, who holds the Lipman Chair in Oncology at Massey. "We are truly the first of a new generation of community-focused cancer centers, where world-class science and research are informed by the people we serve, and accessible for all."                                
COMMUNITY-ENGAGED SCIENCE
Since he arrived at Massey in December 2019, Dr. Winn has helped the cancer center adapt during the pandemic to continue serving patients and expanded efforts to bring Massey's mission into the 66 contiguous localities in Central, Eastern and Southside Virginia that make up its catchment area.
With the community's involvement, Massey has successfully increased its clinical trial enrollment, expanded its research collaboration across disciplines and strengthened its training for cancer researchers.
The NCI commended Massey for its significant strengths in the full spectrum of cancer research, creating a robust pathway for cancer research training and education, and plans to further enhance the diversity of its trainees and faculty. The renewal of Massey's Cancer Center Support Grant provides it with funding for cancer research programs over five years.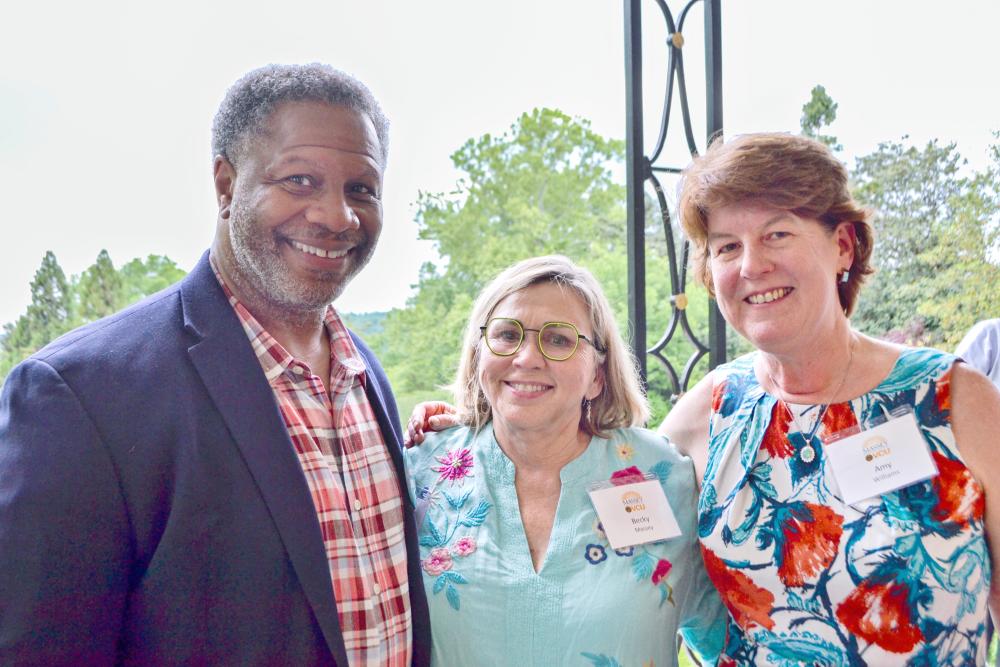 PHILANTHROPY FUELING EXCELLENCE
Gifts to support research, care and education at Massey have made possible the cancer center's progress.  In its earliest years, a small, dedicated group of volunteer built a formidable constituency of supporters — known today as Massey Nation — who give generously to advance research and care. Last year, the Massey Club celebrated its 30th anniversary. Today the group is more than 500 members strong, each of whom gives $1,000 or more to support the cancer   center. Collectively, they raise more than $1.8 million in unrestricted funds each year to help Massey recruit and retain top researchers, fund critical early-stage research and expand access to clinical trials for patients.
Over its history, individuals have made tens of thousands of gifts to support Massey. Grateful patients are among Massey's most steadfast supporters. Attorney and endurance athlete Amy Williams received treatment at Massey after receiving a breast cancer diagnosis. Her experience inspired her to be an advocate for the cancer center.
"As a patient, you fully see the inside of an organization," said Williams, who is vice chair of the Massey Advisory Board. "My experience with all the doctors and nurses was so incredible. Massey truly is a place where every member of the team is passionate about care and research that is truly saving lives."
Philanthropy also expands Massey's health equity efforts, enabling education, outreach and research in partnership with communities underrepresented in clinical trials or who have experienced disparities in screening, treatment and outcomes. Williams shared she is also proud to support Massey because it is part of a safety-net institution that offers leading-edge care and makes it available to everyone, regardless of their ability to pay. Ultimately, that diversity of patients ensures progress in Richmond that generates impact across the country.
"It's so great that Massey has achieved this designation," Williams said. "Massey is such a unique place — delivering care and finding research results for everybody. They are at the forefront of finding treatments for everyone. I'm hopeful that all gifts to support Massey will help save and improve lives."
A RICH HISTORY AND A BRIGHTER FUTURE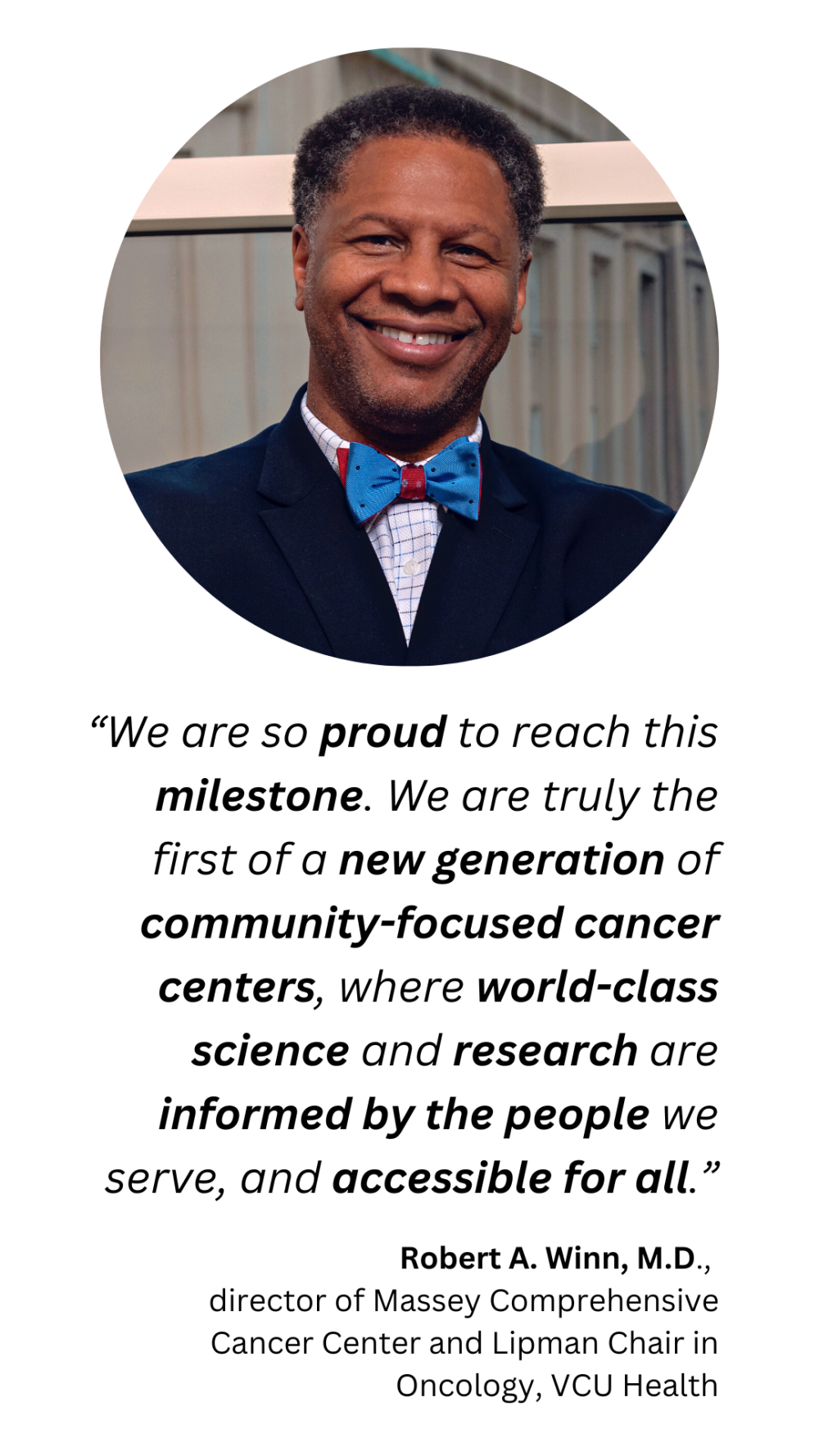 Massey's latest comprehensive designation was earned through a peer-review process demonstrating excellence in laboratory research, population science and clinical research. Comprehensive cancer centers must conduct transdisciplinary research that bridges three scientific areas. They also must demonstrate their effectiveness in addressing cancer concerns in their catchment area through community outreach and engagement. Most importantly, comprehensive centers also integrate cancer training and education of tomorrow's leading biomedical scientists and community health care professionals.
"We celebrate Massey's achievement as a huge win for our entire institution and one that will help us continue to raise the bar for excellence at VCU Health," said Marlon Levy, M.D., interim senior vice president of VCU Health Sciences and CEO of VCU Health. "The dedication to innovative research and education and to advancing health equity is a clear reflection of our health system's core values."
With Massey's new comprehensive status, those living in its catchment area are promised even greater access to lifesaving cancer screenings and clinical trials offering leading-edge treatments, more resources for critical education about cancer risk and prevention, and care informed by the top scientific minds brought to Massey through recruitment as well as its training of the next generation of physician-scientists.
"This is an incredibly exciting moment for Massey and VCU Health, and for the patients and families who come through our doors," said Paula Fracasso, M.D., Ph.D., deputy director of Massey and senior vice president of the cancer service line at VCU Health. "With the increased funding from our Cancer Center Support Grant, we will have additional research dollars to extend our reach into the forefront of science and translational work that will provide better ways to predict, prevent, diagnose and treat our patients with cancer."
---
If you would like to support VCU Massey Comprehensive Cancer Center, please contact Jasmine Davis, director of development, at 804-828-4812 or jjdavis3@vcu.edu.
Healthier for All
Make an impact at VCU Massey Comprehensive Cancer Center