Dean's Equity Scholarship at the VCU School of Medicine
Editor's note: Written by Polly Roberts, this article first appeared on the VCU School of Medicine website.
The VCU School of Medicine Class of 2025's Gabe Thomas grew up with a dream of becoming the first physician in his family. So it may come as a surprise that his favorite memory of the VCU School of Medicine isn't getting accepted.
It's the moment he found out he received a Dean's Equity Scholarship to study on the MCV Campus.
The VCU School of Medicine Class of 2025's Gabe Thomas is one of six incoming students named a Dean's Equity Scholar this academic year. The scholarship helps eliminate barriers to access for student of all backgrounds, cultures and socioeconomic status. 
"Getting into medical school, my first concern was 'How am I going to pay for this?' My family didn't have the means to finance me and I knew I didn't, either," Thomas says. "Having a scholarship to decrease that financial burden allowed me to relax a little bit, at least financially. It was more exciting than getting into medical school. The first thing I did was call my mom and share that excitement with her."
In 2020, Dean of Medicine Peter F. Buckley, M.D., committed $600,000 to the Dean's Equity Scholarship Fund, which helps eliminate barriers to access for student of all backgrounds, cultures and socioeconomic status. Thomas is one of six incoming students named a Dean's Equity Scholar this academic year. The fund also provided scholarship assistance to two returning students.
Thomas is now one step closer to fulfilling his goal of becoming an advocate for his family and community through medicine. At age 6, he and his mother moved from Texas to Florida to live with his grandmother. A few years later, his grandmother died at age 52. Then his father was diagnosed with congestive heart failure in his late 30s.
Thomas attributes their health struggles to an unwillingness to go to the doctor based on a mistrust of physicians that is sometimes found in the African American community.
"Learning about the history of African Americans and medicine, I understand their concerns were grounded in reason," he says. "Becoming a physician allows me to get at the root of that. At least in my small circle, if I can encourage individuals who look like me to go see their physicians, maybe they can touch another person who can touch another person, and as a collective, we can break down some of those walls."
'I knew VCU was where I wanted to be'
A football scholar athlete at the University of Richmond, Thomas originally connected with VCU through its Black Men in Medicine pre-med student organization. The group's adviser, Henry Lewis, encouraged Thomas to apply to the Summer Academic Enrichment Program offered by VCU Division of Health Sciences and Diversity. He completed the six-week, interprofessional program in 2020, just after graduating from college.
SAEP provides students with an academically rigorous experience that simulates the first year of dentistry, medicine, pharmacy or physical therapy professional instruction.
"The most beneficial thing about SAEP was it gave me confidence," says Thomas, who was voted a medicine "track star" by his SAEP track coordinators. "I made so many connections and started building relationships; I knew VCU was where I wanted to be."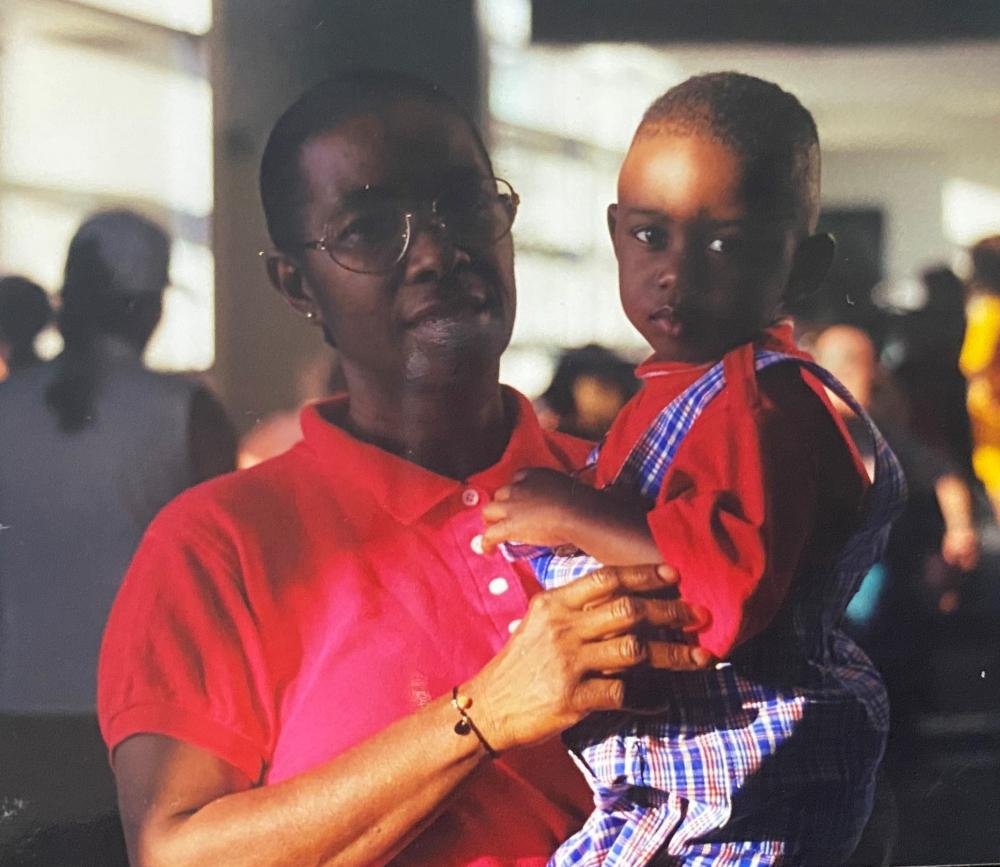 During SAEP, he met Donna Jackson, Ed.D., assistant dean for admissions and director of student outreach in the VCU School of Medicine. She suggested Thomas apply to the medical school's early decision program, and he was accepted in September 2020.
"It's always rewarding to see someone whose life you've touched take the next step toward their future career," Jackson says. "Having him choose VCU is the icing on the cake and the ability to offer him a scholarship are the sprinkles. It makes me happy that we had the resources to build a connection through SAEP and provide financial support so that this was the only place he could see himself."
Shadowing alumni who had fond memories of their time on the MCV Campus also solidified Thomas' decision. During college, he shadowed orthopaedic surgeons Andrew Bogle, M'07, and Paul Kiritsis, M.D., H'00, in Richmond, and cardiologist Peter Taylor, M.D., H'92, in Orlando, Florida.
Now Thomas is ready to carve his own path. He's already stepped into the role of advocate as the first in his family to get the COVID-19 vaccine. His parents followed suit after he eased their concerns.
"Once I get to the point where I can be an ambassador for my parents and my family and show them physicians aren't all scary figures — they can just think of me — then I'll be the happiest."
The Dean's Equity Scholarship is one of many scholarships in the medical school helping to reduce student debt, reward student excellence and recruit top students who will thrive on the MCV Campus. The scholarship was instrumental in helping the medical school to recruit its most diverse class ever. "There is no better way to learn about others than to engage with them," Jackson says. "A diverse medical school class provides a venue for this type of engagement for the benefit of all students and ultimately for the patients that our students will care for in the future."
Measures of diversity include the number of students who identify as underrepresented in medicine (those racial and ethnic populations that are underrepresented in the medical profession relative to their numbers in the general population), those representing diversity in socioeconomic status, religion, gender or geography — those from rural counties or inner cities — as well as first generation college students and out-of-state residents from throughout the U.S.
To learn more about the medical school's scholarship program, go to our scholarship page, or to make a gift to the Dean's Equity Scholarship, please visit our giving page.