A Decade of Community Care
Editor's Note: This story originally appeared in the summer 2023 issue of NEXT magazine. Our online version includes more stories about innovative research happening on the MCV Campus. After the publication of this article, the MCV Foundation was deeply saddened to learn of the passing of Pam Parsons, Ph.D., associate dean at the VCU School of Nursing and Richmond Health and Wellness Program co-founder. Dr. Parsons was an inspiring leader on the MCV Campus and a national expert in coordinated care models.
By Zaynah Qutubuddin
When one 80-year-old woman received a complicated letter from her nephrologist, she found it hard to understand what the words meant for her and her health. Luckily, she knew who to call for help to understand the letter: the Richmond Health and Wellness Program (RHWP).
The program assigned a home visit to Elvin Price, Pharm.D., Ph.D., director of geriatric pharmacotherapy and the Victor A. Yanchick Associate Professor at the VCU School of Pharmacy, who has been working with the program since 2017.
It was Dr. Price's first day, and what should have been a simple task was anything but.
Tangled between cumbersome medical terms were the results of the woman's last exam, which indicated kidney failure. As Dr. Price sat with her in her living room, he patiently helped the woman comprehend what these words meant, words that had not been explained to her clearly over the phone or in the doctor's office.
"It was sad to deliver that information," Dr. Price said, "but it was a dignified kind of interaction in a space where she was most comfortable: her own home."
Health literacy is one of the most important factors influencing how patients access and manage their own health care, especially as they get older.
Aging is complex, and many of the most vulnerable members of our community live on a fixed income, facing several health issues without access to care. This is where RHWP comes in. Established in 2012, the program provides care coordination to support the elderly population by proactively managing health issues and related social needs before they can develop into a trip to the emergency room.
In the 2021–22 academic year, the program served 437 unique individuals over a total of 2,883 visits.
Led by the VCU School of Nursing, RHWP has earned a national reputation as a model for holistic care coordination. The program delivers weekly wellness clinics that focus on health assessment, monitoring and coaching regarding healthy living and chronic disease self-management. RHWP currently serves in five community-based sites across the Richmond region, with recent expansion into three new communities — Mecklenburg, Tappahannock and Petersburg — and a new site in Southside Richmond.
It's about building trust.

Ellie Gillespie, VCU School of Nursing Class of 2023
Each semester, approximately 100 students from across VCU participate, including those from nursing, pharmacy, medicine, social work, physical therapy, occupational therapy, kinesiology and psychology. They are guided by faculty like Dr. Price as the program offers education on effective chronic disease self-management, wellness coaching through healthy cooking demonstrations and diet management education.
"One of the unique aspects of this program is being able to place students in a clinical setting where research, practice and service are integrated to provide the best possible care, education and attention for both our students and the participants," said Jean Giddens, Ph.D., dean of the VCU School of Nursing and Doris B. Yingling Endowed Chair.
Dr. Price's first-day home visit was more than a technical transaction for the woman who learned that she had kidney failure. It was an interaction that let her know there was someone who cared and someone who heard her needs.
Listening as an Act of Care
Listening is a key ingredient of RHWP's success, said Ellie Gillespie, who graduated from the VCU School of Nursing this spring.
"Our job is to listen, to really hear what the program's participants really have to say, where they feel there are deficits in care, and then we do our best to coordinate to fill those gaps," Gillespie said. "It's about building trust."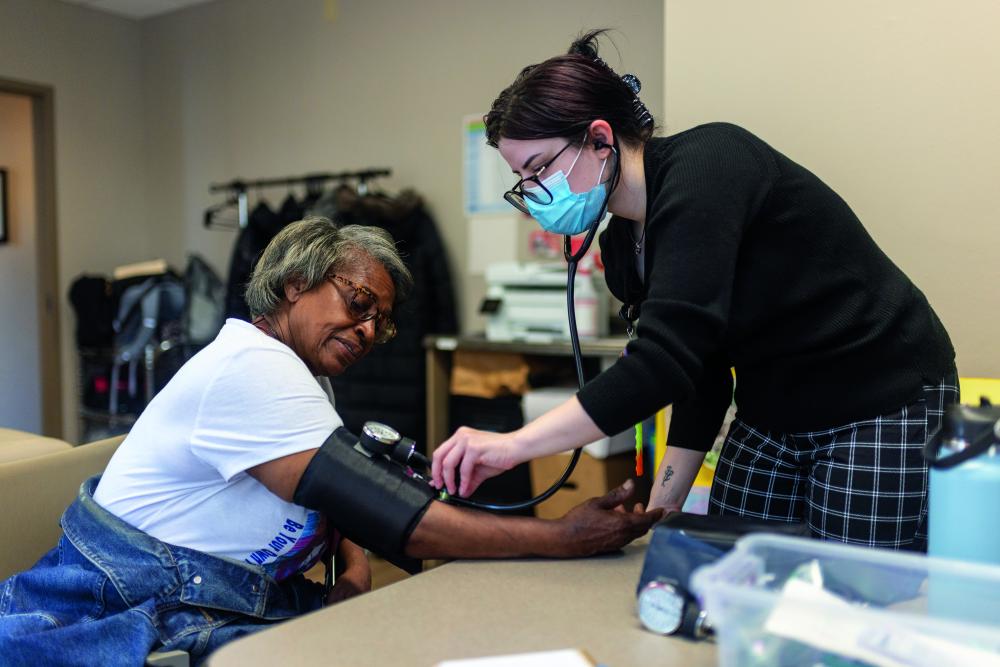 For Gillespie, RHWP is more than part of the nursing curriculum. The program's mission to bring care coordination to the doorstep of vulnerable communities and help improve health inequities and health disparities in Central Virginia aligns with her core tenets.
"I've always been passionate about social justice," she said. It's the reason she accepted a position on VCU Health's Secure Care Unit, working with people who are incarcerated.
Originally from a small town of 8,000 people in rural North Carolina, Gillespie recognizes the importance of the work she and fellow students are doing with RHWP to meet needs by helping participants manage their own health. The experiences have enriched her approach to the profession, and she credits her training to mentors like RHWP co-founder Pam Parsons, Ph.D.
"We're training health professional students on how to complete activities related to care coordination, health promotion, population health and prevention. That integration across health care is extremely complex," said Dr. Parsons, clinical professor and associate dean for practice and community engagement and the Judith B. Collins and Joseph M. Teefey Distinguished Professor at the VCU School of Nursing.
But to manage one's health, certain issues must first be addressed in order to make progress. A person's access to housing, food and transportation is inherently linked to health issues. When one link in the chain is broken, it's often very difficult to move forward.
"We're working with people who are experiencing housing instability or food insecurity," Dr. Parsons said. "Individuals are not able to focus on the importance of taking their diabetes medications if they don't have a place to live or something to eat."
Over the last 18 months, RHWP partnered with Homeward, Senior Connections, Dominion Place apartments, and the MLP at VCU Health to assist five homeless individuals to secure permanent housing. The program provided several follow-up visits to ensure the transitions into stable housing were successful and that medical needs were being met, thus avoiding uninsured emergency department visits.
Whenever I had a medical question, I would always ask them, because they were here and there was never any judgment from them.

Randy Guill, RHWP Participant
Once housing is secure, the program can tackle the next gap, like food insecurity. A prescription for fresh produce is one way the program has addressed food access through a partnership with Shalom Farms. For six weeks, participants such as retired civil engineer Randy Guill can receive fresh vegetables.
Guill is one of 250 residents at Dominion Place senior living apartments. He lives independently in his 452-square-foot, one-bedroom apartment and enjoys auditing history courses at VCU. He also has high blood pressure and diabetes.
Participating in the Prescription Produce Plan and learning from students about healthy eating habits has helped him make a lot of small but important changes over time.
"For example, I don't eat canned food anymore," he said. "You could get fresh vegetables for free, and they made that happen."
Rebuilding and Strengthening Connections
When the COVID-19 pandemic hit, community housing sites such as Dominion Place and Church Hill House were forced to prevent outside organizations from coming in. After years of what was often the only stable, weekly social and wellness interaction for residents, the temporary halt of the program was a loss felt deeply.
"Whenever I had a medical question, I would always ask them, because they were here and there was never any judgment from them," said Guill, a native of Richmond who has been part of the program at Dominion Place since its inception. "When COVID-19 came, it was a bad time for everybody, but they did what they could."
Like the rest of the world, RHWP got creative. It quickly converted to conducting wellness visits by telephone or videoconference to provide social support to participants in isolation as well as wellness support, including weekly check-in calls.
Guill still remembers one of the first meetings about the program with Dr. Parsons, and for 11 years, the Thursday clinics at Dominion Place kept him oriented as to what day it was.
When in-person visits returned in 2022, it was like a reunion.
"I felt joy," Guill said. "Thursdays are a booster shot every week for me socially as much as medically."
Despite that joy, challenges persist.
Prior to the pandemic, the program had several strong agency collaborators, but since then, Dr. Parsons and her team have had to rebuild those partnerships in light of the staff and management turnover at partner sites and the added strains of life after the pandemic.
We're training health professional students on how to complete activities related to care coordination, health promotion, population health and prevention. That integration across health care is extremely complex.

Pam Parsons, Ph.D., clinical professor and associate dean for practice and community engagement, Judith B. Collins and Joseph M. Teefey Distinguished Professor, VCU School of Nursing
Sheryl Finucane, Ph.D., assistant professor and co-director of the interdisciplinary Rehabilitation and Movement Science Ph.D. program at the College of Health Professions, has also dealt with challenges. During the COVID-19 lockdowns, much of the screening for fall risk and assisting residents in mitigating risks couldn't be done.
Dr. Finucane and interprofessional teams of students at RHWP provide physical screenings and in-home assessments to help decrease the risk of trips and falls for participants and recommend solutions like installation of grab bars in bathrooms and assist with rollator repair. Together with the students, Dr. Finucane also provides education on steps residents can take to improve their balance.
"We rely on the students to do the educational pieces," Dr. Finucane said. "Our role as faculty is to help the students understand why it's important to help the residents understand things like their fall risk and what the resident can do to reduce that risk."
But it's as much about the participants educating the students as it is the other way around.
In one instance, Dr. Finucane had a resident in his 70s who refused a cane or a rollator, relying solely on a small shopping cart as his support.
"He didn't want to look old," she said, so using the program's methods of motivational interviewing and engaging participants, she provided education in stability exercises and then asked if he could teach them to the students at his next visit.
"It was a fun twist," Dr. Finucane said. "The residents do so much education for our students, and it's really meaningful for them."
Meanwhile, Dr. Price has been conducting research on how individual gene variants affect a patient's response to medications to help minorities who are vastly underrepresented in health care studies, particularly among the Black population.
Dr. Price's research, Translational Approaches to Personalized Health, examines data such as pharmacogenomics and blood pressure. Seventy-two percent of the 130 participants of the study self-identified as Black American, with an average age of 69 +/- 5.9 years, and 78% taking more than five medications. About 26% of the participants have self-reported at least one adverse drug reaction.
The long-term goal for any pharmacogenomics study like Dr. Price's is to help doctors identify the best drugs and doses for each individual.
After collecting all the data, Dr. Price's team provides participants with a small card like a personalized mini report that includes information such as base blood pressure readings and which drugs they may react to poorly. Participants can then take this card to their primary care provider at their next visit for improved care.
"Just having that research has made people feel seen and heard," Dr. Price said.
What's Next?
Following the success of its model, RHWP has begun to expand into rural communities. Over the next four years, this nurse-led program will use two vans, one purchased internally through the School of Nursing and the other through a partnership with Capital Area Health Network (CAHN). Through the partnership with the CAHN Federally Qualified Health Center, the program will be able to provide urgent and transitional care services to the Richmond and rural areas starting this summer.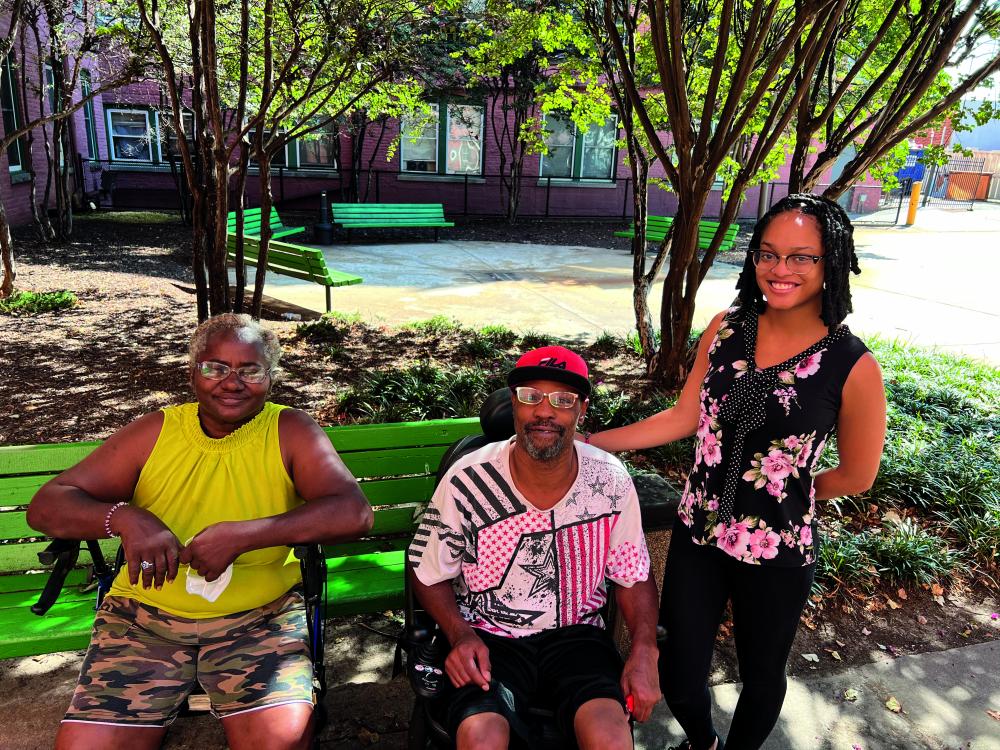 The expansion comes after realizing the program's innovative interprofessional care coordination model can be an effective and cost-efficient way to provide high-quality care while also educating future health care professionals. The model also helps to reduce strain on hospitals by preventing acute emergency needs.
For instance, in 2022–23, the program's care coordination services helped 48 individuals avoid unnecessary emergency department visits, which are typically three times more expensive for the health system than a visit with providers.
According to Joseph T. DeRanieri, D.M., director of the Langston Center for Innovation in Quality and Safety, these interventions reduce participant acute demands on the emergency department and have also saved the health system more than $54,000. As operations expand, RHWP hopes to achieve similar outcomes for a larger population while reducing administrative expenses by improving the model's efficiency.
With a decade of challenges, successes and growth, the members of RHWP are eager to identify a sustainable funding model for the future that includes long-term funding to continue the program as it grows so that RHWP can do what it does best: Create wellness champions.
"The program can't be indefinitely sustained off grants," Dr. Parsons said. "We are working with the health system to determine the sustainable pathway, with a goal of maintaining a presence with the communities that we are serving over time. That's our goal."
---
If you would like to support the Richmond Health and Wellness Program, please contact Pam Lowe, senior director of development at the VCU School of Nursing, at 804-827-0020 or plowe@vcu.edu.
Read a Participant Perspective
Brenda Wilson is making wellness connections at home in Church Hill House.