Dental Students Serve Disabled Residents Through Clinical Rotation
Toward a Healthier Virginia for All
This article is part of an ongoing series of stories highlighting VCU Health programs and initiatives aimed at addressing issues of access and equity in health care.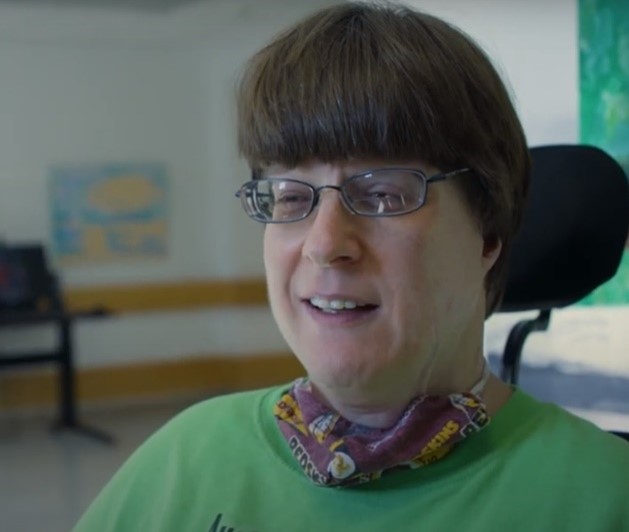 Christi Harris felt the lingering effects of newly cleaned teeth as she chatted about her dog, Abbey, a 16-year-old red merle Australian Shepherd whose likeness was on the t-shirt she was wearing.
Harris was the first dental patient of the morning back on a late August day at the Virginia Home, and not only did she say her teeth felt clean after her visit, but she also remarked that she found the whole dental experience somewhat enjoyable.
Harris is an eight-year resident of the Virginia Home, a residential facility in the heart of Richmond near Byrd Park that offers a lifelong home for adults with irreversible physical disabilities. Nearly half of the 130 residents have cerebral palsy, while others have multiple sclerosis or other neurological injuries.
Mobility is a challenge for these residents, most of whom are wheelchair-bound. Going anywhere off-site is difficult and transportation services can be costly.
It's why, years ago, the Home jumped at a partnership with the VCU School of Dentistry that would allow dental and dental hygiene students, under the supervision of licensed dentists, to conduct a variety of free oral health services on site.  
Not having to go elsewhere for dental care is appreciated by residents like Harris. The Virginia Home's dental clinic for residents is spacious enough for the power wheelchairs of many residents like Harris. For those with manual wheelchairs, the room is equipped with a hydraulic lift that can elevate wheelchairs and then tilt them backwards, just like a dental chair.
Harris paused from sharing about her sweet pup, who lives with her father, to note that she could still feel the polish on her teeth.
"They do a pretty good job and they come to us and it's a lot easier and more convenient," Harris said. "They took their time, which I like — it was kind of relaxing."
**
The Virginia Home is one of 14 statewide external rotation sites that are required for VCU's dental students, nine of which are required for dental hygiene students. Other sites include free clinics and health facilities from Roanoke and Martinsville to Central Virginia and Chesapeake.  
The external site visits offer glimpses into the critical need for oral health services within underserved patient populations, as well as underscores what happens to communities that lack sufficient dental professionals. The Virginia Home is unique in that it's the only rotation site where all the patients are disabled.
Brenda Mizelle, Virginia Home's director of speech therapy and dental clinic supervisor, said the partnership with VCU existed when she arrived 16 years ago, but back then, only dental hygiene students participated.
Local dentists also helped, though it wasn't enough to meet the need.
"We used to have a dentist who came once a month and that did not cut it," she said. "It's very difficult to get everything done once a month."
Of the Home's 130 residents, 117 utilize the inhouse dental services. The others seek outside services, often arranged by their families.
About a decade ago, dental students were brought on board thanks to a nudge from Terry Dickinson, D.D.S., School of Dentistry adjunct professor and former executive director of the Virginia Dental Association. He had a relative living at the home and recognized the need for additional help.
The addition of the dental students adds to the variety of benefits for everyone. First, the Virginia Home's residents get seen more often by a wider range of students, while students in both disciplines get much-needed exposure to disabled patients. But more than that, it reinforces a collaborative dynamic between dental and dental hygiene students at VCU, something not always found at dental schools.
At the Virginia Home, the two groups work together to provide real-time patient care, relationships that continue throughout their professional lives.
The VCU program includes four or five monthly visits to the Virginia Home, though Mizelle said there's talk about adding even more.
"Working with the residents requires a lot of expertise and understanding," Mizelle said. "Many are nervous about receiving dental care, particularly those residents who come to the Virginia Home needing lots of it because they haven't been able to properly take care of their teeth due to their dexterity limitations."
Residents who have cerebral palsy, for example, have an overactive gag reflex that kicks in as soon as the dentists' hands or an instrument gets near their mouth. Dental students must learn to navigate around wheelchairs or feeding tubes and other medical devices and be aware of patients' medical records, so they know if medications are contributing to dry mouth or other conditions. 
"It's such an asset for the students because when they work for a practice or they have their own practice someday, they will probably have patients with disabilities," Mizelle said.
Carrie Humphries, R.D.H., a School of Dentistry graduate, remembers being a student and working at the Home as part of the required rotation. Now, she oversees dental hygiene students as they work through their own rotations.
"The mobility factor is huge, so having hygiene and other basic services here is just wonderful," she said. "The residents' families allow us to do it, the students learn, and it doesn't require any transportation from the facility, which is win-win-win."
The average resident's stay at the Virginia Home is 23 years. That means there are some residents she met as a student, and now she sees again with her students.
"I've seen them for so long, these people are more than just patients," she said. "They're family." 
**
All U.S. dental schools are required to offer external rotation opportunities to be accredited by the Commission on Dental Accreditation, or CODA, a process the dental schools complete every seven years. It's a relatively new requirement under national accrediting criteria, though it's something VCU has been doing for upwards of 20 years.
One more feather in the cap for Virginia's only dental school.
Jeffrey Levin, D.D.S, School of Dentistry adjunct professor and a member of CODA's accreditation committee, said having external opportunities adds to the richness of a dental school education, and few dental schools do that better than VCU.
VCU has been a leader in getting students in front of patients earlier in their education compared to other dental schools, he said. VCU students are also exposed to more diverse patient populations, like the residents at the Virginia Home.   
"Students have a unique population here and are dealing with patients who have all kinds of verbal and physical disabilities," he said. "Our dental school is known for treating patients early, having some of the best technology and also serving these unique populations."
One dental hygiene student, KatarinaJones, a senior, provided cleanings to Harris and a few other residents back in August. It was her first visit to the Virginia Home, but there were other firsts too, from working with new and different equipment, to standing up to treat her patients.
"With this population, you definitely need to be able to think on your feet and work around any position challenges," Jones said. She chose dental hygiene as a career choice after having good experiences with her own dentist and orthodontists growing up. That, and she's happy to work within the realm of preventative oral care.
"Preventing someone from getting cavities and turning into a really big problem — that's really cool," she said.
Jones said she chose VCU, in part, because of its commitment to community outreach. She's worked with organizations like Caritas, to offer dental services to underrepresented communities. She's also worked in food pantries, where she and her peers educate patrons about how sugar and carbohydrates and other foods can lead to cavities.
"Through this program I'm able to do a lot of that," she said, referring to community outreach. "Oral health is definitely linked to overall systemic health and we're always mindful of those connections."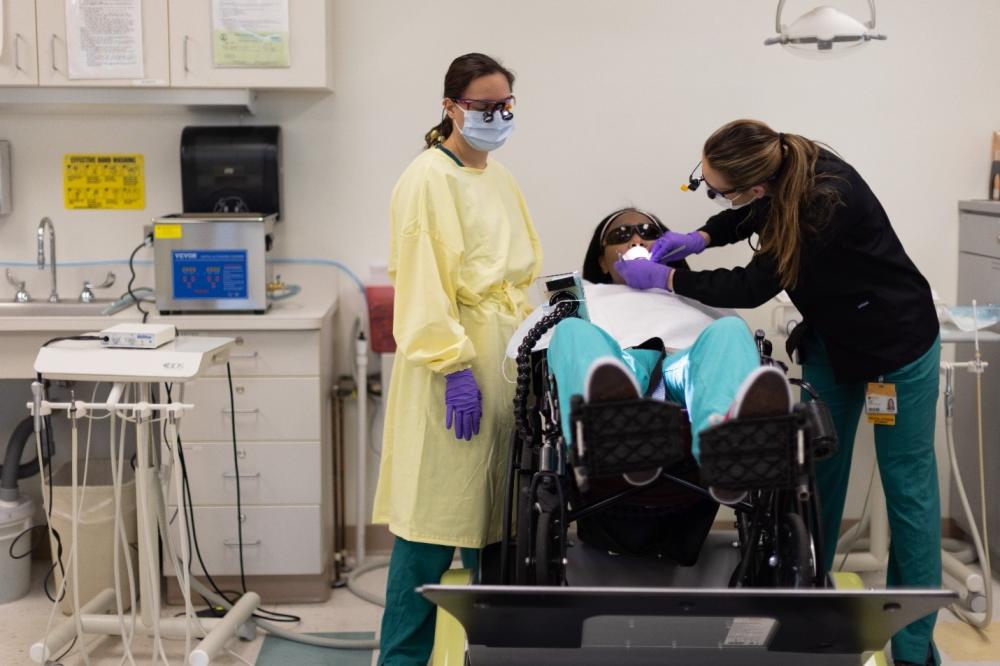 Mizelle said having the partnership with VCU means access to other local oral health care providers who are connected to VCU or its alumni, including oral surgeons, endodontists and prosthodontists.  When advanced dental care is needed beyond the scope of what the students can do — difficult extractions or root canals, for example — there's a network waiting to help.
"The students are so eager to learn, and they're paired with such wonderful professionals," Mizelle said. "We are fortunate to have esteemed dentists who come in with such expertise and experience — that has made a tremendous difference."
---
If you would like the support students at the VCU School of Dentistry, please contact Gloria Greiner-Callihan, associate dean for development, by emailing gfcallihan@vcu.edu or calling 804-828-8101.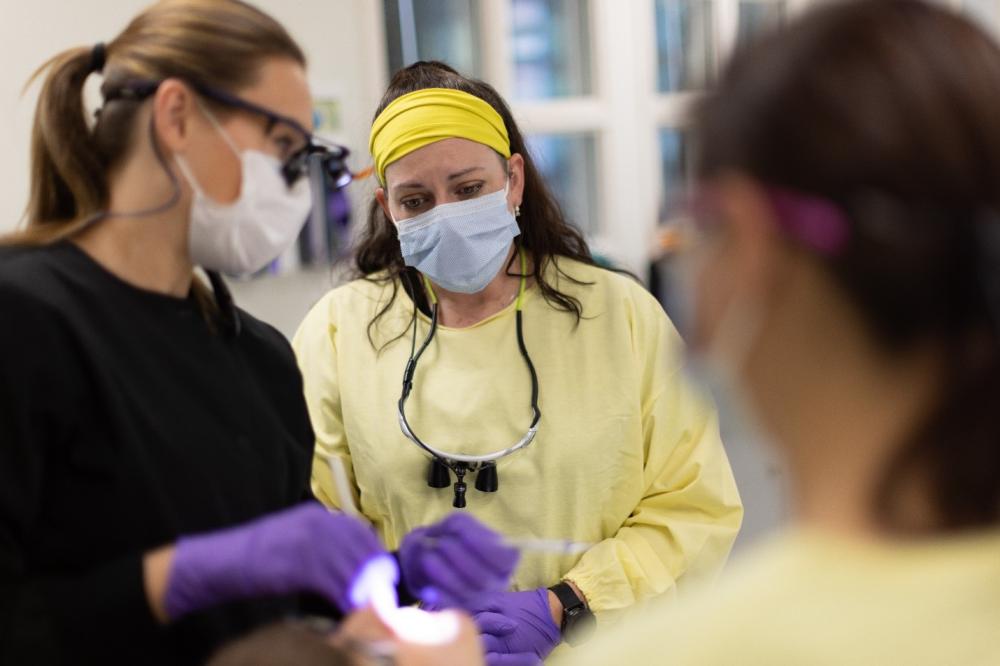 Make Students Smile
Support the VCU School of Dentistry.