Dentistry Dean's Bequest Invests in a Strong Future Faculty
The MCV Campus is more than just a professional home for David Sarrett, D.M.D., dean of the VCU School of Dentistry and associate vice president for health sciences at VCU. It's also where he has thrived and developed as a leader and mentor.
"When I wake up in the morning, I truly look forward to going to work," Dean Sarrett said. "It's a place where people want to do the best for our students, the community and the university. I've been very fortunate to be successful here, and it's all because I came to the MCV Campus." 
Dr. Sarrett's wife shares his fondness for the campus and the impact it has had in their lives. "He has worked very hard for VCU, and we both have been supporters of the university." Beth said. "We raised our successful children in Richmond and credit the university with the amazing transformation of the city we now enjoy."
In 1993, the Sarretts came to Richmond after he accepted a job as chair of the school's Department of General Practice. It was during a time, he said, when he was processing some professional disappointments around his career. Dean Sarrett often shares this story with students he mentors as a lesson on the importance of accepting disappointment and how those moments can lead to unforeseen opportunities.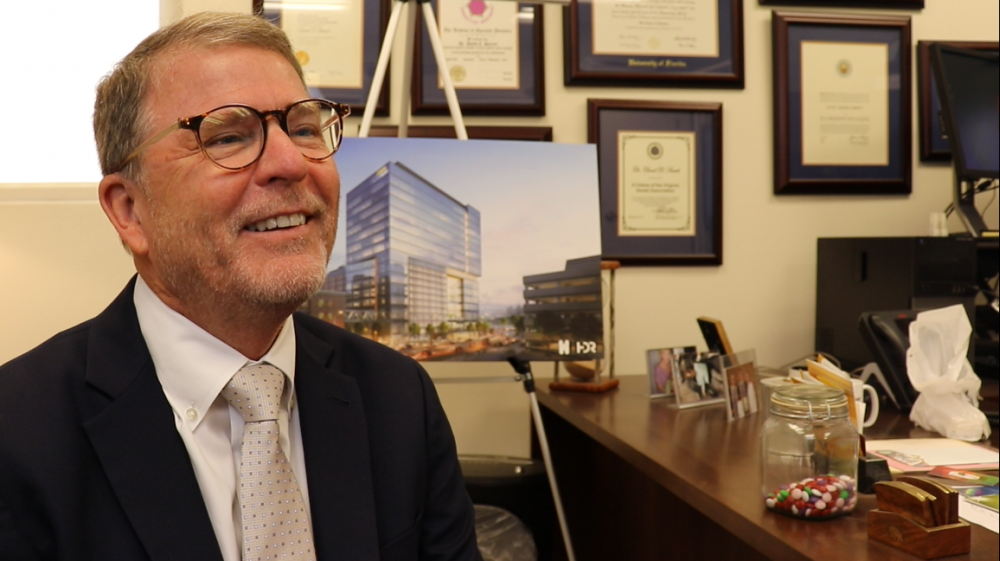 Dr. Sarrett became dean of the School of Dentistry in 2010. His leadership of the school came after years of progressive responsibility in administrative and faculty roles. He says he could not have imagined the success he has enjoyed at the school, and recently Dean Sarrett and Beth announced their intent to give back through a bequest that will honor his earliest days at the school. Their estate plans include support to endow a chair in general dentistry and ensure that future generations of VCU School of Dentistry students learn from the most talented faculty.
"Our children are both grown and we're looking to the next phase of our lives and careers," Dean Sarrett said. "We've been very fortunate and wanted to leave some sort of legacy at the School of Dentistry, which has been a very important part of my career."
When they were updating their will, they wanted to document a testamentary bequest that will support faculty in the area of general dentistry or restorative dentistry. In many dental schools, faculty endowments are focused around specialty dentistry, and it's often more challenging to recruit and retain highly qualified faculty in general dentistry.
"As a general dentist, I've always felt that it's a really important aspect," Dean Sarrett said. "Dental schools everywhere have a challenge recruiting highly qualified general dentists to careers in academic dentistry."
Beth has witnessed that challenge firsthand and believes in the opportunity to create lasting impact through this investment in the school.
"General dentists are primarily the people who identify health issues among their patients," she said. "People tend to see their dentist more regularly than their doctor. They can see warning signs of high blood pressure and diabetes."
For them, the goal was simple. The Sarretts wanted to strengthen future efforts to recruit and retain the best faculty at Virginia's only dentistry school.
"VCU has provided us with a tremendous opportunity, and we want dental education at VCU to thrive in the future," Dean Sarrett said. "To me, that's it's all about the people, particularly our faculty. Anything we can do to ensure there's always excellent faculty and they have the ability to thrive and grow is the best way to ensure that dental education stays strong at VCU."
The Sarretts have seen how the value of philanthropy enriches the lives of faculty and students at the School of Dentistry. "Philanthropy adds incredible value to the school," Dean Sarrett said. "Planned gifts can benefit future leaders' ability to grow research, hire excellent faculty or purchase critical new tools and equipment."
While the Sarretts' goal was to ensure the future of the school's ability to recruit and retain excellent faculty, Dean Sarrett says he would be pleasantly surprised if others are inspired by his example to support what matters most to them on the MCV Campus.
"Why wouldn't you want to support something that's strong in order to keep it strong," Dean Sarrett said. "I really hope that it ensures that we'll have top-notch dental faculty here at the School of Dentistry by providing funds to recruit and professionally develop faculty."
About Bequests
Bequests create an enduring investment in initiatives that advance the great care, research and education on the MCV Campus. Making a bequest is simple:
Bequests cost nothing now, yet give you the satisfaction of knowing you have provided support for the MCV Campus in the future.
You retain control and use of your assets during your lifetime.
You may modify your bequest if your circumstances change.
Gifts to the MCV Foundation from your estate are exempt from federal taxes.
If you woul'd like to learn more about how making a planned gift arrangement can ensure your legacy of support for the causes most important to you, please contact Brian Thomas,vice president and chief development officer at the MCV Foundation, by calling 804-828-0067 or emailing brian.thomas@vcuhealth.org.