Equipping Tomorrow's Top Docs
This month, Richmond Magazine named the Top Docs in the region and more than 200 were from VCU Health. The MCV Foundation is proud to support the important education of our health care professionals, including some of our future top docs like Shubhangi Shah.
---
Shubhangi Shah's family was by her side when she learned she had been awarded a scholarship that would help cover the cost of medical school. "We broke into tears," she said. "I come from a middle-class family who put much of their time and savings into making my dream to pursue medicine a reality."
She received the Dr. Susan J. Mellette Scholarship that is awarded to students at the VCU School of Medicine who are interested in treating patients with cancer. Shah's passion for helping this population is nearly as personal as it gets. 
Two days after Shah's 16th birthday, her mother was diagnosed with an invasive and aggressive breast cancer.
"In that moment, my family's life turned upside down," she said. "An oncologist was no longer just another type of doctor, but instead a superhero who could save my favorite person in the world — my mother. Through her experience, I saw the humanity of oncology. Oncologists are educators and caregivers, cheerleaders and comforters."
Following her mother's recovery, Shah wanted to learn more about medicine and began volunteering as a full-time clinical research coordinator at a cancer research hospital. There, she designed and implemented new programs to improve the quality of life of cancer patients.
"In every patient, I saw my mother and remembered her challenges and fears," Shah said. "It was through this role and seeing my mother's health care team cure her that I was determined to pursue medicine."
A Legacy's Growing Impact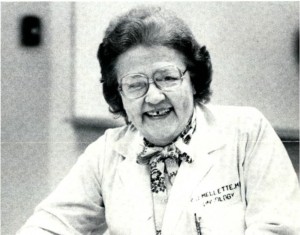 The Dr. Susan J. Mellette Scholars are selected based on their interest in oncology and any established activities or studies that support this interest, as well as financial need and academic achievement.
Dr. Mellette came to MCV in 1954 with a primary interest in oncology and retired as Professor of Medicine and Rehabilitation Medicine in 1995. As director of the Cancer Rehabilitation and Continuing Care Program, she established the first interdisciplinary teams to help cancer patients return to normal functioning. She passed away in 2000.
The scholarship is awarded to a handful of students each year, totaling roughly 164 recipients to date. Over the years, the Mellette Scholars have carried with them the name of the scholarship, why they received it and its impact on them as students and early career physicians.
Already Making a Difference
Now a third-year student at the VCU School of Medicine, Shah has worked with gynecologic oncologists and radiational oncologists to improve the quality of life of cancer patients. Her projects include assessing how the pandemic has affected these women — and how telehealth can be used to meet their care needs — and how pelvic radiation therapy can affect vaginal stenosis and methods to prevent it.
In her medical career, she hopes to pilot a mammogram screening program in low-income communities, especially for women at high-risk. She said her mother's cancer was complicated by a late diagnosis, and having access to a mammogram screening earlier could have detected it months in advance.
Today, the dreams like Shah's can come with a heavy burden of debt. Scholarships are needed at the VCU School of Medicine to enable more aspiring doctors to serve their communities in Richmond, in the commonwealth and beyond.
"Becoming a doctor has not just always been my dream, but my family's for generations," Shah said. "But especially as a first-generation immigrant and now first-generation doctor, there are many additional barriers. I would have graduated approximately half a million dollars in debt, but now thanks to generous scholarships such as this one, the number is much lower. The VCU School of Medicine strives to improve accessibility to medical education for students of all backgrounds."
---
To learn how you can help train the Top Docs of Tomorrow, contact Jodi T. Smith, director of development, at jodi.smith@vcuhealth.org or 804-628-2248.