Giving Tuesday: Supporting the MCV Campus on a National Day of Giving
This week we were pleased to help some of our MCV Campus Partners during Giving Tuesday.
Celebrated on the Tuesday following Thanksgiving, Giving Tuesday is a global day of giving that offers an opportunity for people to support causes and organizations that help others and save lives.
The day is fueled primarily by social media and online gifts, so this year we used Facebook to share opportunities for giving to the MCV Campus online through VCU's new crowdfunding tool, Igniter.
The School of Dentistry raised funds to send dental hygiene students to conferences.
That school's Giving Tuesday webpage said, "In 50 years of the Dental Hygiene Program in the VCU School of Dentistry, funding for students to travel to conferences has never been adequate. These experiences are so important for students not only to present and defend their research but also to network with colleagues and future employers and to gain new perspectives in the profession."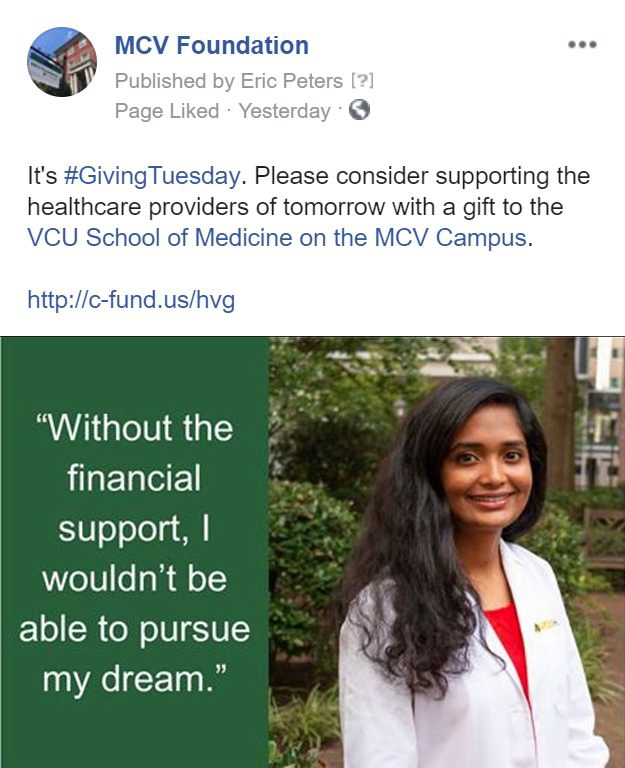 The School of Medicine raised funds to help its students reduce their debt upon graduation. "The dream of a career in medicine often comes with a heavy burden of debt," said the school's Giving Tuesday webpage. "In the 211-member Class of 2018, only 49 students graduated debt-free. The rest carried an average debt of $202,297."
VCU Massey Cancer Center asked its donors to "Be bold, dream big and join us in funding a world without cancer."
Massey's Giving Tuesday webpage said the research conducted at the cancer center right here in Central Virginia will one day mean that not a single person will ever have to experience the fear and uncertainty that comes with cancer.
At the end of the day on Tuesday, Nov. 27, the School of Dentistry had raised $2,730 from 24 donors, the School of Medicine had raised $6,313 from 39 donors, and Massey had raised $16,072 from 82 donors.
While Giving Tuesday is the peak of these fundraising campaigns, donations will be accepted through early December, so it's not too late to be a part of Giving Tuesday.
If you're interested in making an online gift today, click one of the images on the right side of this article to get started. If you would like to learn about other ways to give on the MCV Campus, please visit our giving page.