Honoring a Pathology Teacher and Mentor
Enrique Gerszten arrived on the MCV Campus more than 60 years ago as a resident. Today, as a longtime beloved faculty member, he continues to teach his popular elective, Paleopathology and Medical Anthropology, for fourth year medical students and works on campus several days each week.
The Argentina native's decades of teaching have left an immense impression on the more than 10,000 MCV and VCU students, residents and fellows he has taught. They remember the clarity of his lessons, the depth and breadth of his knowledge, and his compassion for his students.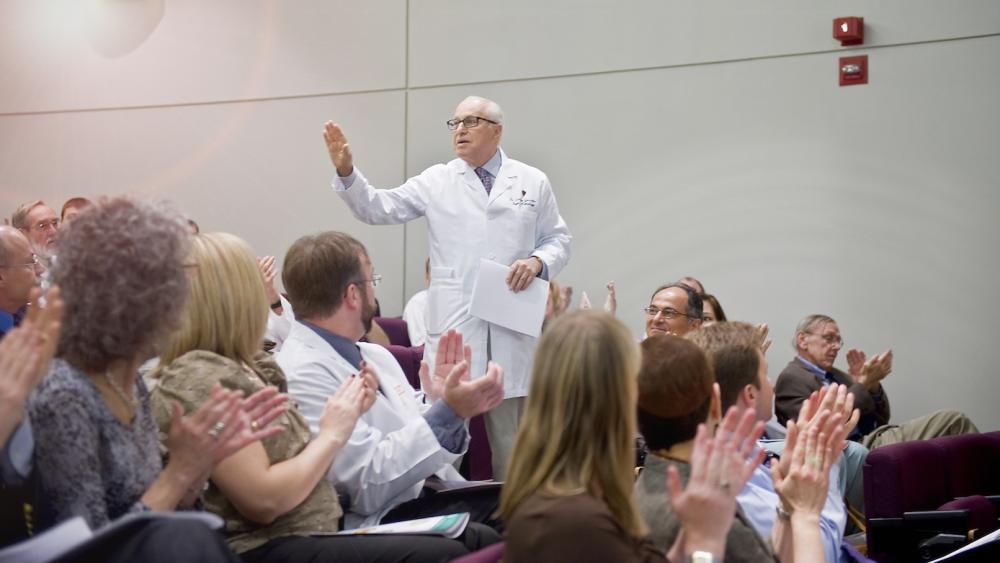 Dr. Gerszten's skill and enthusiasm for teaching led the VCU School of Medicine to rename its highest teaching honor in 2008. The Enrique Gerszten, M.D., Faculty Teaching Excellence Award is presented each year to a faculty member for outstanding teaching achievements. 
Now, to further honor the beloved teacher and mentor, an anonymous donor has established the Enrique Gerszten, M.D., Scholarship through a $100,000 gift. Dr. Gerszten's students today are spread out across the country, carrying his lessons with them, and this anonymous gift's donor will ensure that Dr. Gerszten's influence on medical students will continue in perpetuity.
"Dr. Gerszten has been a role model for us all. His love of medicine and pathology is contagious, and his smile captures his true love for his students," said Michelle Whitehurst-Cook, an MCV Foundation trustee and associate professor and senior associate dean of admissions at the School of Medicine. "His path to medicine demonstrates grit, enthusiasm, love of learning, resilience and promise, so this scholarship is an amazing tribute to Dr. Gerszten, whose story will continue to inspire future generations."
Scholarship assistance helps the School of Medicine build a medical student body that is more representative of the constituencies its graduates serve. The Gerszten Scholarship will advance the school's commitment to building a scholarship program that helps eliminate barriers to access for students of all socioeconomic statuses, backgrounds and cultures.
If you would like to join classmates and community members in supporting this scholarship to honor Dr. Gerszten contact Niles Eggleston, VCU Health's assistant vice president for development at 804-828-2112 or niles.eggleston@vcuhealth.org.