Honoring Those Who Support the VCU Health Mission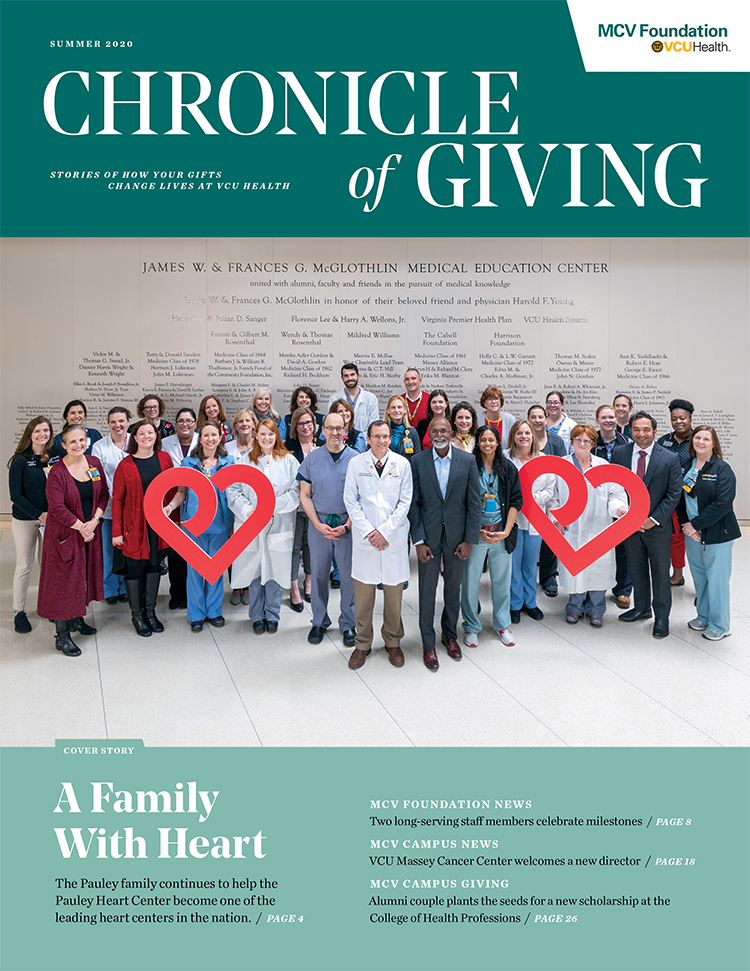 During times like these we feel especially fortunate to partner with a world-class academic health center. We have watched how the extraordinary professionals at VCU Health have handled this health crisis with compassion and strength.
We know that many of you have deep connections to the MCV Campus as you have gone to school here, taught here or received excellent care at VCU Health. Together, we feel a sense of pride and gratitude as we learn how the professionals at VCU Health have adapted so quickly by increasing hospital bed capacity early on, starting clinical trials to research potential treatments for COVID-19 and establishing a test for inpatients.
We hope the stories in our latest issue of the Chronicle of Giving continue to inspire you.
Our cover story features the Pauley family's exceptional gifts that continue to fortify the Pauley Heart Center as a national leader in cardiac care.
We honor the legacy of True Luck and the impact she and her family continue to have on VCU Massey Cancer Center. There are many more stories in this issue of how donors like you have created an impact by augmenting the lifesaving care, research and education at VCU Health.
We thank all of you who are healthcare providers. We honor the grace and bravery you show as you so selflessly serve in each of your communities. And we thank you, our donors, for your steadfast commitment to us and to this great institution. We know you stand with us through this crisis as we continue to support the healing, discovery and teaching mission of VCU Health.
Some of you have asked what you can do to help. We have established the VCU Health COVID-19 Response Fund to support research and the clinical care needs of both patients and caregivers. You can learn more about the fund at www.support.vcu.edu/covidresponse/ or by contacting Brian Thomas, MCV Foundation vice president and chief development officer, at 804-828-0067.