How Scholarships Help Forge Tomorrow's Top Health Care Leaders
In any given year, hundreds of young people from across the state, nation and world are studying on the MCV Campus at VCU Health to become the next generation of health care leaders and researchers.
Their direct care will save and improve the lives of individuals for decades, and the research some will go on to complete will advance and change the face of medicine.
The dreams medical students have chosen to pursue in life are not small or easy, and the people who help realize those dreams make an important impact that blossoms and multiplies for decades and generations. Teachers, mentors and friends are counted among those who help, but so too are generous donors who provide scholarships. This financial assistance is building a foundation in Richmond on the MCV Campus for tomorrow's top health care providers and researchers.
This academic year, donors accounted for 463 endowed scholarships available to students across the MCV Campus, including more than 130 at the VCU School of Medicine. Through these endowed scholarships, students from the four schools and one college had access to $3.3 million in funding and support that ranges from full tuition to modest support to help with expenses. In addition, 35 current fund scholarships provided more than $415,000 in financial assistance.
Here are just a few of the ways these funds have made an impact.
A Detour to Realizing a Dream
Rachel Easter is a 37-year-old career changer and single parent to an 8-year-old daughter, Victoria. She is the oldest member of the VCU School of Medicine Class of 2023, and the only member with a child.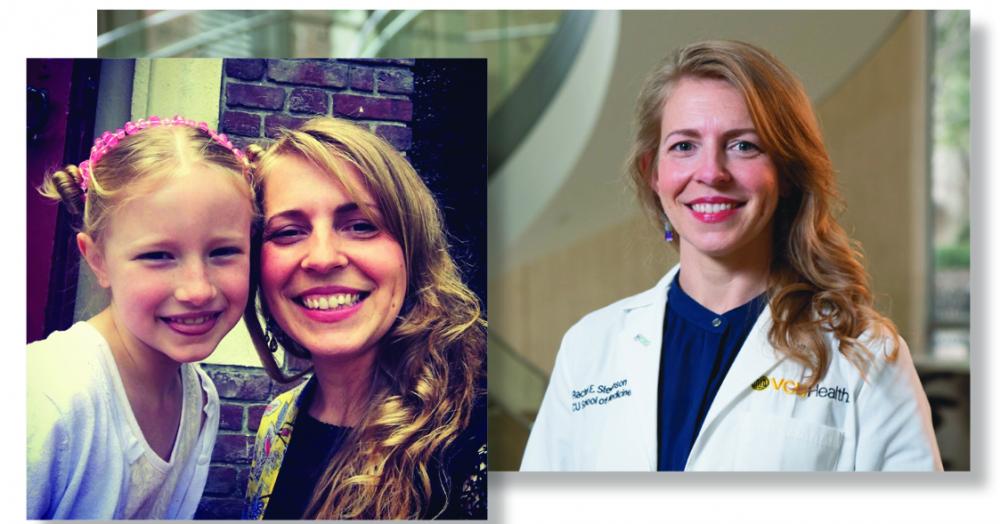 Rachel gave up a promising corporate career in Richmond to pursue her dream of becoming a family medicine physician. She hopes to practice in rural and underserved areas in Southwestern Virginia.  
"My goal in completing my education is to show my little girl that she can dream big, she can make mistakes, she can take detours, she can take the road less traveled, and through it all, that she will be supported," Rachel said. "I am grateful that I can tell her about the kind people who have supported me through school, and that they believed in me enough to help pay my way through school."
Rachel is the inaugural recipient of the Drs. Julie C. Møller and John B. Sanford Endowed Scholarship. She also has received the Hanover County Medical Society Scholarship.
Leading in a Time of Crisis
Danny Avula, M.D., M.P.H., a 2004 VCU School of Medicine graduate, is director for the Richmond City and Henrico County Health Departments, and has been vital to our region's work to contain COVID-19. In January, Gov. Ralph Northam appointed Dr. Avula to lead the state's COVID-19 vaccination effort.
Dr. Avula said the support he received on the MCV Campus is essential to his work today. "The VCU School of Medicine provided incredible mentors like Dr. Michelle Whitehurst-Cook, who encouraged and supported me as I pursued nontraditional rotations in local and international public health," he said. "These experiences paved the way for my career as a local health officer."
Dr. Avula also benefited from scholarship support. He received The William S. Dosher Scholarship, established by Dr. Dosher, who graduated from the MCV School of Pharmacy in 1924 and then completed his medical degree at MCV in 1930. This scholarship is awarded to an entering first-year medical student based upon the recipient's academic achievement as measured during his or her undergraduate years.
Addressing Mental Health
Aaron Pruitt is a fourth-year VCU School of Medicine student who is committed to improving the lives of young people, particularly those experiencing mental health challenges and who struggle with accessing care.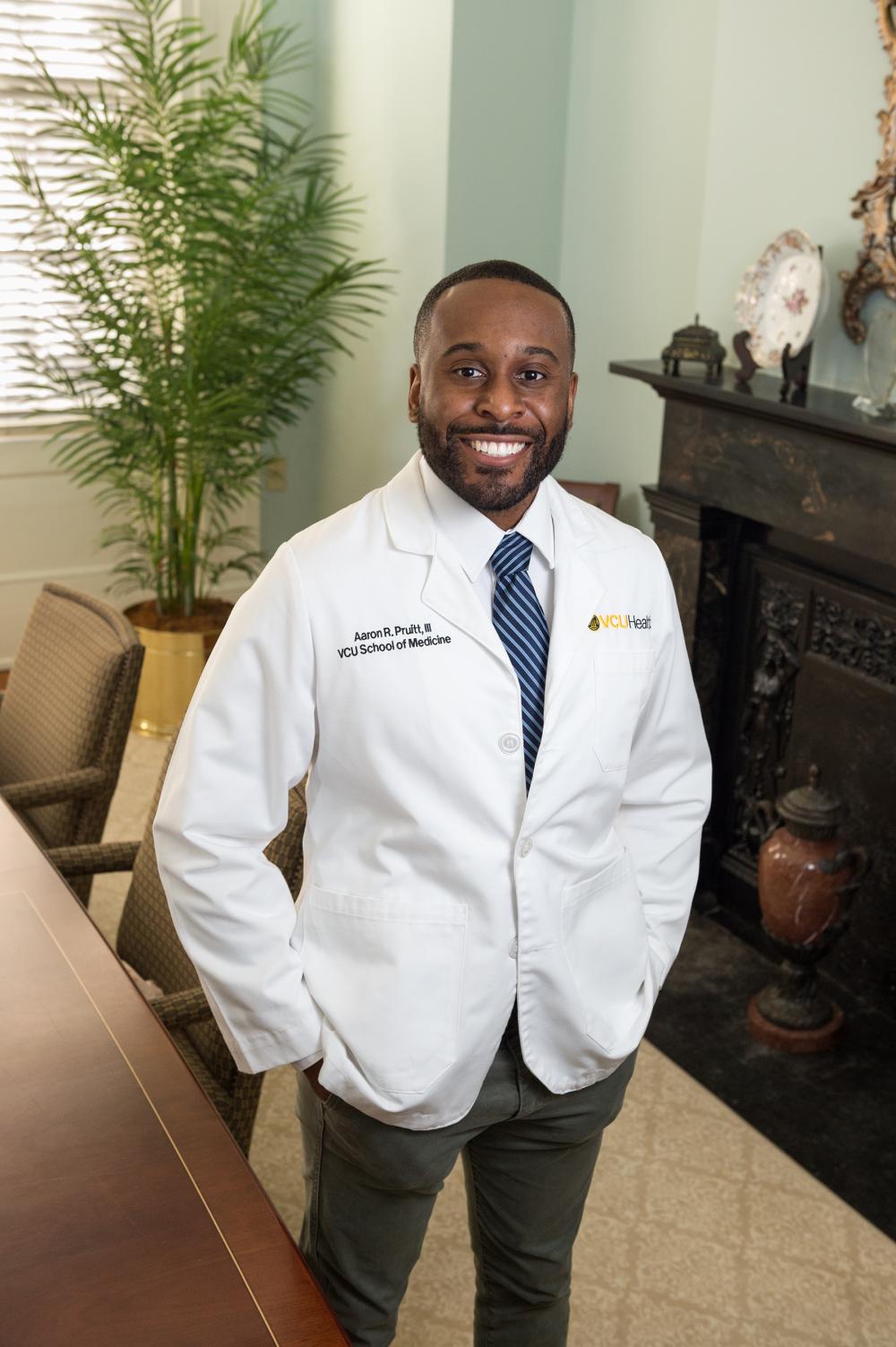 "Working with kids has always been a passion of mine and I would like to continue my efforts with at-risk youth suffering with emotional disturbances," he said. "This is particularly important to me when it pertains to addressing mental health disparities that disproportionately affect people of color. As a physician and an African American male, I also intend to work very closely with young African American males to show them they too can aspire to be physicians in the medical field."
The VCU School of Medicine is committed to building its scholarship program that helps eliminate barriers to access for students of all backgrounds, cultures and socioeconomic status. Aaron chose to study on the MCV Campus partly because of the scholarship assistance offered to him. A recipient of the Diversity Merit Scholarship in Health Sciences, the Dean's Scholarship and the Drs. O. W. Sr. and Oscar W. Jr. Ward Scholarship. Aaron will graduate with far less medical education debt than he would have without that support.
If you would like to learn about ways to help educate the next generation of health care providers, visit our giving page or contact Brian Thomas, vice president and chief development officer at the MCV Foundation.