MCV Foundation Vice President Honored with Fundraising Executive Award
The Virginia Association of Fundraising Executives (VAFRE) has honored the MCV Foundation's vice president and chief development office, Brian Thomas, with the Nina Abady Award, its most prestigious honor.
The Abady Award is presented annually to a fundraising professional who has demonstrated utmost excellence in the field of development.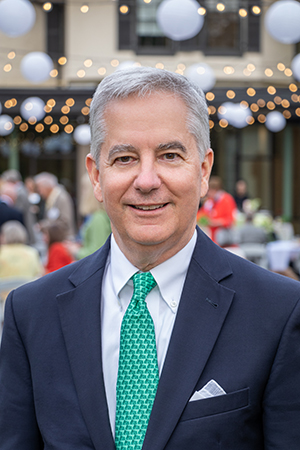 "Brian has devoted his whole career to philanthropy, and I was especially thrilled to hear he was receiving this award," said Margaret Ann Bollmeier, president and CEO of the MCV Foundation. "He is an expert at connecting people and the ideas that drive them with the most appropriate ways to create real change in the lives of students, researchers, care providers and community members, and he has been a tireless partner in helping inspire, steward and secure philanthropic resources in support of the MCV Campus."
VAFRE's top honor signifies to individuals, organizations, and the greater community that the Thomas has garnered the respect and admiration of colleagues throughout Virginia for his professional and ethical service.
"Brian has been a critical partner in some of the most significant gifts in support of VCU and the MCV Campus," said Niles Eggleston, VCU's assistant vice president for Medical Philanthropy and Alumni Relations. "He has a gift for building productive and strategic relationships with development officers and supporters to help them unlock their potential for transformative impact through giving." 
Thomas began his service at VCU in 2005 as vice president of the VCU School of Engineering Foundation. In 2009, he joined the MCV Foundation team as senior executive director of development and was promoted to vice president and chief development officer in December 2015. At the foundation, he works with campus partners and their donors to secure principal, major and planned gifts for the benefit of the MCV Campus, including its five health sciences schools, Massey Cancer Center, VCU Medical Center and other centers and programs. Brian has served on or led countless search committees for lead development officers, gift officers, academic deans and many other vital positions in his years at VCU and MCV Foundation. He has even served as interim lead development officer for the schools of Nursing and Dentistry.
The 2023 Abady Award is among several honors Thomas has received throughout his career of more than 35 years in the profession. The Council for the Advancement and Support of Education (CASE) recognized him with its 2020 Distinguished Service Award for his exemplary professional service to the organization and District III. He also received an invitation in 2021 to join the CASE Laureate Program, a select network recognizing the most experienced volunteer leaders from around the world who have provided invaluable service to the organization, led its major conferences, chaired advisory groups, served on governing bodies and received teaching awards. In addition to his leadership roles in CASE, Thomas has served in the ABA Section for Institutional Advancement. Locally, he is the current president of the board for the Virginia Gift Planning Council.
During his career, Brian has worked for Hampden-Sydney College, the University of Richmond, Stetson University College of Law and Vanderbilt University. He earned his M.B.A. from the University of Richmond and his B.A. in economics from Hampden-Sydney College.
"It is challenging to attempt to quantify the impact of Brian's work in support of the MCV Campus because it is so great," Bollmeier said. "He is the consummate professional — someone whom donors and colleagues both trust and someone who has demonstrated a deep commitment to improving our community through philanthropy."