Medicine and Law: Partners for Good
Editor's Note: This story originally appeared in the summer 2023 issue of NEXT magazine. Our online version includes more stories about innovative research happening on the MCV Campus.
By Eric M. Peters
On Nov. 1, 2022, Spotsylvania County Judge William Glover asked 11-year-old Jacob Harris to come sit with him behind the bench following a hearing.
"Tap the gavel three times and it will be official," Judge Glover told Jacob.
One. Two. Three.
With that, Jacob finalized his adoption to Judy Harris, the woman who had been caring for him since he was 1 week old.
It had been a long wait to get to this moment. For years, Judy tried to adopt Jacob, but the process was too expensive. Even when attorneys offered to reduce their fees, Judy just couldn't make it work financially.
"I hated money being the factor that kept me from this," Judy said. "I've always told him he was born in my heart. He is my son."
Judy always wanted to adopt Jacob, but she also needed to adopt Jacob.
Jacob is prediabetic and could benefit greatly from Medicaid and other government resources. He also has had, and will have, all of the sicknesses, injuries, pharmacy visits and emergency room visits that adolescent boys tend to experience along the way as they grow up.
For our lawyers, especially those who are in private or corporate practice, this work is particularly meaningful. It is an opportunity for them to use their skills in a way that has a personal and immediate impact for the families they're working with.

Allison Held, attorney and the director of MLP at VCU Health
These situations are not easy to navigate without full legal authority. In fact, they're nearly impossible at times.
Until, that is, help finds a way in. That help finally found Judy one fateful day on the MCV Campus at VCU Health.
"I was talking to someone at one of Jacob's doctor visits at VCU about our challenges," Judy said. "And a nurse happened to overhear us. She came to me and said, 'We have a program here that could help you.'"
Central Virginia's Medical-Legal Partnership
The program that the nurse connected Judy with that day is the MLP at VCU Health. It is a medical-legal partnership (MLP) that works to ensure legal and social issues no longer challenge patients and their families, enabling those patients to focus instead on treatment and healing.
Like similar MLPs across the nation, the program at VCU Health embeds lawyers as part of the health care team to address social determinants of health such as unlawful evictions, poor housing conditions, insurance and public benefit denials, family challenges, employment discrimination, and domestic violence by providing free civil legal aid to low-income patients.
"The U.S. health care system is not equipped to address the many barriers that patients can face when diagnosed with a serious health problem like cancer," said Susan Hong, M.D., director of cancer survivorship at VCU Massey Cancer Center. "When patients encounter these issues, they are often overwhelmed and desperate, unable to focus on their medical health. MLP at VCU Health serves as an important lifeline for many of our patients."
Part of VCU Health's Division of Community Health, the MLP launched in 2018 with the help of start-up funding from the MCV Foundation. It began by serving VCU Massey Cancer Center and Children's Hospital of Richmond at VCU, and today it serves patients and families in nine clinical locations and offers free legal services at two community sites.
"MLP is an extremely valuable program for patients at VCU Massey," said Dr. Hong, who works regularly with the patients and families the program serves. "It is well documented that unmet legal needs present a significant barrier to cancer care, especially for the most vulnerable patients. At VCU Health, MLP allows us to address these barriers to ensure every patient has access to comprehensive cancer care."
Patients are referred to the program in much the same way a physician would refer a patient to any specialist. After identifying relevant housing, custody, insurance or other legal needs during consultations, the referring physician simply uses a web form on the health system's intranet to share case details with MLP staff members, who then determine whether they can take the case.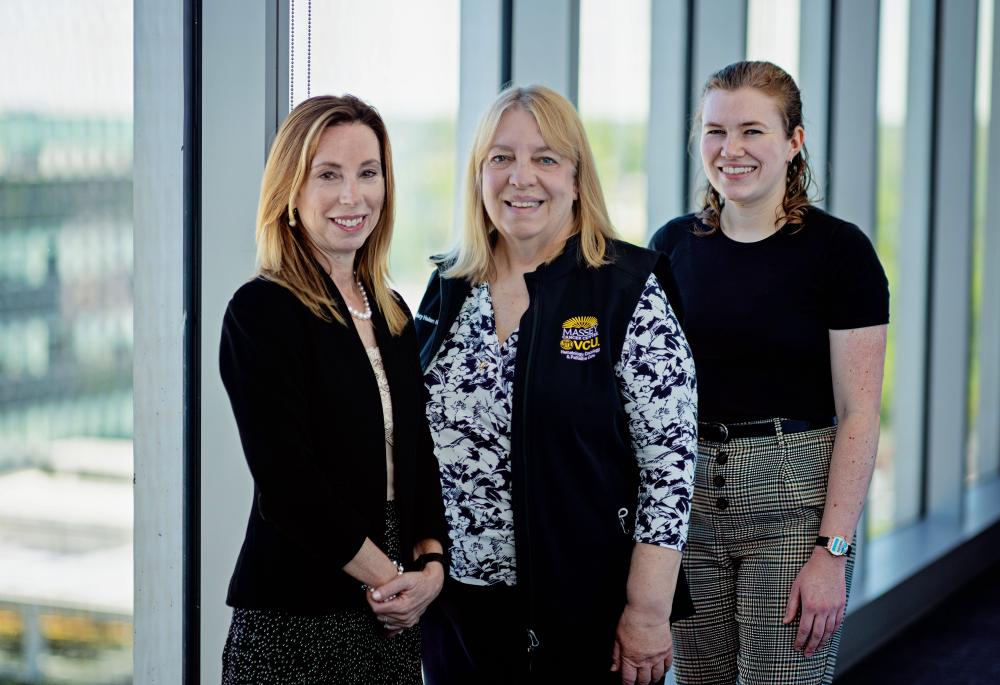 Allison Held is an attorney and the director of MLP at VCU Health. She began as a volunteer with the program in 2011 and became its first full-time paid employee in 2017 with the help of funding from the MCV Foundation and other organizations.
"It's particularly rewarding, having done this work for so long, to see MLP has finally taken its rightful place in health care and legal service delivery," she said. "When we started, social determinants of health weren't as universally accepted for their impact as they are now. Today, it is much more well understood and accepted that long-term health outcomes are dependent on social circumstances that oftentimes a legal intervention can address. We're one tool in the toolbox, and being part of that holistic approach to help our patients and families is deeply rewarding."
Through partnerships with Central Virginia Legal Aid Society, CancerLINC, McGuire Woods, Dominion Energy, Truist, the Legal Aid Justice Center, and the University of Richmond School of Law, the MLP has significantly increased the number of patients it serves each year. A $25,000 grant from the MCV Foundation in 2020 helped the program purchase a robust case management system necessary to support its growing caseload, which now totals more than 400 cases per year.
I had the chance to talk to Jacob. All that boy wanted in life was a mama.

Mahlon G. "Bud" Funk Jr.
Mahlon G. "Bud" Funk Jr. is one of the many attorneys who has taken on pro bono cases for the MLP at VCU Health. His motivations to help the program and the people it serves are quite personal.
"One of the last things my wife, Cindy, told me before she died of leukemia was that there are people out there who need my help," he said. "She told me, 'You have the skills to help, so keep helping.' So, I do."
Funk and other volunteer attorneys can point to successful cases they've handled that have restored retirement income for cancer patients, restored insurance coverage for cancer treatments, and improved housing conditions for families whose children suffer from asthma. They've restored SNAP benefits of $495 per month and back payment of $4,000 for a family of four living below poverty level. They've also successfully advocated at the state and federal levels for an incarcerated patient's access to participate in a clinical trial.
This past December and January alone, the MLP at VCU Health's volunteer attorneys improved housing conditions or obtained repairs for six clients, prevented or delayed six evictions, won $5,000 for a client after an illegal electricity disconnection, avoided or delayed utility termination for two clients and secured utility services for one client, preserved Medicaid benefits for one client, helped three families with guardianship, and helped 10 families obtain wills.
All of these issues, when left unaddressed, stand in the way of good health — from living conditions that perpetuate illness to paperwork and red tape that create anxiety and undue stress.
"For our lawyers, especially those who are in private or corporate practice, this work is particularly meaningful," Held said. "It is an opportunity for them to use their skills in a way that has a personal and immediate impact for the families they're working with."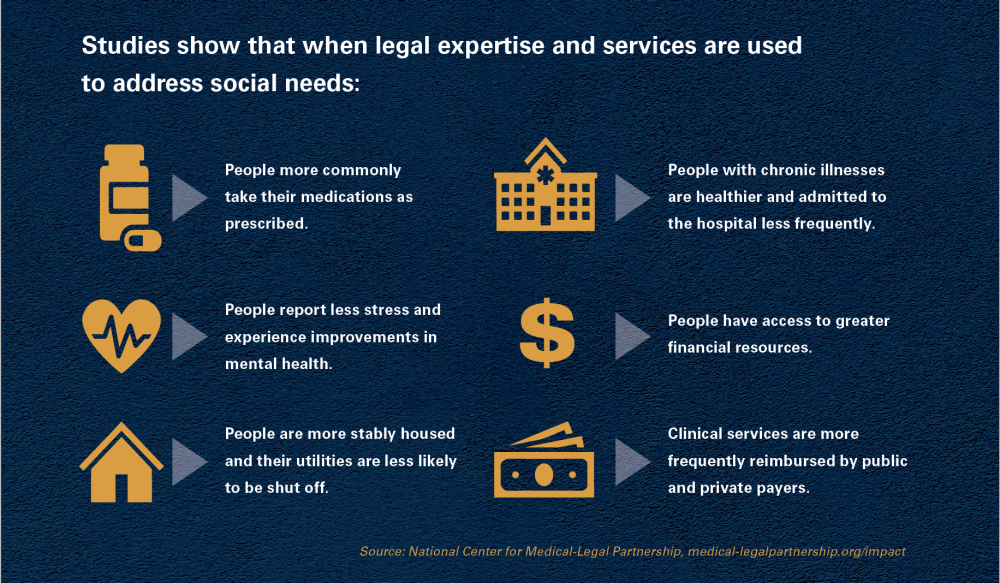 A Life-changing Outcome
Not long after that conversation at Jacob's appointment about her barriers to adoption, Judy Harris received a letter from Funk, who is a trial attorney with the Hirschler law firm and a giant in Richmond pro bono legal work who has more than 40 years of experience. The MLP had contacted and briefed him, the letter said, and he was eager to take the case.
"He said he was willing to help me and Jacob at no cost," Judy said. "I felt so excited, and I could not believe there was an organization out there that worked with you and tried to help you find the right people to make this sort of thing happen."
Funk and his team handled all of the legal work, including an expertly crafted petition and attachments that moved the case along quickly without a lengthy referral to Social Services and myriad investigations. Funk also led Judy and Jacob through that early morning court appearance on Nov. 1, 2022, which ended with cheers, tears and lots of hugs.
"I had the chance to talk to Jacob," he said. "All that boy wanted in life was a mama."
And now Jacob has exactly what he hoped for.
"Jacob is finally seen as my son at the hospital, at the Social Security office, in the eyes of the state and everywhere else," Judy said. "And that does matter. Programs like this need to be a part of all medical facilities. It's nice to know that there are people out there who will volunteer to help with legal issues — to help give a child a home, to put them where they need to be so they can enjoy their life and not grow up with major health problems or other challenges that could be avoided."
Judy no longer has to answer questions about where Jacob's mother is when she's trying to secure for him the health care, aid and other services he deserves — but if the question does come up, the answer now is a whole lot easier.
---
If you would like to make a gift to support the MLP at VCU Health, please contact Brian Thomas, the foundation's vice president and chief development officer, at 804-828-0067 or brian.thomas@vcuhealth.org
Healthier for All
View more stories from our ongoing series about health equity.