NEXT Magazine: Exploring Innovation at VCU Health
We are proud to have published our second issue of NEXT magazine this December.
We started the magazine last year to share the incredible innovations in patient care, research and education being discovered every day on the MCV Campus at VCU Health. The exciting advances made by our world-class healthcare providers improve and save lives right here in our community, and the impact is felt around the world.
In this issue, the research and innovation that we present include a broad range of patient care, from prevention and diagnosis to treatment and recovery.
Prevention and Diagnosis
Beginning with our cover story, we explore Dr. Richard Marconi's research to prevent and diagnose Lyme disease by developing a vaccine for dogs, a more accurate diagnostic test for humans, and the science that will lead to a human vaccine in the not-too-distant future.
We also investigate new wearable technology that lets people know when they are experiencing a cardiac arrest and automatically alerts emergency medical personnel. We also look at a new method of determining what medications trauma patients are taking in the event they are unconscious or disoriented when they arrive at the emergency department.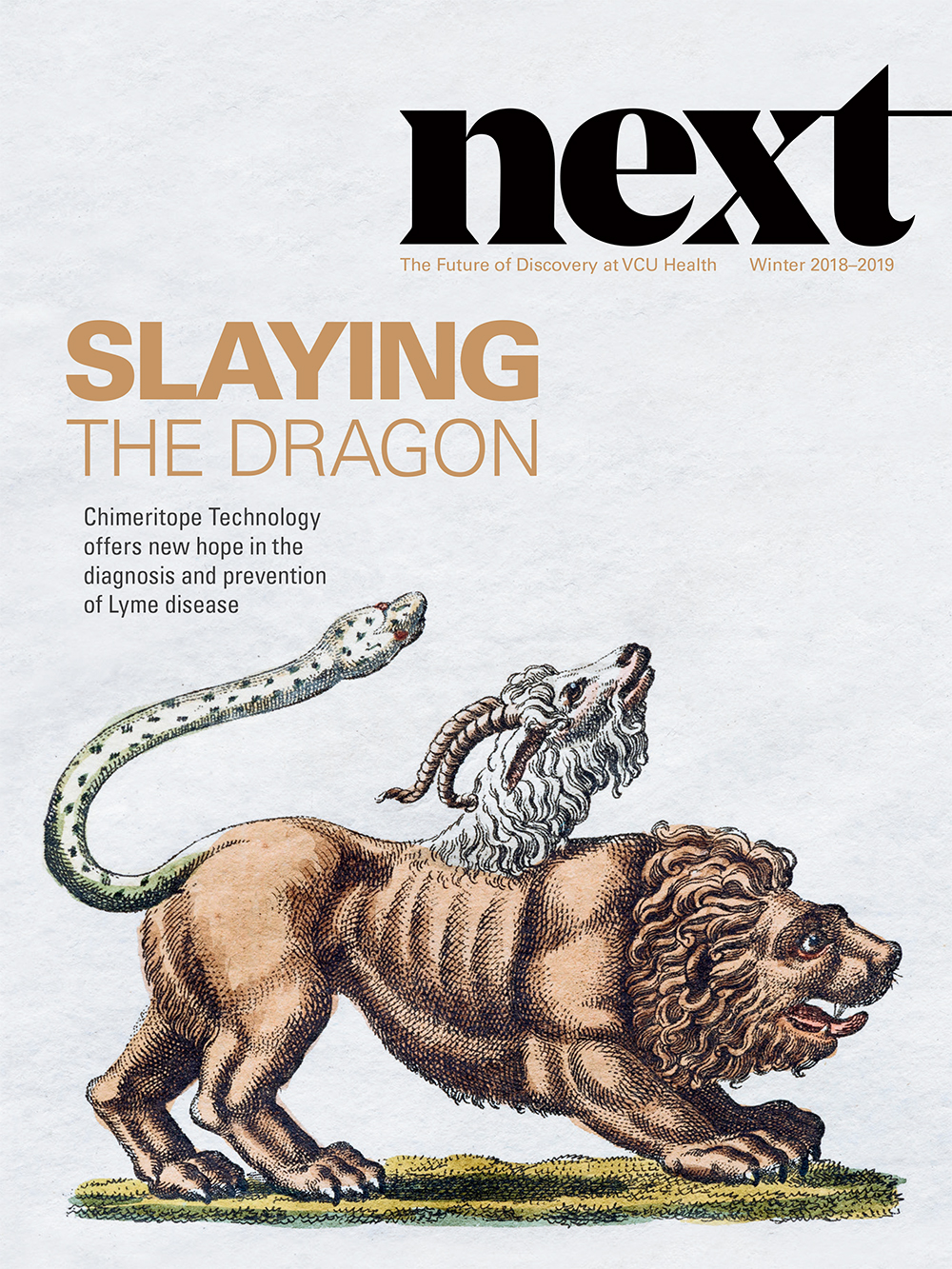 Treatment and Recovery
We begin exploring treatment and recovery at VCU Massey Cancer Center, which became the first location in Virginia to offer CAR T-cell therapy this summer. This new treatment involves genetically modifying the immune system to attack cancer cells.
We then move on to look at state-of-the-art care that uses deep brain stimulation to help people with Parkinson's disease and other movement disorders regain control of their motor skills. We also explore a fresh look at recovery to address the ongoing opioid crisis through a study that guides opioid overdose survivors directly from the emergency department into long-term treatment facilities.
This level of research and development requires significant funding to bring ideas from the bench to the bedside. VCU Health is fortunate to garner public and private research awards, and philanthropic funding is playing an increasingly important role, especially in moving early stage research projects forward. In fiscal year 2018, the MCV Campus health science schools and college received $155.4 million in new research awards, raising the total MCV Campus sponsored research amount to $621 million.
We hope you enjoy learning about the innovative work being accomplished at VCU Health and feel inspired to join our community and be a part of the next great discovery.
If you would like to view the inaugural issue online, please click here. If you aren't on our mailing list and would like to be added to receive future issues, please subscribe here.