Nursing Scholarships Nearly Doubled with New Conway Gift
A new $3 million gift, combined with a $2.5 million commitment from last year, will allow the VCU School of Nursing to nearly double the number of need-based scholarships for undergraduate students. 
Philanthropists William E. Conway Jr., co-founder and co-executive chairman of The Carlyle Group, and his wife, Joanne, provided both gifts to support the school's efforts to address the nursing workforce shortage.
The nationwide nursing shortage in the U.S. is expected to intensify as more people retire from the profession and the need for healthcare grows. Many schools are struggling to expand capacity to meet the demand for more skilled nurses, and the U.S. Bureau of Labor Statistics projects around 200,000 new registered nurses will be needed each year through 2026 to fill new positions and replace retiring professionals.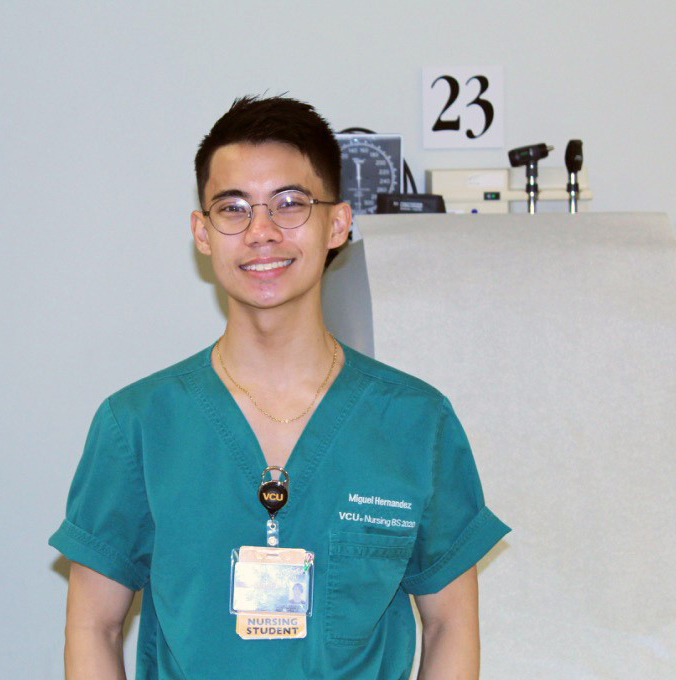 "We decided to support VCU School of Nursing because we were seeking to provide nursing scholarships to qualified students in our area," William Conway said. "VCU has an excellent record in educating nurses and was highly recommended by other nursing leaders. We decided to double the amount of our scholarships because we are impressed with VCU's commitment to educating more students to become nurses."
William and Joanne Conway have donated millions of dollars in support of nursing scholarships, as well as training and mentoring of faculty at schools of nursing in Virginia, Maryland and Washington.
Approximately 72% of the School of Nursing's 455 undergraduate students qualify for need-based scholarships. Last fall, 84 undergraduate students received a scholarship from the Conways' initial gift.
"The Conways' generosity has helped to relieve weight off my shoulders, allowing me to keep a better balance between all the financial obligations that I try to manage, while giving me some crucial, extra breathing room to better focus and stay consistent with my studies, work and personal life," said scholarship recipient Miguel Hernandez, VCU Nursing Class of 2020, a traditional B.S. student from Leesburg, Virginia. 
Miguel was inspired to become a nurse after the care he experienced as a teenager after a life-threatening accident. "I was certain that I belonged in a career that allowed me to pay forward what had been given to me: physical healing, holistic care, and attitudes that allowed my emotional and mental state to recover through what was the most traumatic event of my life," Miguel said. He hopes to work as a travel nurse and eventually go into nursing education.
With the additional gift, to be disbursed over five years, the school will be able to offer partial and full scholarships to more than a third of its undergraduate students — about 150 students per year.
The scholarships will be available for financially eligible students enrolled in the traditional B.S., accelerated B.S. and RN to B.S. programs, including those who are co-enrolled in nursing programs at Southside Virginia, Rappahannock and John Tyler community colleges. In addition, two full scholarships will support B.S. to Ph.D. students interested in careers as faculty. 
"Scholarships have a significant impact on the school's ability to help more students graduate into the nursing profession," said Jean Giddens, Ph.D., professor and dean of the School of Nursing. "We are very grateful for the Conways' investment in our school and are pleased to be able to reduce the financial burdens of more students preparing to enter the nursing workforce."
If you are interested in learning how you can support scholarships for nursing professionals by contributing to existing scholarship funds or creating new ones, contact Pamela Lowe, senior director of development at the VCU School of Nursing, at 804-827-0020 or plowe@vcu.edu.