Editor's Note: This story originally appeared in the summer 2022 issue of NEXT magazine. Our online version includes more stories about innovative research happening on the MCV Campus.
By Eric Peters
Battling a rare disease means many things for those who are faced with such a challenge. Individuals and families in these situations routinely navigate delayed or completely absent diagnoses, limited treatment options, high drug prices and uncertainty about where to find the best care.
Amyloidosis, an often fatal buildup of proteins in organs that interferes with their normal function, has traditionally been one of these diseases. For one type of amyloidosis, the only approved drug therapy carries a $225,000 per year price tag, making it the most expensive cardiovascular drug ever launched in the U.S. Further, there is only one health system in Virginia where patients can find comprehensive treatment for amyloidosis. And perhaps most strikingly, there is widespread misunderstanding within the health care community about the disease.
For people who are 80 or 90 years old and die of supposedly 'natural causes,' one in four of them have this amyloid [acquired ATTR] in their heart.

Keyur Shah, M.D., David E. Tolman Professor in Heart Failure, VCU Health
A team of researchers and care providers at VCU Health are global leaders in changing these realities for people who live with amyloidosis now and in the future. Leading that team is Keyur Shah, M.D., the David E. Tolman Professor in Heart Failure at VCU Health. He believes the problem is bigger than anyone realizes, positing that the misunderstanding and lack of awareness have led to massive underdiagnosis, and that amyloidosis is in fact not rare at all. He says that often when the public hears of a person dying of "natural causes," "old age," or heart disease that has no apparent cause, the culprit is amyloidosis.
Thus, cultivating more treatment options and improving awareness within the medical community to improve diagnosis could save countless lives.
Dr. Shah sees a future in which diagnoses can be made earlier; patients can be directed to comprehensive treatment facilities like VCU Health; and better, less expensive drugs can be studied and made available. He and his VCU Health colleagues are on the frontlines of the movement to educate, treat and bring these new therapies to market. In 2020, their work positioned VCU Health as one of the top enrollment sites in the world for a clinical trial examining a new amyloidosis drug, and that was made possible because over the past decade, the team has built the only access point for comprehensive cardiac amyloidosis treatment in Virginia.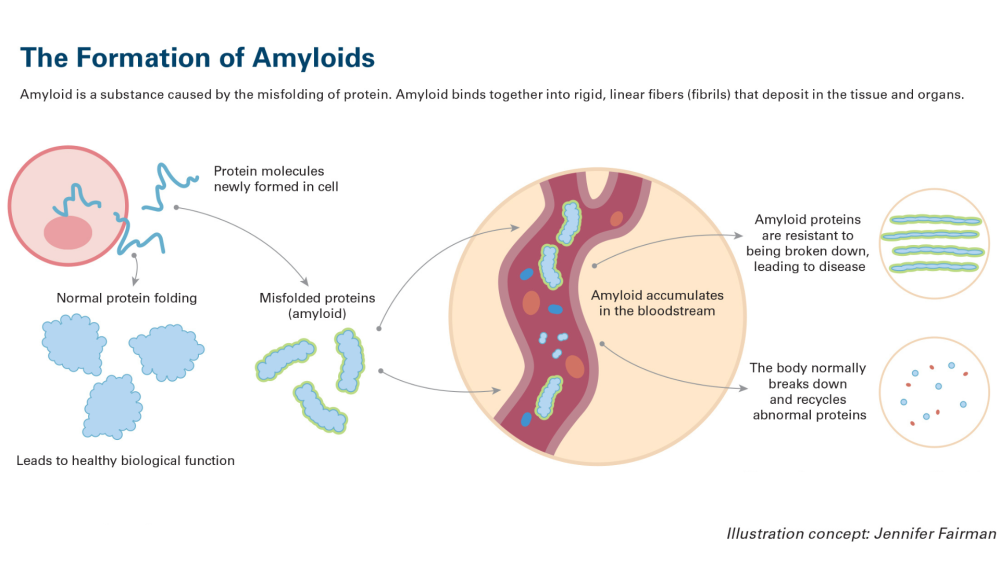 What is Amyloidosis?
There are more than 100 proteins in the human body that can create amyloid, which is a pink substance that builds up in organs causing amyloidosis. This amorphous material that is transported throughout the body is created when proteins unfold and then refold. Like pink cement, amyloid pours into organs, fills the space between the cells and destroys tissue.
In the heart, the muscle becomes thick and stiff. The process can occur in a matter of months, or it can take years, slowly causing heart failure, arrhythmias or valve disease. If it goes undiagnosed, patients can die suddenly because the heart is so filled with amyloid that it stops contracting.
There are three main types of amyloid disease that affect the heart.
Light chain amyloidosis (AL)
Also known as primary amyloidosis, light chain amyloidosis occurs when bone marrow produces too much amyloid protein. It often affects the heart, lungs, kidneys, liver, stomach, intestines and nervous system. Early detection is important, and treatment reduces symptoms and limits further amyloid buildup.
AL amyloidosis is similar to multiple myeloma and has to be treated quickly with chemotherapy. Once the heart is affected, if left untreated, survival time is six months.
Age-related amyloidosis (acquired ATTR)
This variety, which is also known as wild-type amyloidosis, is caused by a liver protein called transthyretin (TTR). During aging, TTR can accumulate in the heart, making it an underdiagnosed cause of heart disease in patients over the age of 60. In addition to heart problems, patients often have carpal tunnel syndrome, spinal stenosis and/or nerve pain. These symptoms may occur years before the disease affects the heart. With early identification, therapies can slow or halt age-related amyloidosis.
"For people who are 80 or 90 years old and die of supposedly 'natural causes,' one in four of them have this amyloid in their heart," Dr. Shah said. "So, what we're better understanding is there's a large population of patients in their late 60s and 70s that start developing heart disease for no obvious reason, and what's actually happening is they're experiencing amyloidosis amyloid deposition."
Hereditary amyloidosis (hereditary ATTR)
Hereditary ATTR is caused by a mutation in the TTR gene. The predominant variant in the U.S. is called the V1221. It came from West Africa during the slave trade, so it largely affects families who've been rooted in the southeastern U.S. and the Caribbean. One in 20 Black Americans carries this mutation, which doesn't mean all of them have amyloidosis, but it does increase the risk of any heart disease.
Acquired and hereditary ATTR are beginning to be recognized as much more prevalent than initially perceived. Until recently, the only way to diagnose the disease was a heart biopsy, which Dr. Shah says was part of the problem.
"Amyloidosis symptoms have been blamed on high blood pressure, diabetes and other things," he said. "So, it was mistreated for a number of years until more recently when less-invasive diagnostic techniques were developed. And it might also be the reason that many patients in the past were sort of stereotyped as being difficult to treat or unresponsive to therapies — because providers were treating the wrong disease."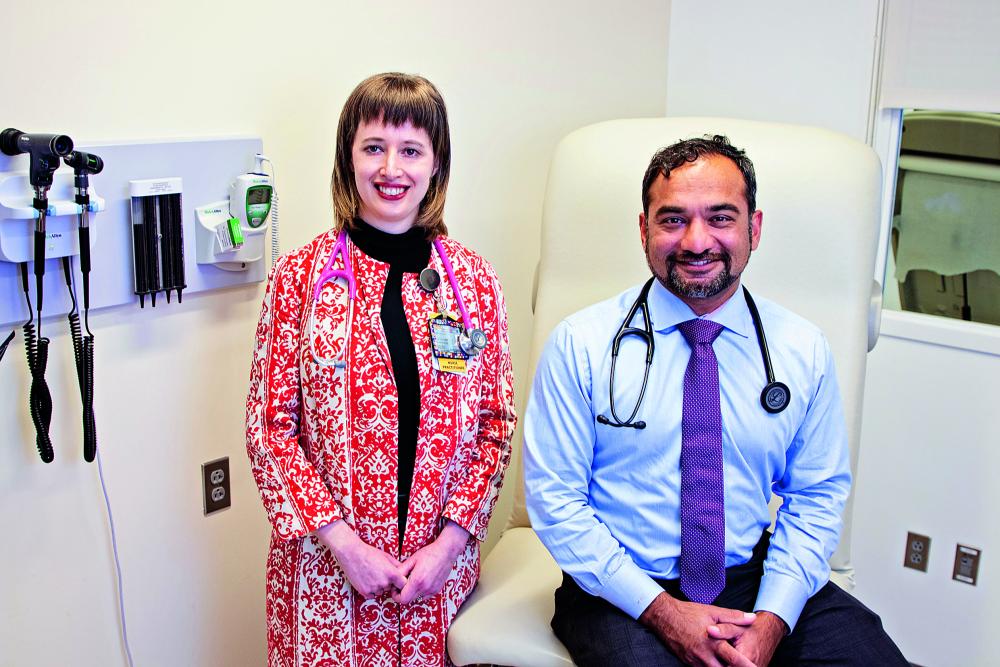 Clinical trials at VCU Health
Once amyloidosis is properly diagnosed, there is no approved treatment for AL amyloidosis and only one FDA-approved drug treatment for TTR cardiac amyloidosis, and its $225,000 price tag puts it out of reach for most patients. By conducting clinical trials at VCU Health, Dr. Shah and his team are international leaders in helping bring additional therapies to market. And through these clinical trials, patients at VCU Health's Pauley Heart Center have access to new therapies earlier than most patients around the country.
The things that make VCU Health stand out most are our awareness and expertise surrounding care for these patients.

Sarah Paciulli Nurse Practitioner, VCU Health
ATTRibute Clinical Trial
VCU Health's international leadership is perhaps best exemplified by its effort to screen patients with ATTR cardiomyopathy (ATTR-CM) and enroll them into ATTRibute, a clinical trial testing a novel therapy called AG10. Among 51 recruitment centers in the U.S. and abroad, VCU Health ranks among the top five in recruiting patients into the trial.
AG10 simulates a mutated gene that in the past has been shown to protect against ATTR. It binds the four arms of the TTR protein and prevents it from turning into amyloid. Early data from the second phase is suggesting the medication is very effective for treating ATTR cardiac amyloidosis.
Cardio-TTRansform Clinical Trial
This is a multicenter, double-blind study in up to 750 participants who will be randomized to receive subcutaneous injections of either a drug known as AKCEA-TTR-LRx or a placebo once every four weeks.
"It goes to the liver like a smart bomb," Dr. Shah said. "It prevents the translation of TTR RNA, and the protein is never synthesized. It shuts down production of TTR."
Now in its third phase, this drug's phase one clinical trial showed AKCEA-TTR-LRx reduced TTR up to 94% at the highest dose.
Through both the ATTRibute and Cardio-TTRansform clinical trials, VCU Health is the only access point in Virginia for patients to receive these and other promising amyloidosis drugs.
Amyloidosis clinic
Since Dr. Shah arrived on the MCV Campus, VCU Health has been committed to researching, diagnosing and treating amyloidosis.
He now leads a renowned, multidisciplinary team of top providers, physicians and surgeons in a center of expertise for patients in need of amyloidosis treatment and resources. "We're one of the leading clinical trial enrollment centers in all of the U.S. because of a high population of referrals for ATTR," Dr. Shah said. "Part of that has to do with improved recognition of the disease here in the community through outreach and education."
Sarah Paciulli is a nurse practitioner who works with Dr. Shah's team to treat amyloidosis at VCU Health. She and Dr. Shah are frequently in touch with colleagues in the community to help providers understand when to consider treating someone for amyloidosis.
"Our mission is not just to get patients here in studies and treat the disease," Dr. Shah said. "It's also to make sure all providers know what they're looking for so they can make the correct diagnosis and get patients to the appropriate treatment."
At VCU Health, many state-of-the-art tools are employed to make diagnoses. These include advanced imaging procedures like cardiac magnetic resonance imaging (MRI), cardiac pyrophosphate scans, echocardiograms (heart ultrasounds), electrocardiograms (EKGs), Holter monitoring (to diagnose abnormal heartbeats), and positron emission tomography (PET) scans.
"It's really imperative to use these tools to identify and diagnose patients early on in the disease, because therapies currently available halt progression, but do not reverse the damage," Paciulli said. "And proper diagnosis is also important because people with amyloidosis don't tolerate medications traditionally used to treat congestive heart failure. If these patients are not accurately diagnosed, they are probably going to be given medications that actually make them feel worse."
The most appropriate medications and treatments are part of what the individually tailored care teams at VCU Health provide. These teams include amyloidosis doctors and researchers from several medical and surgical specialties. Depending on the type of amyloidosis the patient has, they may see specialists in cardiology, medical oncology, nephrology, neurology, organ or stem cell transplantation, or palliative care.
"The things that make VCU Health stand out most are our awareness and expertise surrounding care for these patients," Paciulli said. "I think it can be very reassuring to patients to be in a place that understands the disease and knows how to provide help. These patients are often misdiagnosed several times before learning they have amyloidosis. That sometimes wears on their trust and confidence in the medical system, but I think once they get into our clinic, it's a big relief because they now know what's going on, and they know that we know how to make them feel better."
Feeling better begins with using the latest therapies to help make it possible to manage symptoms, limit the spread of harmful amyloid proteins and live an active, productive life.
For ATTR, the acquired or hereditary forms, disease-modifying drugs like those used in the current clinical trials stabilize existing TTR proteins or prevent production of further TTR proteins in the liver. For AL, VCU Health offers bone marrow transplants or chemotherapy. And if any type of amyloidosis causes heart, kidney or liver failure, patients may be put on the wait list for a transplant at Pauley Heart Center or at the VCU Hume-Lee Transplant Center, one of the busiest transplant centers in the country.
Many liver and heart transplants for amyloidosis patients have been performed at VCU Health. In some patients with aggressive hereditary ATTR, the team has performed both heart and liver transplants for a single patient, curing the disease by replacing the source of the bad protein and replacing the damaged heart. These cases have often created the opportunity for domino transplants, which occur when the liver that is making the bad protein, but is otherwise functioning well, is given to someone who might be older with end-stage cirrhosis and doesn't have time to wait on the usual list. This unique domino procedure saves two lives at once.
"As you can see, it's a complicated disease," Dr. Shah said. "You have one group that's treated with chemotherapy and may need a bone marrow transplant. You have another group that's older and needs oral therapies. Then you get some hereditary patients, who are either older and on oral therapies or younger with a fairly aggressive mutation that may need liver or heart transplants. Then you have other patients who have neuropathy components. At VCU Health, patients can access the newest therapies and comprehensive interdisciplinary support system needed to save their lives."
If you are interested in supporting clinical care or research that will improve the lives of amyloidosis patients, contact Justin Jannuzzi, director of development for VCU Pauley Heart Center, at 804-628-8905 or justin.jannuzzi@vcuhealth.org.
PATIENT PERSPECTIVES 
Amyloidosis affects more patients than initially understood. Read two perspectives of patients who received lifesaving care at VCU Health.
Make a Difference
Support clinical care or research that will improve the lives of amyloidosis patients.