Personalizing Breast Cancer Treatment
Breast cancer patients may soon play an even more active role in making their treatment decisions, and they could also have a better option in choosing to safely avoid chemotherapy.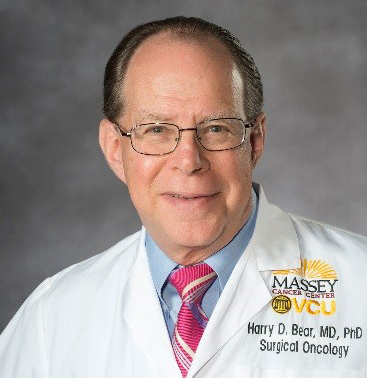 Harry Bear, M.D., Ph.D., director of Breast Health at VCU Massey Cancer Center, and his team recently published the results of a study to determine whether genetic testing could be used to help patients decide on the most effective and least toxic treatment for their specific cancer.
This study focused on the pre-surgical decision between hormone therapy and chemotherapy for patients with estrogen-receptor-positive (ER+) breast cancer. ER+ breast cancer has receptors for estrogen, which suggests that the cancer cells, like normal breast cells, may receive signals from estrogen that could promote their growth.
Using tissue from a biopsy, the genetic test used in Dr. Bear's study — Oncotype DX — examines expression levels of 21 genes to determine the molecular biology and behavior of the patient's individual tumor. The test has been clinically validated to quantify the likelihood of cancer recurring and the impact of chemotherapy.
The Oncotype DX test provides a score to classify patients as having a low-, intermediate- or high-risk of cancer recurring after surgery. Most research to this point has been performed in an adjuvant (post-surgical) setting, and showed that patients in the low-risk category benefit more from hormone therapy, while patients in the high-risk category benefit more from chemotherapy. More studies need to be performed to determine what the best treatment protocol is for patients with an intermediate score.
"Traditionally, breast cancer treatment was based on various criteria, such as the size and type of cancer," said Dr. Bear. "Now, we take a much more individualized approach. We look at the molecular biology of the tumor as the most critical determinant in how it will behave and what treatment will be most beneficial."
Dr. Bear's study is unique in that it lays the groundwork for more research to be done with the intermediate score group, and it also examines treatment decisions before surgery.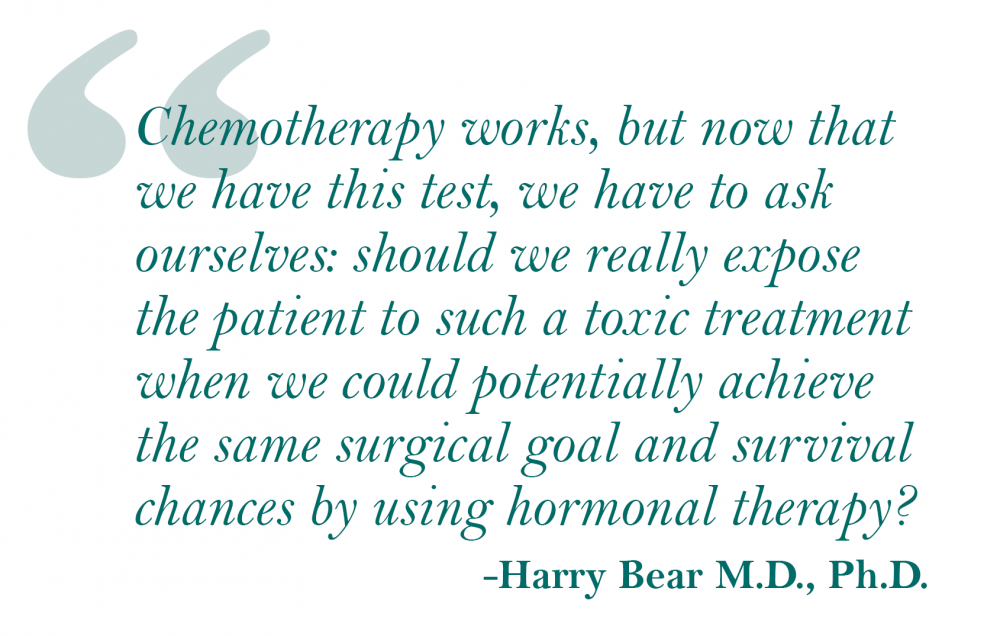 "Chemotherapy has been used neoadjuvantly (pre-surgically) to treat breast cancer for decades in order to shrink tumors and enable breast-conserving surgery," said Dr. Bear. "However, neoadjuvant hormone therapy is markedly underutilized in the U.S. and more commonly used in Europe. Chemotherapy works, but now that we have this test, we have to ask ourselves: should we really expose the patient to such a toxic treatment when we could potentially achieve the same surgical goal and survival chances by using hormonal therapy?"
The purpose of Dr. Bear's feasibility study was to lay the groundwork for a larger study by making sure patients were willing to accept their assigned treatment of chemotherapy or hormone therapy for purposes of the study. The goal was to have less than one-third refuse treatment.
Seven U.S. and Canadian centers enrolled 59 patients in the study, 33 of whom were classified with intermediate scores. Only five of the 33 intermediate score patients refused their assignment to chemotherapy treatment. That represents only a 15 percent refusal rate, well within the goal of 33 percent.
In addition, the patients with intermediate scores who received neoadjuvant hormonal therapy had a 72 percent success rate in breast-conserving surgery, which was slightly above the success rate of patients who received neoadjuvant chemotherapy.
"The sample sizes in this study are too small to allow for firm conclusions, but the results do show that a larger study is feasible and that the Oncotype DX recurrence score can help with treatment decisions before surgery," said Dr. Bear. "If future studies confirm that patients with low and intermediate recurrence scores have similar rates of success with neoadjuvant hormone therapy, these patients can avoid the toxicity and cost of chemotherapy, and still enjoy a successful surgical outcome."
At Massey Cancer Center and across VCU Health, researchers are laying the foundation for future inquiry, translating basic science into impactful therapies and conducting trials that save lives. To support cancer treatment, research and education specifically, visit the online donation form and choose Massey Cancer Center from the dropdown menu or search for "cancer" to find related funds.
Other ways to join our community and support VCU Health include planned giving, honoring loved ones through tributes and memorials, and endowing scholarships or professorships. To learn more about these opportunities, visit our giving page.