Pharmacy Alumni Honor Beloved Professor with Scholarship
The most surprising part of the VCU School of Pharmacy's annual Research and Career Day came after the presentations and networking between students and alumni. That's when supporters announced a new scholarship named in honor of Jürgen Venitz, M.D., Ph.D., a longtime and beloved faculty member.
Around 50 alumni returned to the MCV Campus for the event, and many came back to celebrate and honor Dr. Venitz, who joined the faculty in 1988. The newly established Jürgen Venitz Scholarship will support pharmacy students in the dual Pharm.D./Ph.D. program.
Scholarship support for students in this seven-year track is essential for attracting some of the brightest minds to the MCV Campus.
Sue Learned, a 1997 Pharm.D./Ph.D. alumna, made a lead gift toward establishing the scholarship to honor Dr. Venitz's years of faculty mentorship.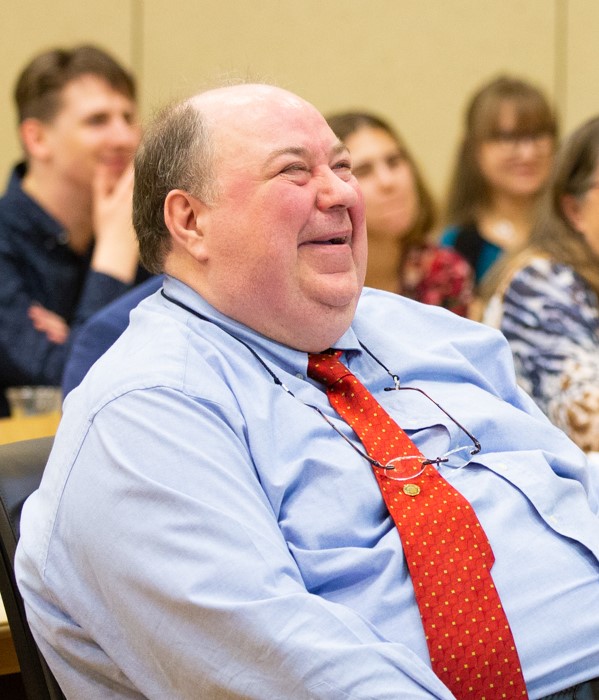 "Dr. Venitz has been such an important mentor, inspiration and role model for my career," Dr. Learned said. "When I first met him during my graduate school interview at MCV, I immediately knew that I wanted to work with and learn from him. His description of what a clinician scientist could do across different practice settings was exactly what I was looking for, and from that first interaction, I knew he was brilliant and was likely going to be the best career teacher and mentor I would ever have."
Dr. Learned's admiration for Dr. Venitz is shared by many around the world. Gifts flowed in from Taiwan and Jordan to support the scholarship fund, which had amassed more than $70,000 from 30 donors at last check. A record number of alumni flew in from around the U.S. and Canada to attend the annual event on campus. Many more shared favorite stories about Dr. Venitz.
"I was humbled and touched," Dr. Venitz said. "I was very emotional. I never expected this. One of the main reasons why I joined and stayed in academia was the ability to teach — including mentoring. All the little things that you do to help students figure out what to do career wise."
Dr. Venitz has inspired many students over his decades of teaching and mentorship. His relationships with so many School of Pharmacy alumni have also inspired a significant number of first-time gifts.
"The scholarship is in honor of Dr. J and his achievements, so how could I not?" said Dr. Vanitha Sekar, a 1995 Ph.D. alumna. "It was spearheaded by one of my favorite graduate student colleagues Susan Learned. Both are wonderful people and great scientists and have done so much to make the Pharm.D./Ph.D. program one of the best in the country. These kinds of scholarships provide access to groups of students who may be otherwise unable to attend graduate school."
If you would like to honor Dr. Venitz with a contribution to the scholarship created in his name, please contact Louie Correa, senior director of development at the VCU School of Pharmacy, at lacorrea@vcu.edu, or by calling 804-828-3016.