Planned Gift Strengthens Scholarship Support for Nurse Practitioner Students
A $1 million gift from the estate of Rebecca Peebles Bowen continues her and her husband's legacy of supporting healthcare and healthcare education. The Dr. Robert Richardson Bowen and Rebecca Peebles Bowen Endowed Scholarship will support nurse practitioner students in the master's or Doctor of Nursing Practice programs at the VCU School of Nursing.
Rebecca Peebles Bowen's avid support for healthcare and healthcare education began early in her adult life.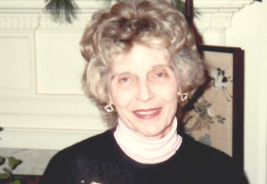 When her husband, the late Robert Richardson Bowen, M.D., entered medical school in the 1950s at the Medical College of Virginia, Rebecca worked to support their family through a job at Miller & Rhoads, the legendary Richmond department store. Rebecca had studied merchandising at the Richmond Professional Institute, which later merged with MCV to create Virginia Commonwealth University. She was naturally gifted at her job, says her niece Mary Dunn Conover. Rebecca quickly earned a promotion to be an assistant buyer of children's clothes for the department store.
Mary Dunn remembers that was a happy time for her aunt and uncle. Both Bob and Rebecca were members of the Greatest Generation. They lived through the Great Depression and Bob volunteered to serve on a destroyer for the U.S. Navy in both the Atlantic and Pacific theaters during World War II. Those global events deeply shaped the Bowens.
"They grew up with the concept that if you had resources that could benefit others, you should share them," says Mary Dunn.
Rebecca died last year at age 91, leaving behind a legacy of generosity from both her and her husband. Dr. Bowen, who died in 2013, practiced as an orthopedic surgeon for 40 years in Lynchburg, Virginia, mentoring numerous physicians and nurses. He was a member of the Lynchburg Academy of Medicine, the Medical Society of Virginia and the American Academy of Orthopedic Surgeons.
During their lifetimes, the Bowens made numerous contributions to healthcare and healthcare education. In the early '90s, they funded a new surgical suite and adjacent waiting room at Lynchburg General Hospital. They also established the Dr. Robert R. Bowen Foundation, which provided ongoing nonprofit support until its transfer to the Greater Lynchburg Community Foundation in 2016. Over its lifespan, the Bowen Foundation board allocated annual grants to further both healthcare delivery and nursing education.
Now, the Bowens have expanded their generosity to make an impact on the MCV Campus. Rebecca left $1 million from her estate to the School of Nursing.
Rebecca's decision to give from her estate to endow a scholarship at the VCU School of Nursing was made with the hope of advancing the careers of nursing students by supporting nurse practitioners in the master's or Doctor of Nursing Practice programs. The scholarships will fund half of the tuition and fees for full- or part-time students who are Virginia residents and demonstrate academic merit and financial need.
"We are truly grateful for the Bowen family's investment in our students," says Jean Giddens, Ph.D., dean of the VCU School of Nursing. "The scholarships will enhance our ability to prepare more nurse practitioners with the advanced education needed to improve patient safety and the delivery of healthcare."
During her life, Rebecca was continually impressed at the role nurse practitioners play in providing healthcare in rural and urban areas with access challenges.
Rebecca and her husband found inspiration in their next-door neighbor, who was a nurse practitioner and taught as a professor. Rebecca often told her niece that she believed nurse practitioners are skilled at listening to patients and explaining what's happening.
"Nurse practitioners are an increasingly vital part of the whole medical system," said Mary Dunn, who retired as director of a community health clinic. "Most of the highly-trained specialists and big practices track with the interstates. But when you get out into the countryside, fewer and fewer people want to go into those areas, and that is where nurse practitioners have been an absolute godsend."
Rebecca saw the opportunity to endow this scholarship to honor her late husband's career and philanthropy by supporting education and training for the talented men and women who choose to become nurse practitioners.
If you're also interested in supporting scholarships for the next generation of healthcare professionals, visit our giving page to learn how you can contribute to existing scholarships or create new ones to ensure that a world-class education remains within reach for all qualified individuals.