Editor's Note: This story originally appeared in the summer 2022 issue of NEXT magazine. Our online version includes more stories about innovative research happening on the MCV Campus.
By Paul Brockwell Jr.
Triple-negative breast cancer is one of the most aggressive cancers, and few targeted therapies exist to combat the grim diagnosis. Once the cancer recurs, the average life expectancy is about one year. That reality could be changing thanks to the work of researchers at VCU who are working across disciplines to better understand how a drug developed by Nicholas Farrell, Ph.D., could be better targeted to patients.
Dr. Farrell is now a member of Massey's Developmental Therapeutics research program and professor in the Department of Chemistry at the VCU College of Humanities and Sciences, but he was a graduate student in the late 1960s when he became fascinated by platinum chemistry. He turned his interests to the biological chemistry of metals after research in the U.S. led to the discovery of the anticancer properties of platinum-based agents. Since then, he's become an internationally recognized expert in the area of anticancer drugs, and his research improves pharmaceuticals.
We're not talking about platinum metal, but a yellow powder that was first reported in 1845. Its anticancer activity was discovered accidentally in the mid- to late 1960s...platinum-based drugs have been one of the great anticancer drug discovery stories.

Nicholas Farrell, Ph.D., professor, Department of Chemistry VCU College of Humanities and Science
New insights from research at VCU Massey Cancer Center are improving an understanding of how to personalize medicine for cancer patients, and they're also breathing new life into a once-shelved drug, Triplatin, which entered second phase clinical trials in the early 2000s.
Triplatin never made it to phase 3 clinical trials in patients as a potential treatment for ovarian, breast and lung cancer, but that could change soon after Dr. Farrell's collaborators have developed a clearer understanding of why the gold standard for treating cancer sometimes stops working in patients after initial success. Dr. Farrell hopes his novel compound could potentially avoid resistance to treatment by reengineering the platinum molecules.
The drug in development seeks to solve a problem that usually begins when patients initially do well with available therapies, but later relapse into a form of their disease resistant to treatment. The options for addressing these pernicious forms of ovarian and breast cancer are practically nonexistent, but on the MCV Campus researchers are working to better understand how to effectively target treatments to attack the cell growth gone amok. This development process is part of a larger institutional initiative aimed at drug discovery and development that brings a whole-of-university approach to health challenges that spans across disciplines and departments on campus.
"We're not talking about platinum metal, but a yellow powder that was first reported in 1845," explained Dr. Farrell, who has received awards of excellence from the university for his teaching and research. "Its anticancer activity was discovered accidentally in the mid- to late 1960s. Since the Food and Drug Administration's full approval of cisplatin in 1978, platinum-based drugs have been one of the great anticancer drug discovery stories."
Platinum-based drugs are an important tool in the arsenal against cancer, Dr. Farrell said, but despite good initial responses, some patients relapse, and resistance to available drugs is a serious clinical problem when it comes to treating ovarian and breast cancer. Today, around half of cancer patients receive platinum in combination with chemotherapy, but over time physicians observe challenges in some patients with resistance to therapy and adverse side effects. To address these challenges. Dr. Farrell and his team are engaged in what he describes as standard medicinal chemistry — the act of making new structures and designing less toxic ones. There are currently three platinum drugs fully approved by the FDA to treat cancer, and he'd like to add a fourth.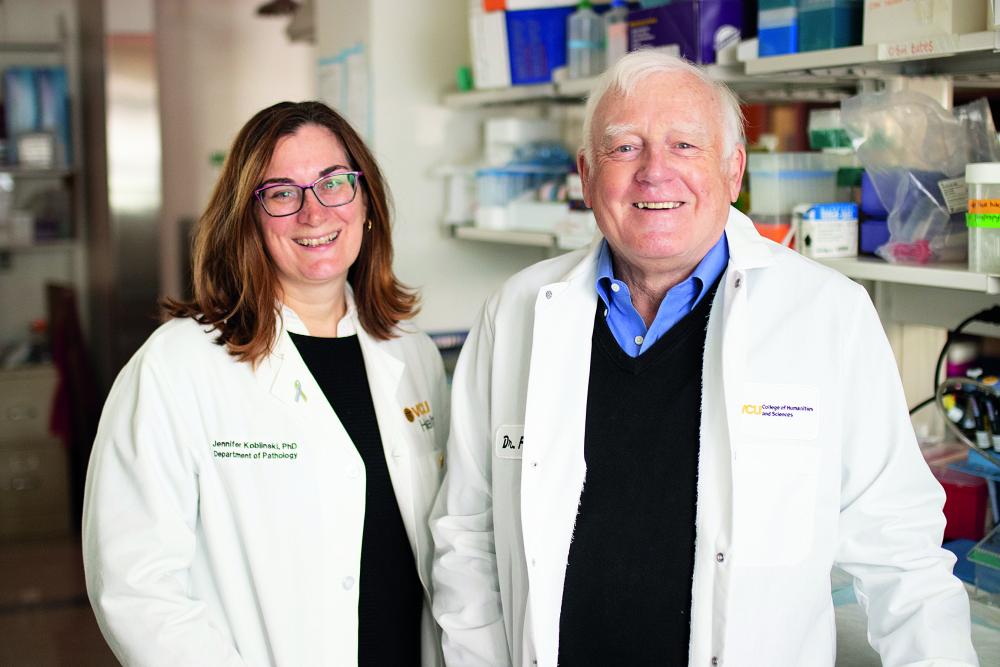 Triplatin is a platinum-based drug from a class that originated in Dr. Farrell's lab and was patented in the 1990s. Around 20 years ago, under the auspices of Novuspharma SpA, the drug made promising advancements into second phase clinical trials, but the drug fell slightly short of the efficacy thresholds needed for FDA approval. Now, Dr. Farrell may know more about why. Understanding the mechanisms that allow cancers to grow and spread through the body is a key when working to discover new therapies to stop unregulated cell growth.
That's how Dr. Farrell connected with Jennifer Koblinski, Ph.D., a professor of pathology and a researcher affiliated with VCU Massey Cancer Center. Dr. Farrell was leading a faculty seminar in Massey's developmental therapeutics group when Dr. Koblinski saw an opportunity for collaboration.
"Our interaction is a great example of two people bringing in very different backgrounds to tackle the challenges faced in medicine," Dr. Koblinski said. "Together, we can have a stronger research project that engages experts across campus. We also wouldn't have had this much success without the help of talented graduate students, postdoctoral fellows and laboratory managers like Erica Peterson in Dr. Farrell's lab."
Dr. Farrell's lab has achieved what fewer than 1% of investigators typically are able to achieve, and that's getting a drug to trials with human patients.
Dr. Koblinski's research focuses on the mechanisms that facilitate breast cancer metastases to the brain. She has specifically examined how one protein, when present, often indicates an easy pathway for breast cancer to spread to the brain. But, conversely, when the protein is neutralized or not present, the risk for metastasis lessened. Her understanding of the biology and pathology of cancer cells provided expertise that was very helpful to Dr. Farrell as he sought to identify ways to better target tumor cells with the drug and to ensure the uptake of the medicines. Developing a profile for the types of tumors that may better respond to his design of a repackaged platinum-based therapy has been one of this research group's biggest challenges and success stories.
"This meant that we had to bring the chemists, the biologists, etc., all together," Dr. Farrell said. "In testing the compounds we made, one of the thoughts was that DNA repair has a resistance to these older platinum drugs, but if we change the structure of platinum, then the new compounds could overcome resistance to the drug."
The previously developed drug — Triplatin — had some success in overcoming that resistance, and the new insight shows how to more precisely target tumor cells by exploiting the drug-sugar interactions on the surface of tumor cells. By targeting those markers, Triplatin is more effective in reducing tumor invasion, migration and growth. The team's clinical collaborators are excited about the potential.
In February, Drs. Farrell and Koblinski published a journal article in Molecular Cancer Therapeutics1 that shows Triplatin can be effective against triple-negative breast cancer. Their research found that around 40% of triple-negative breast cancer cases had tumors rich in sugars called sulfated glycosaminoglycans (sGAGs). The presence of those sugars allows Triplatin to bond strongly to the surface of the tumor cells and accumulate/damage the cancerous cells more specifically.
Once inside the cell, the drug localizes to the nucleolus, decreases RNA transcription, and causes cell cycle arrest. The drug itself is a new configuration of platinum with greater effectiveness at treating drug-resistant cancers based on research work that Drs. Farrell and Koblinski have built and tested.
"We now propose to move on to clinical trials to prove Triplatin's effectiveness in human subjects," Dr. Koblinski said. "We will examine the levels of biomarkers to see if they are low or high, and the patients with high levels of biomarkers will be treated with Triplatin in a precision medicine approach."
The potential to expand effective treatment options is an exciting prospect for the team involved, which has been working on this project for around five years. The approach is applicable to all cancers that have the appropriate sGAG profile, and the next important tumor targets are ovarian and pancreatic cancers. It's also a great example of how VCU's approach to scientific and medical research is inherently multidisciplinary and collaborative.
"This project is an important example of how team science moves things forward and how understandings change over time," Dr. Farrell said. "It's very important that we have some idea of how the drug works so we can only treat those who will be most likely to respond."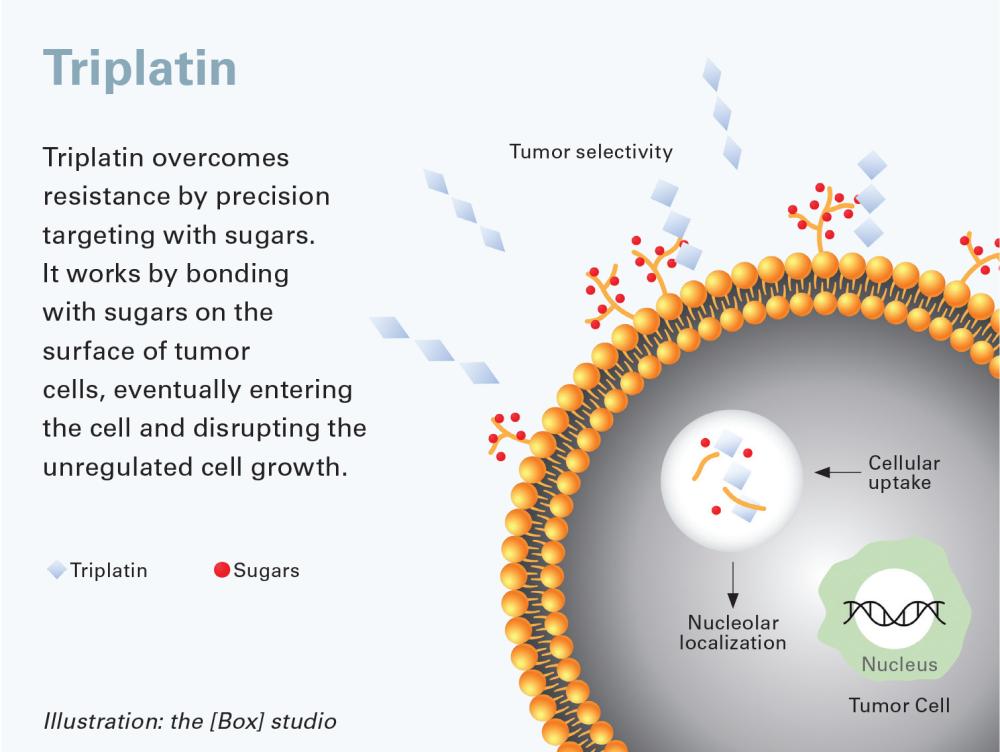 What's Next?
Dr. Farrell's lab has achieved what fewer than 1% of investigators typically are able to achieve, and that's getting a drug to trials with human patients. The results have been very promising, and he has been quick to credit the type of collaboration he's able to do at VCU and around the world with the success. He hopes to present this latest work to the FDA to show them the rationale for reinvestigating his drug Triplatin based on this new understanding of the cellular dynamics. Once they receive the clearance for investigation of a new drug, they will work to test the effectiveness of its targeting, validate the biomarkers identified and develop a new clinical protocol.
"Our compound is particularly well suited to exploiting that profile," Dr. Farrell said. "Validating the biomarker is the biggest next step — and hoping that not only will we be getting the drug into the clinic but also have a companion diagnostic to go with the new therapy."
Research like this project benefits tremendously from philanthropy in its early stages. If you would like to support this research on effective treatments for triple-negative breast cancer, please contact the Massey Development Office at 804-828-1450.
---
1. J.D. Hampton, E.J. Peterson, S.J. Katner, T.H. Turner, M.A. Alzubi, J.C. Harrell, M.G. Dozmorov, P.J. Gigliotti, V. Kraskauskiene, M. Shende, M.O. Idowu, M. Puchalapalli, B. Hu, L. Litovchick, E.Katsuta, K. Takabe, N.P. Farrell, J.E. Koblinski: Exploitation of sulfated glycosaminoglycan status for precision medicine of platinums in triple-negative breast cancer. Molecular Cancer Therapeutics. (2022) 21, 271-281 PMID: 34815360.
Make a Difference
Support breast cancer care and research at VCU Health to help improve the lives of patients.