Private Philanthropy Ignites COVID-19 Research
Editor's Note: The Richmond Times-Dispatch reported in December the Vitamin C COVID-19 trial funded by the foundation is now underway. This important clinical trial was made possible by generous support from the foundation board and additional community leaders committed to helping us realize a better tomorrow through creative research that fuels excellent patient care. 
The trial underway will build a greater understanding of how high doses of Vitamin C delivered intravenously can be a safe and effective treatment for severe cases of COVID-19. The therapy, designed by Dr. Alpha "Berry" Fowler, a VCU Health pulmonologist, seeks to regulate the body's immune system to avoid aggressive, dangerous immune responses in the lungs.
When Alpha A. "Berry" Fowler III, M.D., a professor in the Division of Pulmonary Disease and Critical Care Medicine in VCU School of Medicine's Department of Internal Medicine, first saw COVID-19 causing breathing complications and pneumonia in some patients, he immediately thought of applying his research with Vitamin C.
We covered Dr. Fowler's groundbreaking work using Vitamin C to treat sepsis in the inaugural issue of NEXT in Fall 2017. Sepsis is a life-threatening condition that occurs when the body's immune response to a viral or bacterial infection becomes excessive and actually does more damage than the original infection. The lungs tend to be particularly vulnerable when the immune system goes into overdrive, which can result in acute respiratory distress syndrome, acute lung injury or pneumonia.
"My colleagues and I hypothesized that if we started Vitamin C treatment just as COVID patients were beginning to show a need for oxygen support, we could calm the lung with Vitamin C as an anti-inflammatory therapy," Dr. Fowler told us.
Those colleagues include Brian Davis, M.D., assistant professor of medicine in the Gastroenterology Division at Hunter Holmes McGuire VA Medical Center, and Markos G. Kashiouris, M.D., MPH, an intensivist and assistant professor in VCU's Division of Pulmonary Disease and Critical Care Medicine.
Dr. Davis has an open-label clinical trial underway at Hunter Holmes McGuire VA Medical Center using Dr. Fowler's Vitamin C protocol, and has enrolled 20 veterans hospitalized with COVID-19 pneumonia.
"So far, the Vitamin C protocol has been very well tolerated without significant side effects and most veterans have an improvement in oxygenation while receiving Vitamin C. Since veterans represent one of the highest-risk groups for complications related to COVID-19, it is critical to develop safe and effective therapies that dampen the damage triggered by this virus," Dr. Davis told us. Final analysis of the AVOCADO study will be submitted to a peer-review journal for publication later this year. 
Drs. Davis, Fowler and Kashiouris recently received approval from the FDA to run a two-center safety trial using their Vitamin C protocol to treat 60 study participants with COVID-19 pneumonia. Once this trial, called EVICT-CORONA-ALI, is complete, they hope to launch a much broader, multi-site clinical trial.
"We're excited to begin this trial, but none of this would be possible without Harry Thalhimer," Dr. Fowler said. "I've known Harry for years and taken care of many of his many family members. He's been working behind the scenes to make sure we have funding. We're not receiving any federal grants at this stage, so this trial will be completely supported by donors who are passionate about this area of research."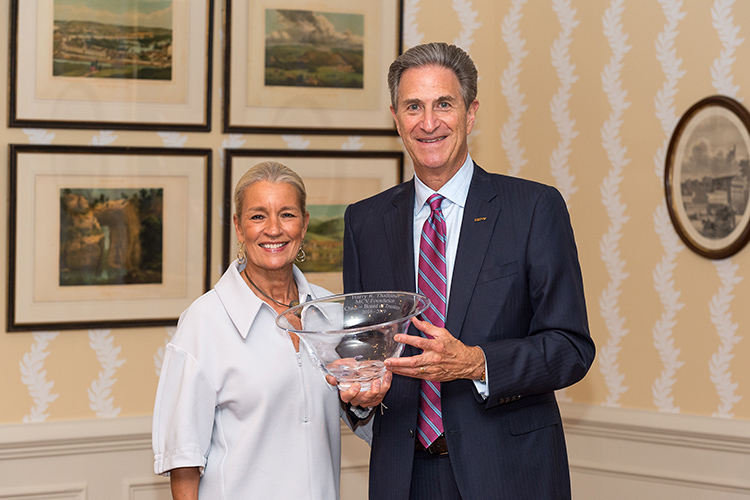 Harry Thalhimer, MCV Foundation board member and past chair, has long been an advocate for the people of VCU Health and the work being accomplished on the MCV Campus, and his interest in this project is especially personal. "Berry Fowler treated my parents, my brother and my wife over the past 30 years. He's legendary in his diagnosis and treatment of pulmonary disease, and through my involvement I've grown to admire and respect Berry greatly; he's become a friend," Harry said.
"I told Berry I would do my best to help him raise the funding he needed. I reached out and in a very short time secured substantial personal commitments from the MCV Foundation and VCU Health families. The truth of the matter is that raising money for causes you believe in and people you believe in is easy. I know that people in this community have the utmost respect and admiration for medical leaders like Berry Fowler," Harry told us.
If you feel inspired and would like to further this research effort, please contact Brian Thomas, MCV Foundation vice president and chief development officer, at 804-828-0067 or brian.thomas@vcuhealth.org.