Toward a Healthier Virginia for All
This article is part of an ongoing series of stories highlighting VCU Health programs and initiatives aimed at addressing issues of access and equity in health care.

Editor's Note: This story originally appeared in the winter 2023 issue of NEXT magazine. Our online version includes more stories about innovative research happening on the MCV Campus.
By Eric Peters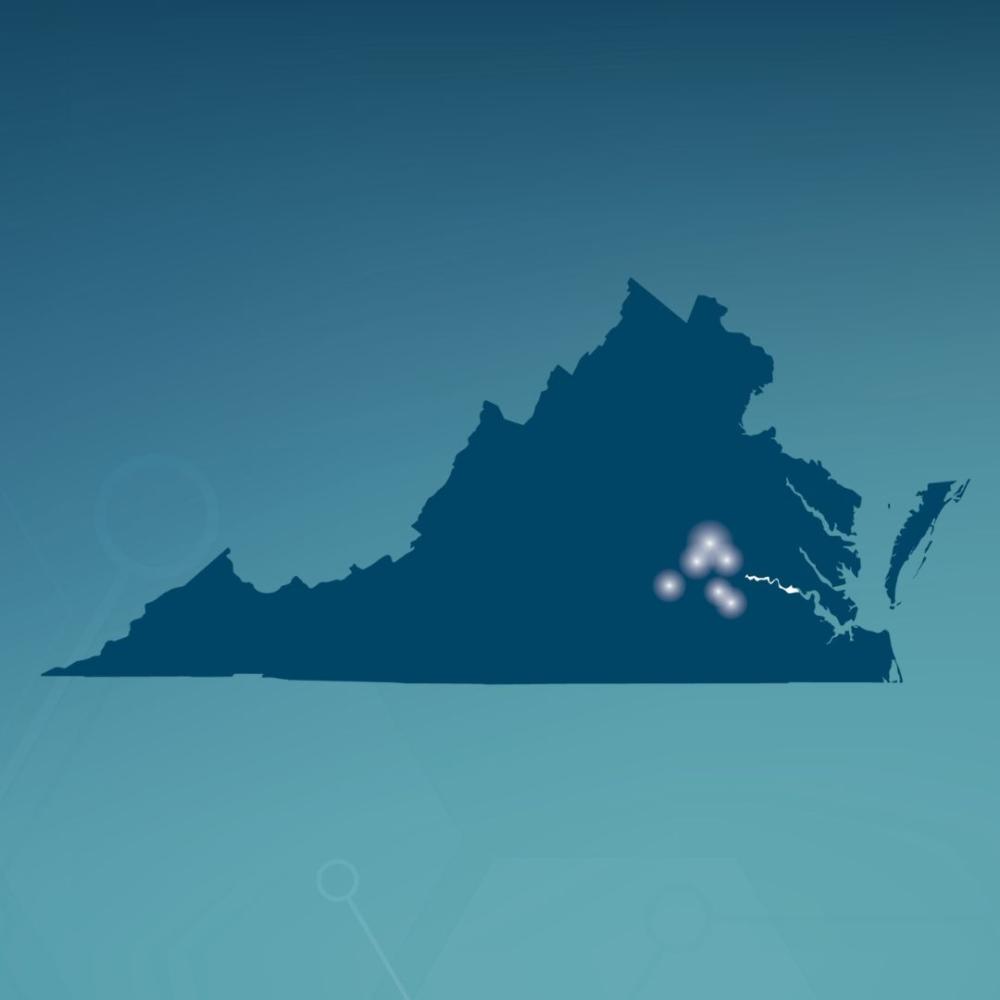 For six years, a small but growing institute at VCU known as Medicines for All (M4All) has been quietly dismantling complex global pharmaceutical, public health and even national security challenges. Using its own unique yet commonsense approach to chemistry and drug manufacturing, M4All has seemed to punch above its weight class in every project it has taken on.
Often with the financial support of large organizations like the Bill & Melinda Gates Foundation, which have recognized significant potential in the institute, M4All has used its approach to dramatically improve yields, reduce waste and curtail prices for widely prescribed HIV drugs; improve efficiencies and global access to the most prescribed COVID-19 medications; and produce on-site the newest and hardest-to-get cancer therapies to be used in clinical trials at VCU Massey Cancer Center.
Medicines for All projects have made significant impact and change, but many have been relatively smaller, targeted endeavors limited by the size and infrastructure of the institute. After an announcement earlier this year, however, M4All's scale and approach likely will never again be classified as quiet or small.
Building a Regional Pharmaceutical Ecosystem
The U.S. Department of Commerce's Economic Development Administration announced in September that a coalition of public and private sector stakeholders in the Richmond-Petersburg region, including VCU and its M4All institute, would receive nearly $53 million as part of the national Build Back Better Regional Challenge.
"The idea is we are going to create this ecosystem in Central Virginia for advanced pharmaceutical manufacturing so we can re-onshore drug production in the U.S. and have direct access without having to import vital medications," said Frank Gupton, Ph.D., founder and CEO of M4ALL. "And we will do it in a cost-competitive and environmentally friendly way."
The Richmond-Petersburg coalition — Alliance for Building Better Medicine — works to scale up the region's advanced pharmaceutical manufacturing and research and development cluster to address the nation's pressing need for quality, affordable essential medicines. Coalition members will leverage the Build Back Better Regional Challenge funding — which will be matched by $58 million from the state and local public and private organizations for a total investment of more than $110 million — for six component projects made up of a combination of infrastructure and programmatic projects.
Medicines for All is the cornerstone of the coalition, which in 2021 won Phase 1 of the Build Back Better Regional Challenge and began to plan in detail the six projects now funded with the support of Activation Capital, the cities of Petersburg and Richmond, Civica Inc., Community College Workforce Alliance, Greater Richmond Partnership, VCU College of Engineering, Virginia Economic Development Partnership, Virginia's Gateway Region, Virginia State University, Commonwealth Center for Advanced Manufacturing, GENEDGE, Brightpoint Community College and Reynolds Community College.
All of these partners are coalescing around M4All's unique, highly impactful approach so it can be scaled up dramatically to save and improve countless more lives locally and around the world.
The M4ALL Approach
Founded in 2017 with funding from the Gates Foundation, M4ALL examines commercial drug manufacturing processes to find ways to substitute lower-cost raw materials, simplify operations and increase yields. It then transfers its findings to manufacturers and suppliers that can reduce consumer prices and establish production closer to patients, where it previously wasn't economical to do so.
M4ALL's early work included nevirapine, a widely prescribed treatment for HIV at the time that is on the World Health Organization List of Essential Medicines. Dr. Gupton's team pinpointed inefficient chemical conditions and production processes related to the drug, then streamlined routes to the materials that come together to create its active pharmaceutical ingredient (API), ultimately reducing input materials, waste and cost.
Synthetic processes to develop new APIs, especially in times of great need such as a global pandemic, often evolve with limited regard for commercial viability and efficiency. These early processes help define the final commercial production processes because they are the fastest route to market.
When the drugs are in market but still being manufactured through their original inefficient processes, that is where Dr. Gupton's team makes an impact. "We look at drugs with a new set of eyes and some new chemistry tools, and we make them more cost-effectively and more accessible to people around the world," he said.
In addition to lowering costs and access to drugs, the fresh perspective M4ALL is applying reduces the environmental impact of drug making. Through its original production processes, for example, nevirapine produced about 60 kilograms of waste per kilogram of final product, but Dr. Gupton's team cut that waste to just 4 kilograms.
"One of the interesting things about the pharmaceutical industry is they're using 19th-century technology," Dr. Gupton said. "Active pharmaceutical ingredient manufacturing has been and still is practiced using batch manufacturing platforms." This technology is like using massive beakers to manufacture drugs in single lots. But Dr. Gupton's team is implementing continuous flow chemistry when and where it can, which is a process more akin to an assembly line.
"The pharmaceutical industry represents roughly 10% of the U.S. GDP," said Dr. Gupton, who is a professor and chair of the Department of Chemical and Life Science Engineering at VCU's College of Engineering and the Floyd D. Gottwald Jr., Chair in Pharmaceutical Engineering at VCU. "They are essentially the only ones not using an assembly line approach to manufacture their product."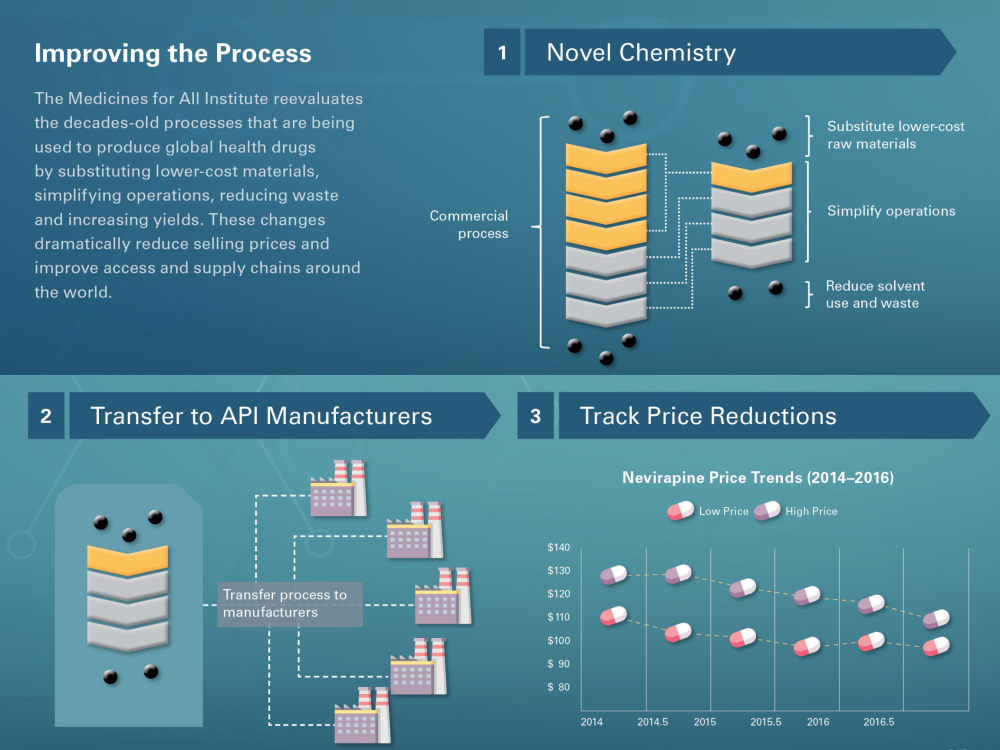 The Components of a Regional Pharmaceutical Ecosystem
The effort to scale up M4All's approach is already attracting well-known organizations to the region that want to help, including Walmart, which is a major provider for pharmaceuticals nationwide, and U.S Pharmacopeia (USP), a nonprofit that protects patient safety and improves health around the world through establishing rigorous science and public quality standards. USP and many other organizations will co-locate with the regional alliance's members.
The EDA Build Back Better funding will drive six projects, establishing the alliance as a global leader in improving access to medications and cementing the region as an international hub for pharmaceutical manufacturing, research and education.
Nearly $35 million will be invested to improve infrastructure in Petersburg's Poor Creek service area, where some manufacturing facilities have been established and many more are expected.
"We have a seat of pharmaceutical manufacturing in Petersburg that existed roughly 30 years ago that dried up as offshoring of manufacturing became common," said Joy Marie Polefrone, Ph.D., executive director of the Alliance for Building Better Medicine. "Companies went to other locations, but it has been reinvigorated with companies like Ampac Fine Chemicals, Phlow and Civica establishing their manufacturing sites there. In addition to manufacturing in Petersburg, we have technical capabilities within universities in chemistry and chemical engineering for pharmaceuticals, which can support both the research and educational needs of a growing industry cluster."
In Richmond, some of those labs providing the technical capabilities Polefrone mentions will be updated, while construction on new pharmaceutical spaces will also begin in city. For example, an innovation center with additional wet lab space in the Virginia Bio+Tech Park, located next to VCU's MCV Campus, will help existing organizations in the region grow. In December, two groups — Phlow Corp. and U.S. Pharmacopeia — announced the opening of new laboratories at the biotech park.
A third location in the regional hub is Chesterfield, where the alliance will construct a center to accelerate manufacturing innovation and the commercialization of lab discoveries. This first-of-its-kind facility will spur collaboration, invention and investment by speeding bench discoveries to commercial scale.
We are going to create this ecosystem in Central Virginia for advanced pharmaceutical manufacturing so we can re-onshore drug production in the U.S. and have direct access without having to import vital medications. And we will do it in a cost-competitive and environmentally friendly way.

Frank Gupton, Ph.D., founder and CEO of M4ALL
Organizations such as Civica, an international nonprofit whose mission is to ensure that essential generic medications are accessible and affordable, will be major tenants in Chesterfield. "With our scale-up facility adjacent," Dr. Gupton said, "these organizations can come in to help us scale up the M4All processes and demonstrate that they are commercially viable."
Dr. Polefrone sees it all coming together to create the foundation for a complete and effective package that can seed additional innovations in advanced pharmaceutical manufacturing.
"We have a group that makes active pharmaceutical ingredients in AMPAC. That is one of the pieces of the equation," she said in an interview with The Business Journals. "We have Civica, which does the work of formulating those drugs. Their primary customers are health systems. They are standing up their first manufacturing site in Petersburg. And then we have Phlow, which is really responsible for building up that supply of essential medicines for the federal government."
Dr. Gupton also sees Chesterfield as a training facility.
"It will be open to people from around the world," he said. "If we developed the process for manufacturing an AIDS drug with the Gates Foundation, we can now not only grow it to commercial scale but also bring people from Africa here to train so they can go back and make their own drugs."
The alliance and Dr. Gupton's team are also thinking about how to staff the coming regional pharmaceutical sector growth.
"Equally important to our work in directly producing low-cost processes and manufacturing techniques is the workforce-development component of our efforts," Dr. Gupton said. "We're thrilled to be collaborating on this area with Virginia State University and other educational institutions."
Funding will be used to develop new and joint degree or research programs among VCU, VSU and industry partners. "By double majoring in chemistry and chemical engineering, these graduates will be uniquely qualified to meet the workforce requirements across the hub," Dr. Gupton said.
Manufacturing technician training at Brightpoint Community College and laboratory technician training at Reynolds Community College, coordinated by the Community College Workforce Alliance, will also be developed.
Programmatically, funding from the EDA will help accomplish some of the alliance's early output goals, such as developing a strategy to manufacture the starting materials of drugs. "We're changing some of these manufacturing processes, so we no longer have to rely on foreign countries for the finished product, but if we're still getting the starting materials from China, we're in the same boat," Dr. Gupton said.
"Our work at Medicines for All is the cornerstone of all of this activity," Dr. Gupton said. "Because if you don't have a low-cost process you won't win the day with any of this stuff. The Gates Foundation had made this huge investment in our laboratories, the federal government had previously made an investment in Petersburg laboratories, so the good thing is we weren't starting from scratch on this. We had a head start on this. This funding closed some really important gaps and made this regional hub vision a reality."
Dr. Polefrone agrees.
"My hope is that in the next five years we have the ability to deliver on the vision that was seeded in the GO Virginia planning and implementation grants and further shaped in the federal grant, which is that we have the end-to-end system operational and working on the most meaningful challenges," she said. "We have research and development.
That is happening at VCU and around the biotech community. We can then take what has been created in a research setting and build the processes and steps to take that from research to a full factory facility. And then we have manufacturing sites. We are building that end-to-end capability within this region. It will be applied to the most essential areas, and that can be essential medicines or rare diseases or clinical trial drugs, or even generic manufacturing. If in five years we have that ability to go from research all the way through to scaling up the manufacturing, that would be a phenomenal accomplishment."
---
If you are interested in helping the Medicines for All Institute improve access to critical medications in the U.S. and around the globe, contact Brian Campbell, senior campaign gift officer, at 919-812-1187 or becampbell@vcu.edu.
Make a Difference
Support research efforts at VCU Health