Second Opportunities for Lasting Change
Those who survive an opioid overdose usually do so because they're found in varying states of consciousness by family members, friends, caregivers or first responders before their breathing stops completely.
These survivors gain an additional opportunity at life, but oftentimes, because of the nature of their illness, they can't use their new opportunities for change and recovery.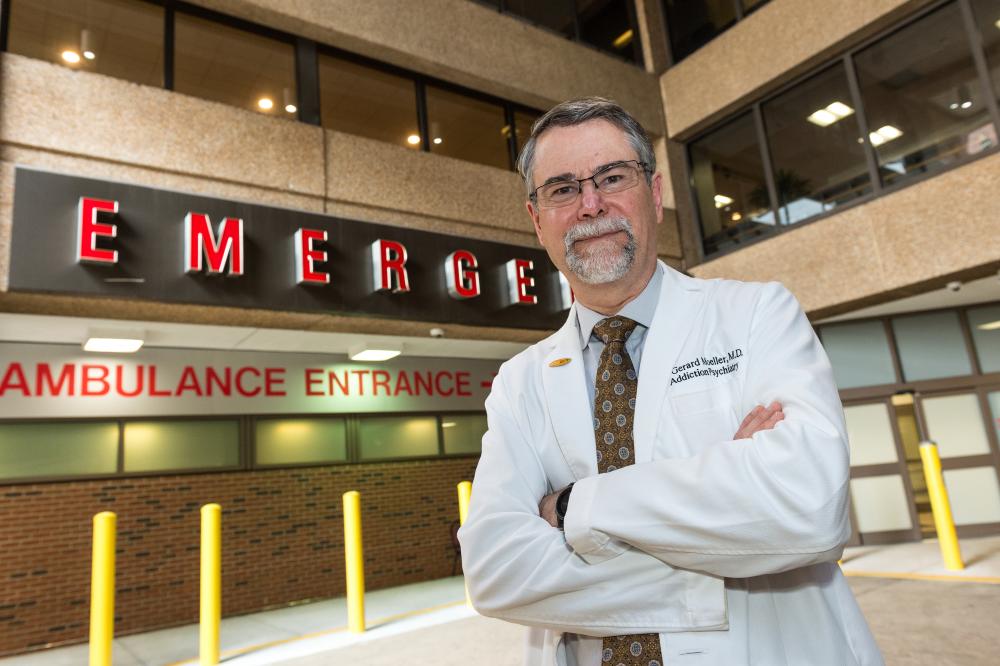 F. Gerard "Gerry" Moeller, M.D., director of the VCU C. Kenneth and Dianne Wright Center for Clinical and Translational Research, began contemplating these missed opportunities one day in 2017 after hearing from colleagues in the VCU Health Emergency Department.
"They came to me and said they were seeing overdose patients time and time again, and they felt like they just weren't accomplishing anything," Dr. Moeller said. "They were reviving the patients, but then the survivors weren't getting into long-term treatment."
Dr. Moeller, who is internationally known for his translational research on impulsivity and addictions, is keenly aware of the importance long-term treatment plays in pulling people out of a deadly spiral like the one his colleagues described to him, and he wanted to help.
His preliminary data showed that opioid overdose visits to the VCU Health Emergency Department went from approximately 270 in 2015 to more than 650 in 2017, and from all of those visits, as many as one in five patients experienced a repeat overdose or died within 12 months of their initial overdose.
Dr. Moeller knew these numbers demanded action toward finding the reason survivors weren't getting the help they needed, and, most importantly, toward identifying a new approach to helping the survivors avail the opportunities they'd been given for a new life.
Why are survivors not getting help?
After an overdose victim arrives at the emergency department, he or she is stabilized, monitored for some time and then referred to a long-term outpatient facility where appropriate follow-up treatment, usually for addiction, can begin.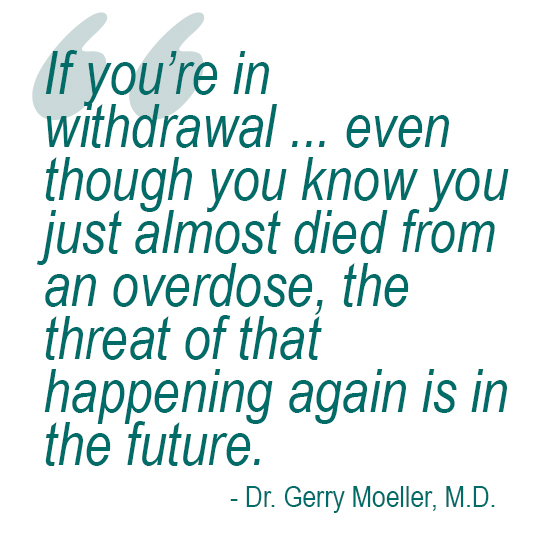 Dr. Moeller believes this referral is the critical moment in the treatment paradigm that can and should be changed. That's because the overdose medication naloxone is very effective at saving lives, but it also causes acute opioid withdrawal, leading to nausea, vomiting, sweating, diarrhea, chills, cravings, impulsivity and poor decision-making. 
"One of the behavioral definitions of impulsivity is the lack of ability to delay your gratification," Dr. Moeller said. "So, if you're in withdrawal, you have all these symptoms and you wish you were dead. You realize that when you walk out the door of the hospital you can get something that will make you feel better — it's heroin, or it's oxycodone, or it's a pill. Even though you know you just almost died from an overdose, the threat of that happening again is in the future."
Because of this impulsivity, which is often amplified because of the lifesaving medication, many patients never go to clinics when they're referred for long-term treatment, opting instead to seek an immediate fix.
What can be changed to better encourage long-term care?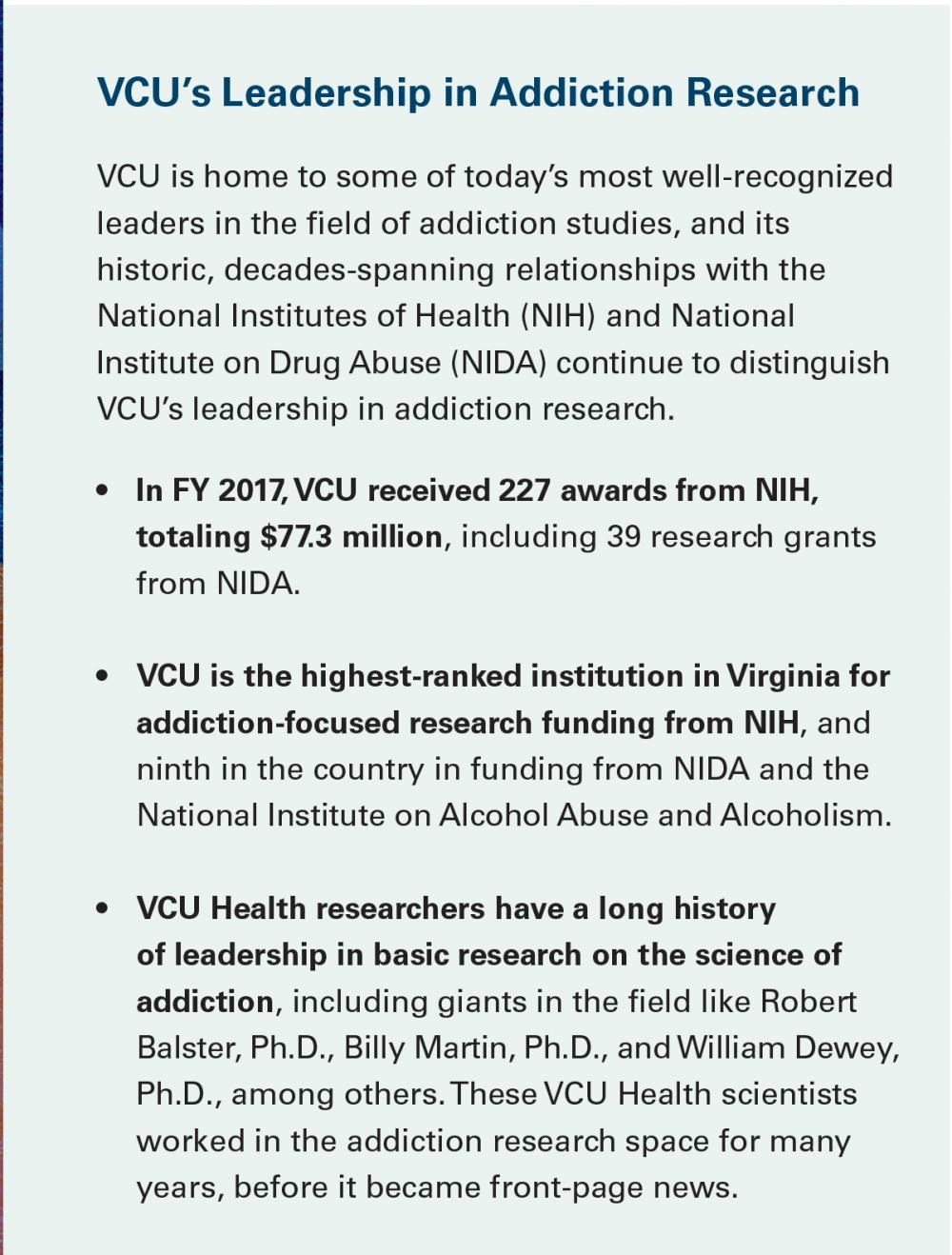 Instead of referring overdose survivors, who are likely experiencing acute withdrawal, to long-term care after they leave the emergency department, Dr. Moeller is testing the effectiveness of initiating long-term treatment before the survivors ever leave the hospital. The goal here is to counteract withdrawal symptoms and reduce impulsivity. 
For those who agree to participate, Dr. Moeller's team, working inside the emergency department, makes contact and provides a medication called buprenorphine that reverses the withdrawal symptoms. Patients are then given a referral within 72 hours to the outpatient clinic, where they continue medication and counseling for addictions.
In addition to administering buprenorphine as early as possible before survivors leave the hospital, the long-term care component of the study is vitally important to the recovery of survivors. In Richmond, referrals to long-term outpatient care guide participants to the VCU Health MOTIVATE Clinic, where social workers, nurses and physicians monitor patients' progress weekly, provide behavioral counseling sessions in individual and group settings, and administer buprenorphine monthly.
Improving the likelihood that overdose victims reach this long-term component of care is essential, Dr. Moeller said. "Addiction really is a chronic medical disorder. Like diabetes and hypertension, a one-time treatment is not going to solve the problem, so patients need chronic medication and behavioral treatments like group therapy to help them with lifestyle changes."
Dr. Moeller will serve as principal investigator on the trial and will work with Robert Lipsky, Ph.D., director of translational research in the Department of Neurosciences at Inova Fairfax Hospital, and Warren Bickel, Ph.D., professor of psychiatry and director of the Addiction Recovery Research Center at Virginia Tech Carilion Research Institute. The trial is funded in part by a $500,000 Virginia Catalyst grant from the Virginia Biosciences Health Research Corporation.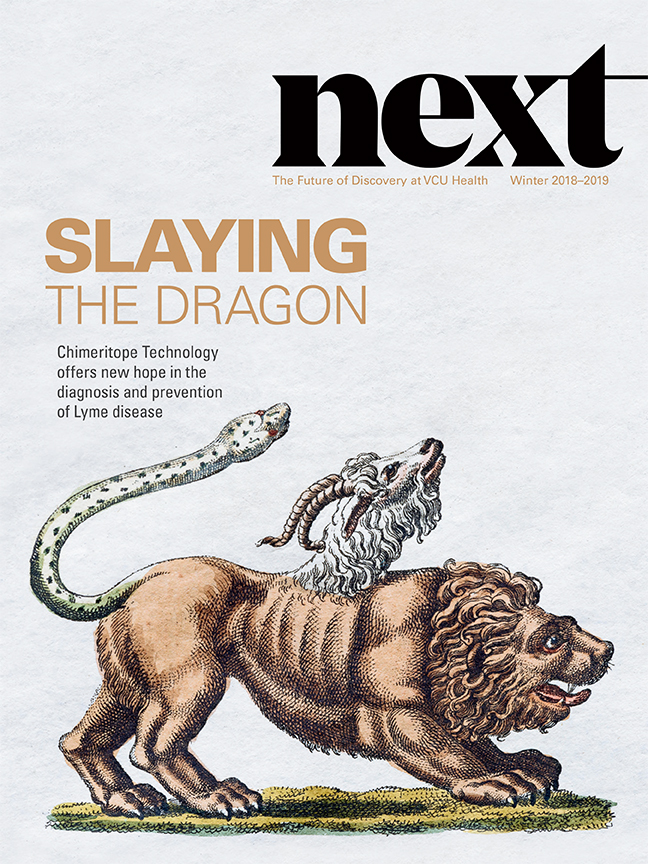 If the results show what Dr. Moeller expects, which is a significant drop in repeat overdose and death rates compared to previous data, this trial will establish a new paradigm for treatment of patients after opioid overdose that can be utilized nationally to help survivors get the help they need before it's too late.

At the MCV Foundation, we encourage and steward gifts to support research like Dr. Moeller's that fight all types of diseases. If you're interested in learning about the tools we have available to use in making those gifts, visit our giving page.

If you would like to read the full story about Dr. Moeller's research in our latest issue of NEXT magazine, click here or click the image to the right.