Twin Nurses Who Found Family at MCV and VCU Plan to Establish Scholarship
The MCV Campus has been like a home to nurses Jeanette Jones and Jackie Jones Stone since the 1960s. The sisters from Suffolk taught at the VCU School of Nursing and cared for patients throughout the hospital and community for 30 years before retiring in the 1990s.
As identical twins, they still laugh about the way some of their fellow nurses and hospital staff would get them confused in the hallways of West Hospital, but they say those campus colleagues became family over the decades.
"The atmosphere on campus is pure teamwork," Jackie told us. "There was never one person who wanted to get credit for whatever research effort or patient outcome there was. At VCU it is a team effort where everyone is participating."
"We feel really connected to not just VCU, but to the community that VCU has partnered with," Jeanette said. "All the endeavors, leadership, growth and presidents we served under, it all really has been about connecting with the community and meeting the needs. That's what VCU has always been about. You just feel really proud to be a part of it."
These connections are the reasons the twins recently designated VCU School of Nursing as a beneficiary in their wills. While discussing estate planning with their financial planner and attorney, they said it only made sense to include the institution that was such a powerful force in their lives.
After they made the decision, they contacted Pam Lowe, the development officer at the school, to discuss how the gifts would be used. They said the process was educational and easy, and that Pam worked closely with them to understand their wishes and philosophies.
The three eventually decided that the bequests would establish the Jeanette A. Jones and Jacquelyn Jones Stone Nursing Honors Scholarship Fund. After it is established, the scholarship will be awarded to juniors at the school who demonstrate good academic standing, leadership, compassion and a commitment to the nursing profession.
"I am thrilled and honored to be able to create a scholarship for future nursing students at the school," Jeanette said. "Community health nursing is my passion, and VCU School of Nursing gave me the opportunity to pursue that clinical specialty. As a faculty member, I saw financial needs every day, so providing a scholarship for future students is my opportunity to give back. I would not have had a career if it weren't for VCU and the opportunities and the support there."
Jackie agreed. "I couldn't ever give back what I feel I was given," she said.
Making a Gift Through Your Will
Jeanette's and Jackie's decisions to include the MCV Campus in their wills was important and impactful, and a key step in ensuring the significance of that impact was notifying the School of Nursing that they had made the decision.
This key communication allowed the twins to work with the school to designate the gifts based on specific goals and vision. "During this process we realized there's so many opportunities for personalizing or customizing. You get the chance to give thought to what you support with your money," Jeanette said.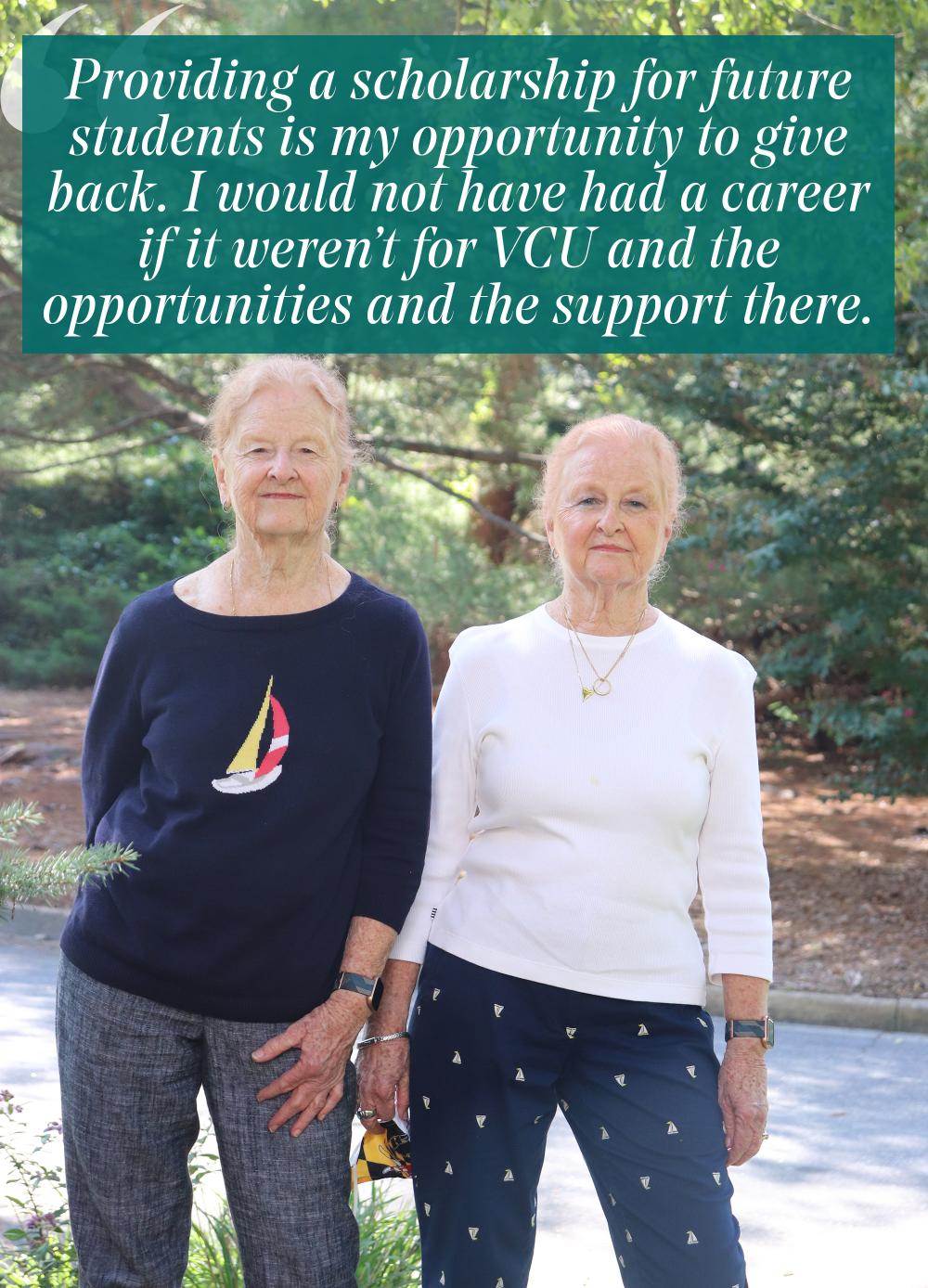 A gift through your will is a meaningful way to support the MCV Campus, while preserving resources for your needs today.
It is as simple as:
Leaving a specific amount, percentage, or the residue of your estate to the MCV Campus; or
Naming the MCV Campus as a beneficiary of your IRA, retirement plan, life insurance policy, or financial account.
Join Jackie and Jeanette and become a member of the MCV Society, which recognizes generous individuals who have made an estate or other planned gift for the benefit of the MCV Campus.  There is no gift minimum to join and members are invited to special events and programs.
To learn more about the MCV Society and other opportunities to be involved on campus, please visit our Societies page. To learn more about giving through your will and other planned giving opportunities, visit our giving page.
Contact
Assistant Vice President of Gift Planning, Virginia Commonwealth University
804-828-7370