Florence Neal Cooper Smith Professorship
Join us in the fight against sickle cell disease.
Florence Neal Cooper Smith has been fighting to end sickle cell disease for more than 40 years. Consider joining her — and us — in this important cause.
The Florence Neal Cooper Smith Professorship was founded in 2014 to support aggressive, cutting-edge research to find a cure for sickle cell disease. To date, we have raised $300,000 for this professorship. Help us meet our goal of raising $1 million to establish an endowed chair.
In May 2014, Dr. Wally R. Smith, a nationally recognized expert in sickle cell disease, was named the inaugural holder of the professorship, which is the first such professorship to be named for an African-American woman in the United States. Dr. Smith has been leading the fight in Virginia to develop methods of treatment for the disease, investigate care management and conduct ongoing research.
Florence Neal Cooper Smith is a tireless leader in the effort to raise awareness of sickle cell disease, both on a regional and national level. She is a graduate of Virginia Union University and completed graduate studies in pathology at the MCV Campus of VCU. In 1969, she organized Richmond's first city-wide survey to determine the extent of sickle cell awareness in surrounding areas, and in 1972, she founded the Virginia Sickle Cell Anemia Awareness Program at MCV with Dr. Robert B. Scott, Sr. This ambitious campaign sought to educate the public about sickle cell anemia. Because of her efforts, Virginia now screens all newborns at birth for sickle cell disease.
"A cure for sickle cell is imminent. It may not come in my lifetime, but I am confident that it is very close." — Florence Neal Cooper Smith
Since Smith's retirement in 1995, she remains active in advocacy efforts related to the disease. Partner with her, and with the MCV Foundation, in finding a cure for sickle cell disease. Help us raise $1 million to make the professorship an endowed chair.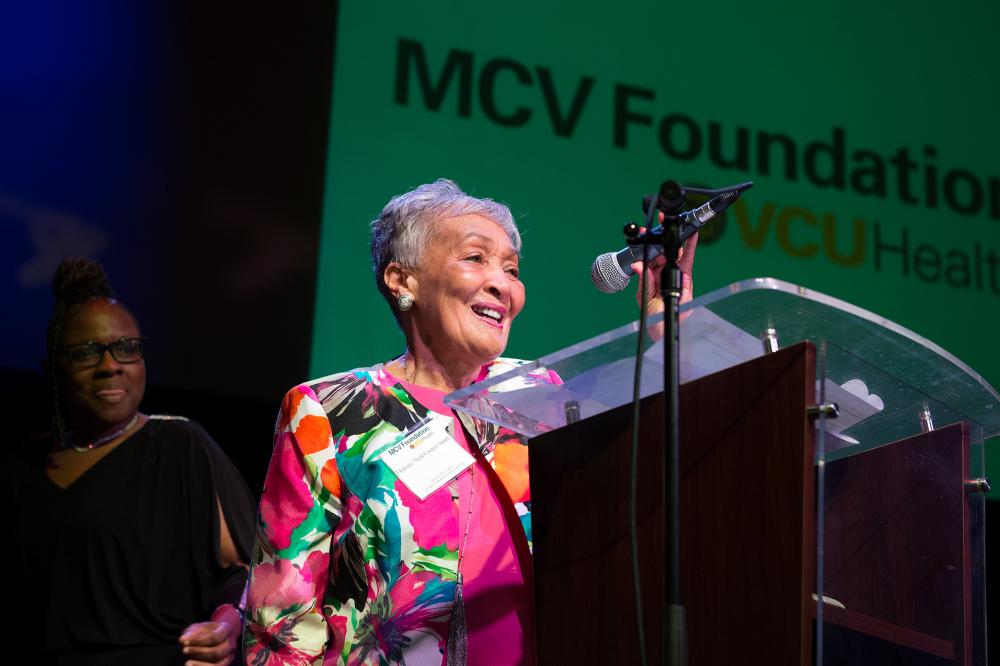 About sickle cell disease
Sickle cell disease causes red blood cells to function abnormally. The cells become rigid and curve into a sickle-like shape, which makes it difficult for the cells to pass through tiny blood vessels.
As a result, painful blockages occur, preventing oxygen and vital nutrients in the blood from reaching organs and tissues. These blockages can result in tissue damage, severe recurrent pain, strokes, organ damage and other serious complications.
About 100,000 people have have sickle cell disease in the United States.

It is estimated that more than 2 million Americans are sickle cell trait carriers.

One in 500 African Americans are living with sickle cell disease. Sickle cell trait, the healthy carrier state for the disease, occurs in about one in 12 African Americans.

One in 36,000 Hispanic Americans are born with sickle cell disease.

Since 1989, when Virginia added hemoglobinopathy screening to its newborn testing, an average of 75 newborns each year have been newly diagnosed with sickle cell disease.
Related Stories
This September marks the 35th annual National Sickle Cell Awareness Month. Today on the MCV Campus, the Florence Neal Cooper Smith Professorship is an instrument through which donors can directly support continued advancements in treatment and research of the disease, leading to reduced numbers of those who suffer, and hopefully even to a cure.
This Halloween will mark the fourth year in which the Powhatan community has come together to scare up a stack of bones to help fight sickle cell disease.