2017 Harper's Hope Golf Tournament and Auction Benefits ALS Clinic
In 2014, as Vic Harper battled amyotrophic lateral sclerosis (ALS), he and his family established a fund to help make an impact in research and care of the disease. They called the fund Harper's Hope.
Vic said at the time that he wanted to look to the future to help those who would not be able to help themselves.
This June, Vic's family, friends and neighbors met at the Country Club of Virginia for the third annual Harper's Hope Golf Tournament and Auction to continue working toward making his hope a reality.
ALS, which is often referred to as Lou Gehrig's disease, is a progressive neurodegenerative disease that affects nerve cells in the brain and spinal cord. It progresses to involve muscles that control vital functions such as speech, swallowing and breathing.
Relatively little is known about the disease, and caring for someone who has ALS can be very expensive. Harper's Hope is the Harper family's initiative to help improve VCU Health's clinical program, put resources in patients' hands, educate the medical and general public about the disease, and seek a cure.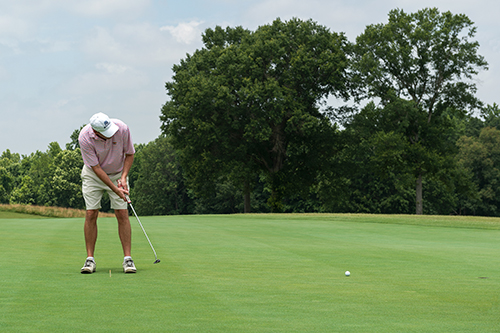 More than 80 golfers participated in this year's one-day charity tournament.
"It's very heartwarming and amazing to see so many people attend the event each year," said Vic's wife, Anne Harper. "Our family is grateful for their support. There are many charities where they could spend their time and money, and we're grateful they choose Harper's Hope."
Later in the day, more than 150 people attended a reception and auctions to raise more funds. A silent auction was held during the reception before Scott Vota, D.O., delivered remarks and thanked attendees for their support. Dr. Vota, who treated Vic in 2014, is Director of the Neuromuscular and ALS clinics at VCU.
"In the very short three years since Harper's Hope began, I am amazed at how this event has helped improve the quality of lives of patients suffering with ALS," he said. "This event has not only provided resources and services to our patients throughout the Commonwealth, but has helped VCU be able to participate in clinical trials and bring hope to our patients."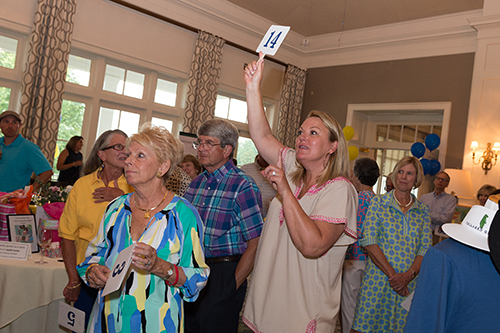 The live auction followed, with items that included a Jefferson Hotel Champagne Brunch for four, tickets to the Richmond Forum to see former President Barack Obama, and a Manhattan hotel stay and dinner.
To date, through the annual golf tournament, other fundraising events and individual contributions, more than $375,000 has been raised for Harper's Hope Fund.
"It's gratifying to see the fund doing so well and accomplishing its four goals: expanding the clinic, advancing research, supporting education and outreach, and creating an assistance program for patients and their families, which he really cared about," Anne said. "We're thankful for the support of the MCV Foundation, Dr. Scott Vota, the corporate sponsors and each volunteer who helps. They're an awesome group of talented individuals."
"If we could raise enough money to help people that I will never see and never know, my family and myself will be very happy," Vic said in 2014. He died shortly after establishing the Harper's Hope Fund, but events like June's golf tournament help ensure that his hope — and the hope of those he will never know — continues to endure.
To learn more about Harper's Hope Fund or the annual golf tournament and auction, contact Elizabeth Bunting.