Amid Crisis, Inventing Solutions (Part 2 of 2)
Editor's Note: This story is excerpted from a feature published in the winter issue of NEXT magazine. Read the full story in our digital version of the magazine. It is the second part in a two-part series highlighting innovations across the MCV Campus during the COVID-19 pandemic.
***
Decontaminating Masks: Ensuring Safety for the Front Line
It was early on a Saturday in March when Stephen Kates, M.D., saw a call coming in from his colleague in the Department of Orthopaedic Surgery at VCU Health. On the other end of the line was Gregory Golladay, M.D., who had been serving on a committee discussing solutions for the health system to the nationwide N95 mask and personal protective equipment (PPE) shortage.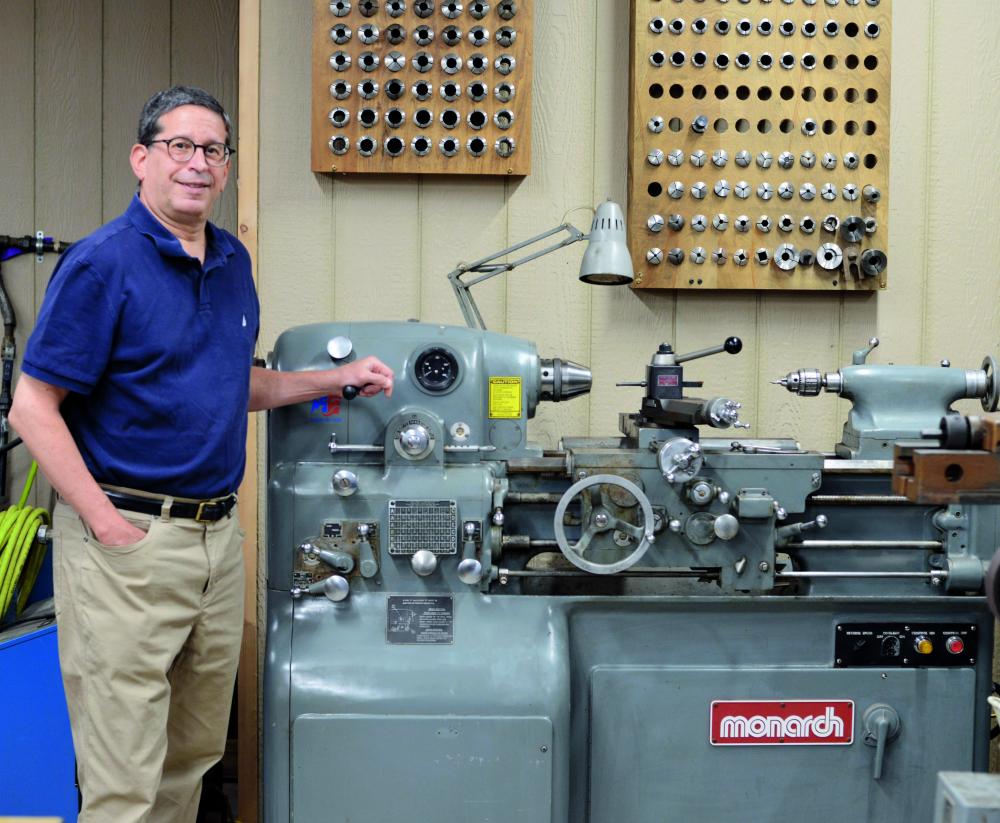 At the time, news outlets were reporting that some hospital workers in the U.S. were resorting to using bandanas and sports goggles to protect themselves from COVID-19 infection.
It is critical during a pandemic to keep healthcare workers safe and healthy, and it is not hard to understand that without physicians, nurses, intake coordinators, sanitation workers and many others, hospitals simply don't work.
As pressure surrounding these national issues intensified, Dr. Golladay's committee had developed some ideas, and VCU Ventures, the university's startup support office, had sketched out a plan to implement a mask decontamination process that would use high-intensity ultraviolet light. Using devices that emit this type of light is an effective means of sterilizing hospital environments such as patient and operating rooms, so VCU Health already owned several, which Dr. Kates described as looking like R2-D2 from Star Wars.
Because this process had never been used before to sterilize masks at high volume, there was no equipment in existence that they could use to hang and transport the masks during decontamination, and that is where Dr. Kates's unique skillset came into play. It's a hobby he picked up as a young man in trade school classes — metalworking.
Fabricating the Racks
After Dr. Golladay's call, Dr. Kates went to the hardware store, purchased some steel and worked on a prototype late into that Saturday evening. By Sunday morning, the two had inspected and discussed the prototype and assembled a team to come help build more.
The team included Drs. Kates and Golladay; Laura Lahaye, M.D., an associate professor in the Department of Anesthesiology; Blane Kelly, M.D., a resident in the Department of Orthopaedic Surgery; and a team from VCU Ventures that included Justin Kauszler, Kevin Leslie and Ace Caldwell.
Dr. Kates' metal shop is extensive, so he was able to train everyone on how to grind steel and provide them with their own tools. Most of the team ground and passed the steel to Dr. Kates, who worked with Dr. Kelly to square and weld the racks. By the end of the day Sunday, the group had cut and polished enough metal for 20 racks and had completed eight racks, which was enough to start evaluating the decontamination process at the hospital. An outside company completed the final 12 racks.
On Monday morning, just two days after their initial phone call, Drs. Kates and Golladay delivered eight racks to VCU Health and began solidifying a mask decontamination plan that could yield 12,000 clean masks per day and help VCU Health continue saving lives.
Decontamination
The process for collecting and decontaminating masks began on each hospital unit. Throughout their shifts, staff members would discard into bins their used masks, all of which were labeled with their names. Sometimes nurses can go through up to 10 masks per shift. After each shift, bins would be taken to a separate building on campus.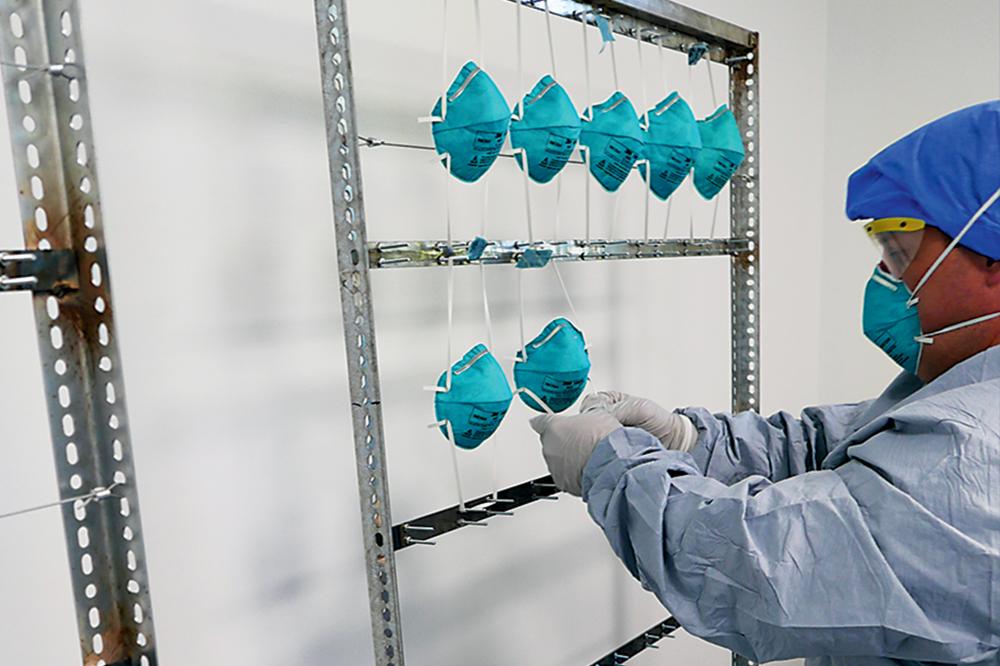 Masks soiled with blood, dirt or makeup were discarded, while the rest would be placed on the racks and arranged around the UV light sources in a hexagonal shape. There were enough racks to enable one set of six to be loaded while one set of six could be in the decontamination process and one set could be unloaded. This allowed for up to 12,000 masks per day to be decontaminated, a maximum yield that thankfully was never needed.
Before all these steps were put into place, Dr. Kates' team worked for two weeks to ensure the process was safe. Initially, the team thought it would take about seven minutes to sterilize the masks, but after they measured quite a bit with Kevin Leslie from the VCU Ventures team, they decided to expose the masks to light for 12 minutes on each side.
"There was no standard," Dr. Kates said. "We know it takes about 2 millijoules of UV light to kill a COVID virus strand, so we gave each mask about 1,000 millijoules on each side. We wanted to make sure there was nothing living on the masks when we gave them back to the employees. We don't want any bacteria, mold, spores, viruses, nothing."
The team set the UV light devices to the appropriate setting and used secondary light meters to gauge whether the appropriate amount of light reached the masks.They also completed extensive testing to gauge whether the masks became wet after the process, whether they still blocked particles, whether they were breathable and whether they were damaged structurally.
"Believe it or not, the masks passed testing after 20 uses," Dr. Kates said. "They passed breathability, fit testing, destructive fit testing and moisture metering. We also absolutely guaranteed they got the right amount of light because every single load had two UV-C light meters measuring the light delivered to each side of each mask. So, we felt that we had done a good job scientifically with it."
After a quick response that enabled the process to be evaluated, followed by extensive safety testing, VCU Health announced April 9 that it had begun to "safely decontaminate N95 masks using equipment and a method developed by VCU Health and VCU Ventures." The independently developed method of decontaminating and reusing masks was poised to enable VCU Health to replenish its own supply nearly indefinitely.
A safer hospital, community and region
By September, VCU Health had decontaminated more than 100,000 N95 masks for its employees. It was a true universitywide effort that included researchers and staff from the VCU Health departments of orthopaedic surgery and infectious diseases, supply chain, high-level disinfection and plant operations departments, VCU Ventures and the VCU da Vinci Center for Innovation.
"This decontamination process gave our health care workers assurance that they would have access to these critically important masks while many hospitals across the country were running out of them," said David Lanning, M.D., interim chief medical officer and co-director of the COVID-19 task force at VCU Health. "It protected our staff and was a huge source of pride in our health system that we were able to implement this."
The innovative process also helped the community and the state. Masks have been sterilized for local fire and EMS departments and the VCU School of Dentistry, which is the only dental school in the commonwealth. In addition, Dr. Kates provided UVA Health and other state hospital systems with photos, diagrams, drilling templates and other details explaining the process from start to finish.
Sharing knowledge and skills is what people across VCU Health have done for the many months that this pandemic has been a part of daily life. The actions, ideas and desire to serve among all the teams described above and many others across the health system have protected fellow staff members and the Central Virginia community.
"We were fortunate to have help from a lot of can-do people who are bright and were willing to work and willing to provide collective input into a process," Dr. Kates said. "We've never lacked adequate PPE for employees because of the collective institutional response."
If you would like to support the MCV Campus in its ongoing response to COVID-19, contact Brian Thomas, MCV Foundation's vice president and chief development officer.