As the foundation that inspires, seeks, secures and stewards philanthropic resources for VCU Health, the VCU health sciences schools and Massey Cancer Center, we are humbled to reflect on the past fiscal year, which was incredible by any measure.
With the help of countless donors and friends across the MCV Campus, we further fortified the support system that advances care for everyone in our community, educates the next generation of health care leaders and ignites research that changes how medicine is practiced around the globe.
This past year, donors contributed a record $94 million to the MCV Campus, which amounts to 80% of all funds raised at VCU for the year. And it was a particularly impressive and impactful year for grateful patients, who contributed $45.3 million, or 48% of the total donated to campus.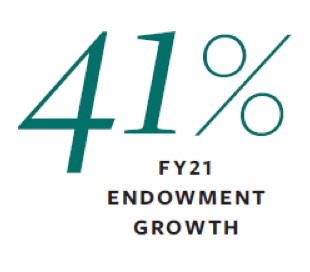 The MCV Foundation is a critical arm that supports, propels and sustains these figures, and integral to this support over the past year has been financial stewardship. Many of the funds raised each year go into our endowment, which we stewarded this year to an astonishing 41% growth.
That growth grew our endowment to more than $700 million, bringing total assets to nearly $900 million, which are totals that facilitate dramatic steps forward in donor impact and the overall available funding that further improves patient care, research and education across campus.
Just as important to the year's success was our development team, which directly raised more than $25 million for campus partners and pivoted in unique ways to stay connected with donors and friends during the pandemic. The team works with the fundraising professionals on campus to steward donors and build important relationships, including with planned giving donors. The planned giving program helped our campus partners earn new expectancies totaling more than $16.7 million this year. These planned gifts enable alumni, grateful patients and others to find unique ways to meet and exceed their aspirations for moving the campus forward as a leader in health care delivery, discovery and education.
The foundation's award-winning communications team also made great strides this year as it continued to inspire giving through storytelling while carving out a new space on campus. The team is growing so that it too, like the foundation's finance and development teams, can serve as a direct resource for fundraising partners on the MCV Campus. The team has begun offering video, graphic design, photography, creative writing and other support to enable and improve development projects so our campus partners can better meet the integrated multichannel demands of today's communication and fundraising landscape.
From inspiring and securing gifts to investing, growing and distributing those resources back to our campus partners, we are the foundation that works every day — together with you, and alongside the dedicated fundraisers on campus — to support the MCV Campus's students, researchers, educators and care providers as they improve and save the lives of our friends, family and neighbors around the world.
We thank you for your support, and we invite you to join us as the journey continues. If you would like to continue the momentum, consider making a gift online before December 31. Or contact Brian Thomas, the foundation's vice president and chief development officer.