Bertha C. Rolfe, School of Pharmacy Class of 1947
This piece is part of the larger story "125 Year of Pharmacy", originally published in the Spring 2023 issue of Chronicle of Giving.
BERTHA C. ROLFE, 1925–2022, CLASS OF 1947
FIRST WOMAN FACULTY MEMBER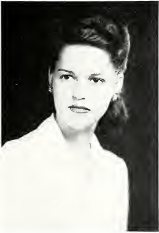 Bertha Rolfe was not the first woman to graduate from the MCV School of Pharmacy, but she will always be remembered as one of the most notable graduates and the first woman to serve on the school's faculty.
"I think she blazed the trail for women to realize this was a great profession to go into," recalled her daughter, Robin Partin. "She always believed in education, and she always knew that women were as capable as men."
Rolfe graduated from the MCV School of Pharmacy in 1947 and was one of very few women pharmacists practicing in Richmond. She later joined the school's faculty and served as a lab instructor and mentor to generations of future pharmacists from the late 1940s until the 1980s. She also served on the MCV Foundation board for 18 years and was active in the former MCV Alumni Association.
"She was tough. She didn't take anything off anyone," Partin recalled. "She was known as a tough teacher, and she had a lot of students older than her who had come back after World War II. Because there weren't many women pharmacists, I think she felt she had to really prove herself capable even more so and to prove that women were very capable."
Her time on the faculty was not without challenges, but it allowed her to feed her intellectual curiosity as a lifelong learner, and she and her late husband, Norman, savored keeping in touch with — and quietly assisting — former students starting their own pharmacies across the state. People are quick to credit her presence with demonstrating that women can excel at pharmacy and inspiring more women to enter the profession.
Following Rolfe's death at 96 in March 2022, her close friend Kathy Bobbitt led an effort to honor her trailblazing legacy with a teaching award named after her at the school. The initiative inspired more than 30 gifts from her family, former colleagues, students and friends that it soared past its original goal, inspiring school leadership to create two awards in her name to recognize an outstanding faculty and staff member each year.
"Her legacy wasn't just as the first woman faculty member, although that was really important," said her son, Robert Rolfe. "I think her impact on the pharmacy profession in Virginia is lasting because of her devotion to the school and her constant devotion to her students as they practiced their profession."
---
To support the awards named in Bertha Rolfe's honor, please contact Louie Correa, senior director of development, at lacorrea@vcu.edu or 804-828.3016.