The Bourne Family Scholarship: Supporting the Next Household
Coffee Bourne remembers many nights as a student between 2014 and 2017, after studying during the day for 10 to 12 hours, when she would rock and nurse her daughter Elia to sleep while taking quizzes on her iPad.
There also were many weekends of squeezing in quick reviews of class notes between taking her sons Luca and Dominic to basketball practice. Then, to make things more challenging in the most magnificent way, her son Judah was born in Dec. 2016.
"When you're a parent in school, everything just kind of blends together despite how much you try to keep a division," Coffee told us recently. "We all went through school together. That's something that everybody who's gone through a program like this understands."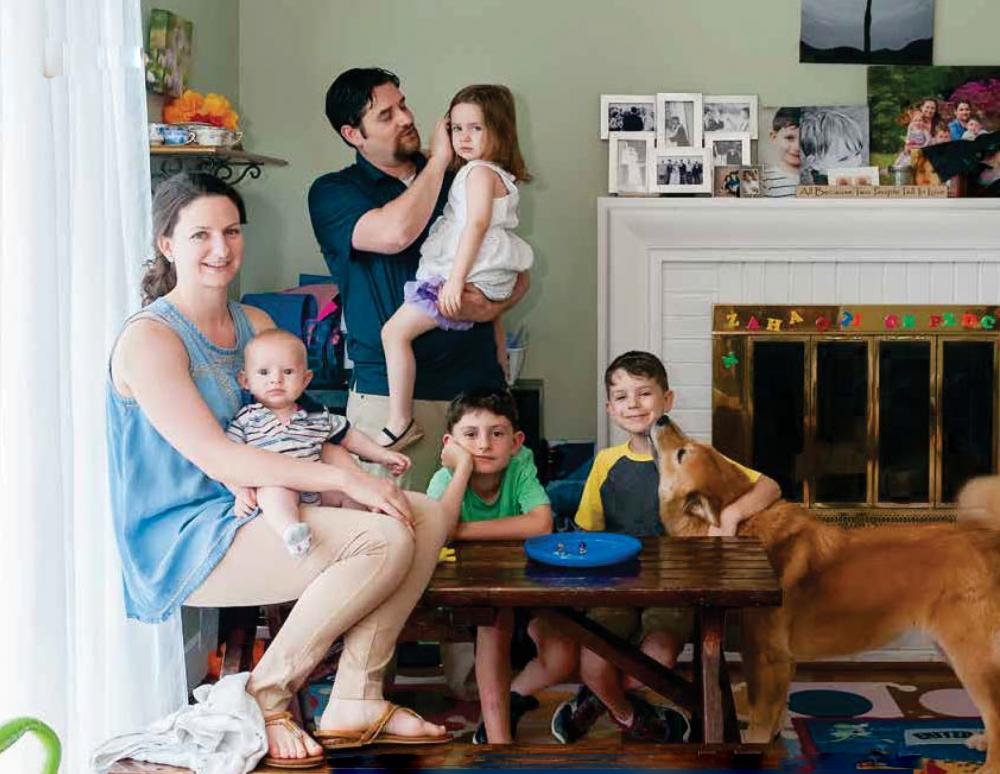 Coffee, now 32, graduated from the Doctor of Nurse Anesthesia Practice program at the VCU School of Allied Health Professions this past May. Her experiences while earning that degree, which came from the No. 1 nurse anesthesia program in the country, are what inspired her and her husband Adam to support future nurse anesthesia students who will face the same magnificent challenges that they did.
Coffee and Adam have pledged $5,000 per year for five years to establish the Bourne Family Scholarship, which will be made available to full-time nurse anesthesia students who have dependents.
"We just wanted to make somebody's life a little easier because we had a lot of people who helped make our lives easier throughout the process," Adam said.
That assistance came from family, who helped take care of the children, and from VCU faculty, who Coffee said were invaluable in guiding her academically and emotionally. But while the Bourne family had a lot of support, they also made sacrifices.
"As students, we have to give up our nursing jobs while in the program at VCU — it's just not manageable to have a job," Coffee said. "That's a pretty big income that just goes away. Loans can help with part of it, but never all of it, so you give up the special things, like vacations, and going out to dinner, and birthday parties, and Hanukkah gifts."
It's these special things that Coffee and Adam hope to provide for future students through the Bourne Family Scholarship.
"We're not going to build a wing on a building or pay a tuition, but we'll help someone," Adam said. "Our attitude was, we don't care what they do with the money, it's just about helping someone buy presents, buy diapers or do what they need to do for their kid."
In addition to helping the children and families of scholarship recipients, Coffee and Adam expect their contribution to make a significant impact on their own household.
"We wanted to make giving a priority for our family as an example to our kids," Coffee said. "It makes a difference to our children to know that we've made that a priority, and it will become a priority for them in the future. It just plants a seed that will go on to make much bigger things."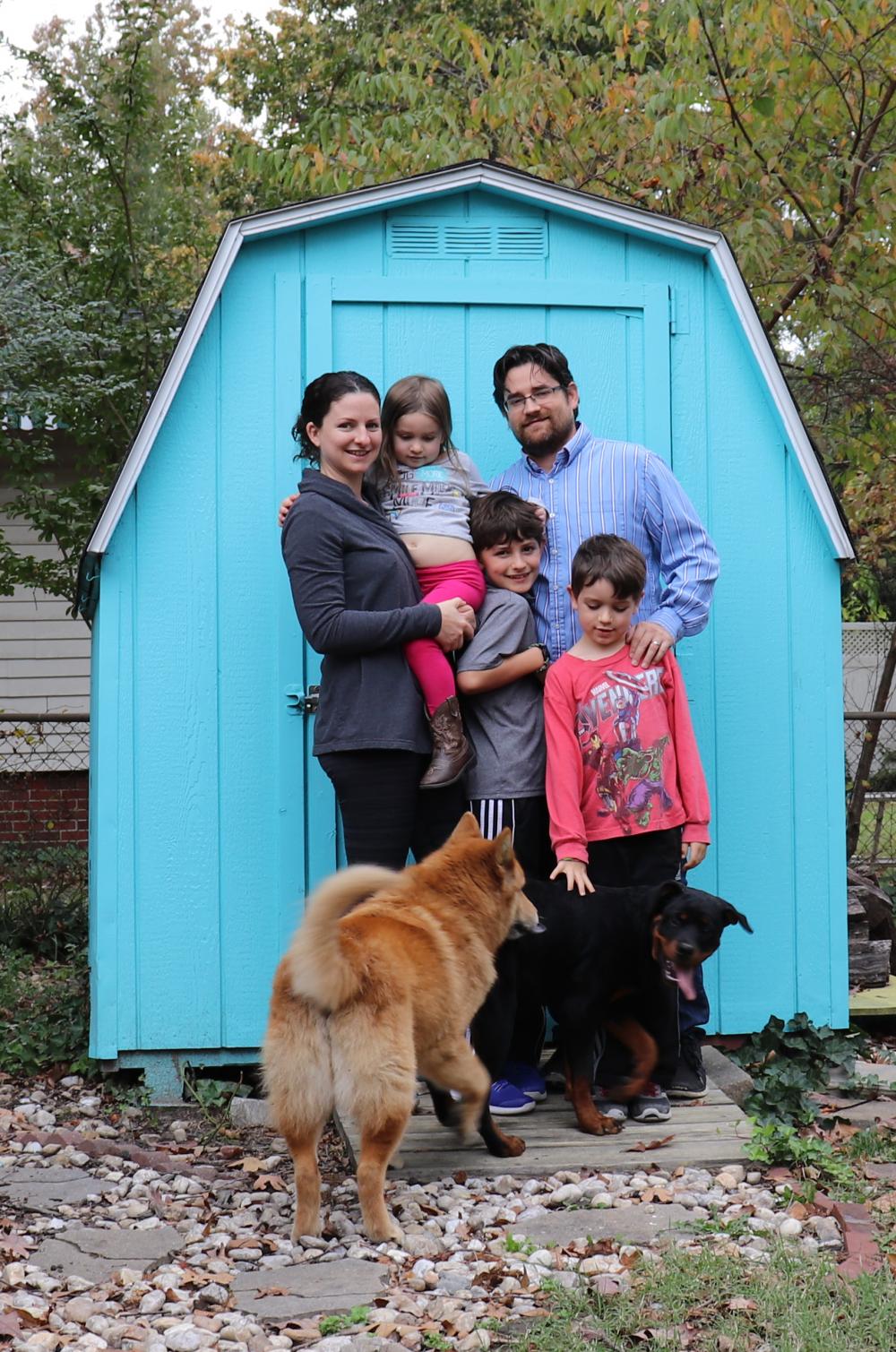 "We always have grown as a family to value and appreciate being decent to other people," Adam added. "I think that we just want to make sure that we practice what we preach with our kids."
Because of those young children they're trying to inspire, their own relative youth and Coffee's status as a recent graduate, the Bourne family aren't standard scholarship benefactors, and that's just fine by them.
"I know that we aren't the typical donor profile, but we knew that if we didn't put that as a priority and set it aside now, then it would be harder in the future," Coffee said. "I think it's important, no matter what stage of your life you're in, to think about giving back in any way you can, and this is how we can give now with four children and just starting my career and getting acclimated in our 30s. It's very important to start giving, even if you're starting small."
Just like the Bourne family's age and recent graduate status make them atypical donors, Coffee's pregnancy when applying to the nurse anesthesia program made her worry that she would be seen as an atypical applicant. She worried she would be judged negatively for having too many obligations outside of the program.
While that wasn't the case, and Coffee was accepted and supported throughout the program, she said this scholarship might be able to help reassure future applicants who are apprehensive.
"I think now, when somebody applies, they can see that there is a scholarship specifically for people who have children or dependents who need them during the program," Coffee said. "They can see that not only does the program want you, but it will help you. That's really important to me."
Adam agreed, and said he and Coffee see their family's scholarship, and the people it helps, as potentially making a much bigger impact than the yearly payout.
"Hopefully, the many people who will receive this scholarship will make their own $25,000 scholarship," he said. "If one or two people do that, then it's a snowball becoming an avalanche."
The Bourne Family Scholarship, a named endowed fund, is Coffee and Adam's step toward creating that avalanche. Endowments are extremely important to the quality of our MCV Campus programs, as they provide long-term financial stability regardless of government funding and changes in the economy. Donors can create an endowment to support students, faculty, research or other programs across the campus. Learn how you can make a lasting impact on the MCV Campus by establishing your own endowment or contributing to an existing fund at our endowment page.
For more information about supporting the Department of Nurse Anesthesia through endowments or other gifts, contact Heather Millar, the department's director of development, marketing and communications, at 804-628-3787 or hemillar@vcu.edu.