Editor's Note: This is an excerpt of a feature that appeared in the summer 2021 issue of NEXT magazine. Our online version includes the full article and more stories about innovative research happening on the MCV Campus.
***
In 2006, a man named Cecil Nester lived for nearly two months at VCU Medical Center with no biological heart in his body. At the end of those two months, he received a new heart via transplant and returned home to New Castle, Virginia.
Those two months he waited for a transplant were made possible thanks to a new technology approved by the FDA in 2004 — the SynCardia total artificial heart. It was the first time any health system on the East Coast had implanted the device into a patient.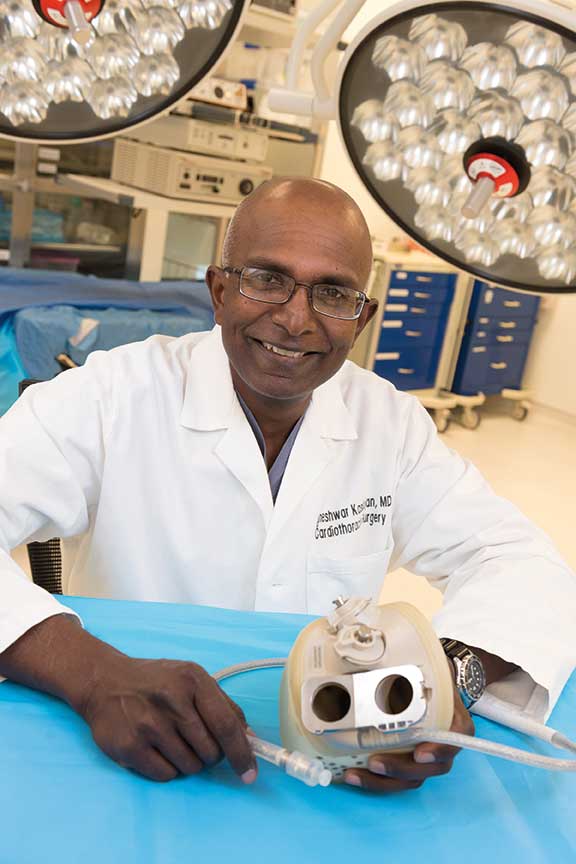 More than 300,000 people in the U.S. die every year as a result of heart failure according to the Centers for Disease Control and Prevention. While many of those patients could benefit from a heart transplant, only 3,500 heart transplants are completed annually. Artificial hearts can provide additional months and even years to patient lives as they wait to move up the transplant list.
Artificial hearts provide total biventricular replacement therapy, which means they replace both ventricles of diseased or dying hearts to improve circulation throughout the body and rejuvenate vital organs that have suffered due to poor circulation.
"These are some of the sickest patients in the hospital," said Vigneshwar Kasirajan, M.D., chair of the VCU Health Department of Surgery. "They are in dire need of help because their hearts simply cannot pump enough blood to the rest of the body, which slowly suffocates every other organ."
Dr. Kasirajan led the interdisciplinary team of physicians, nurses, perfusionists and medical technicians that completed Nester's implant in 2006. In the 15 years since, VCU Health has become the most prolific total artificial heart program in the U.S., and perhaps one of the top five in the world, according to Dr. Kasirajan. More than 110 artificial hearts have been implanted at VCU Health, and the health system has remained at the forefront as technology has evolved.
The leadership in this field that VCU Health has exhibited over more than a decade is the reason Dr. Kasirajan is the principal investigator of a new device that could transform the way total artificial heart recipients live.
CARMAT  Trial
The newest version of the total artificial heart that Dr. Kasirajan and his team, along with seven other centers across the country, will test is called the CARMAT. Like current artificial hearts, this device replaces both of the lower pumping chambers of the heart, but there are some significant differences.
"The new heart features two small motors tucked inside the device," Dr. Kasirajan said. "It's powered by external, wearable batteries that can be hidden underneath a jacket. It's totally implantable, with only a small driveline. It's also quite a bit quieter — nearly silent."
The new total artificial heart is made of biological materials, which Dr. Kasirajan believes will reduce the need for blood thinners. In addition, the CARMAT has internal sensors that recognize changes in blood pressure, allowing physicians to customize the patient's response to exercise. This is important because previous versions of the device produced fixed heart rates and blood pressures, limiting capacity for exercise. Hopefully, research will show the CARMAT can successfully increase cardiac output to improve capacity for movement and exercise.
The first step in the research begins this year under Dr. Kasirajan's leadership. His trial aims to prove that the CARMAT can meet FDA standards for performance and safety. The trial will take two to three years because enrollment criteria are quite strict. The teams are looking for patients who are ill, but not so ill that they might die on the device. The team is also looking for people who are the right size because, for now, the device is only one size, which is quite large. Patients also need financial and social support, among other criteria.
"VCU Health is focused on innovation to benefit patients. We're constantly looking at new ways to make life better for them," Dr. Kasirajan said. "That can be done only by working together in large teams, in a complex system where we can partner with others to create new knowledge and new technology. There are lots of things we need to learn as we go forward, but as an institution and as a heart center, to be able to be a part of a large trial like this, to help patients in the future — this trial is a very exciting step for us."
What's Next
"No matter how hard we work to increase the number of donors available for heart transplantation, that gap is too broad," Dr. Kasirajan said. "We need an off-the-shelf device that could be used for the variety of patients, such as different sizes and different ages, and would produce good outcomes similar to a heart transplantation."
He thinks that in another five to 10 years, research will lead to multiple modifications of the CARMAT to benefit patients with advanced heart disease who could have a pump put in and maintain a good quality of life for long periods of time. This will be important for patients who might not be able to survive a heart transplant, or those who might want to avoid a transplant for any number of reasons.
"That's a future state and the goal," Dr. Kasirajan said. "We're not there yet, but someday my hope is that we get there."
If you are interested in supporting clinical trials and other research that advances lifesaving and life-changing research for people who need heart transplants, contact Carrie Mills, senior major gift officer at VCU Health, at 804-828-0423 or carrie.r.mills@vcuhealth.org.