Changing Board Leadership, Sustaining Foundation Momentum
This year marks a transition in board leadership at the MCV Foundation. In one of his last acts as board chair at the June board meeting, Harry Thalhimer passed the gavel to Wyatt Beazley IV.
As Harry and Wyatt have worked closely to ensure a smooth transition, their partnership has been quite fitting. In the 1980s, Harry's father, Charles Thalhimer Sr., worked alongside Wyatt's father, Wyatt Beazley III, M.D., to lead an MCV Campus capital campaign.
More than 30 years later, Harry and Wyatt say the MCV Foundation is in its strongest position ever to help the academic health center save lives, complete cutting-edge research and train the next generation of healthcare providers.
We spoke with both board members recently to reflect on what inspires them, where the foundation stands today and what lies ahead for the MCV Campus.
Harry Thalhimer, past chair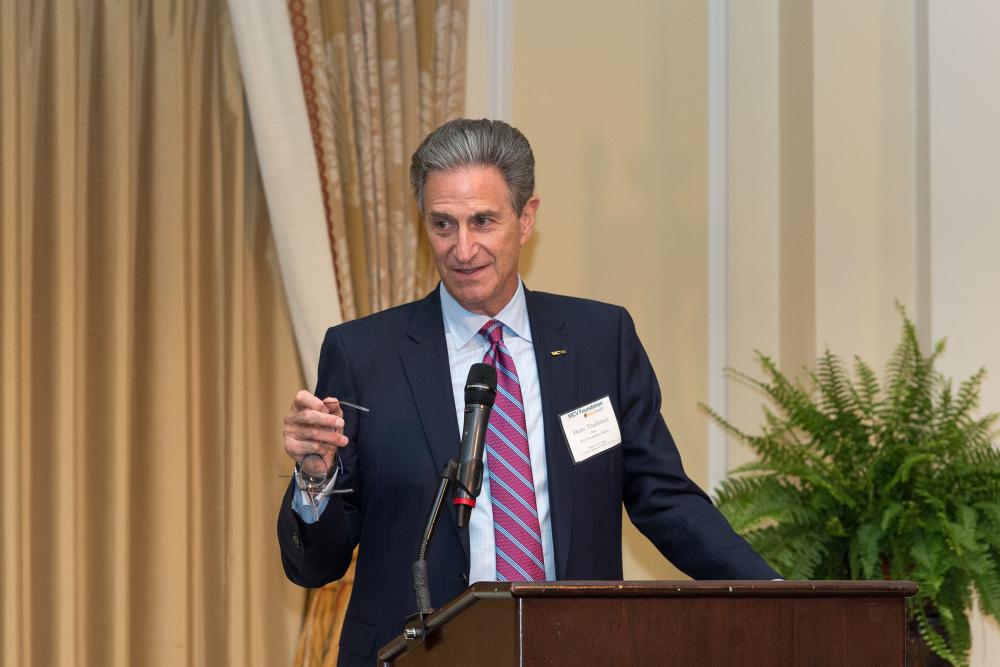 Where was the MCV Foundation strategically when you became chair, and what were some of its major accomplishments during your tenure?
My predecessor Gail Johnson had implemented a clear effort to recharge the board and make it more contemporary, more forward-thinking and more open.
When I became chair, three things were poised to happen quickly and almost simultaneously. They were a strategic planning process, a comprehensive market research project and a rebrand based on the research. We also worked to redefine what we wanted the board to look like over time and what we wanted the board to do. Then the most important piece was looking at professional staff and building out the foundation as a well-oiled, professional philanthropic organization.
In redefining the board's role, why is it important for its members to play a more active role in supporting fundraising?
That is one of the big opportunities moving forward and one of the big things I want to focus on in the year ahead as past chair. We fundraise by working with the deans and directors on programs that are critical to them, and by using our relationships, resources and connections to work with new and existing donors to help build out the solid financial foundation and to ensure the future of VCU Health.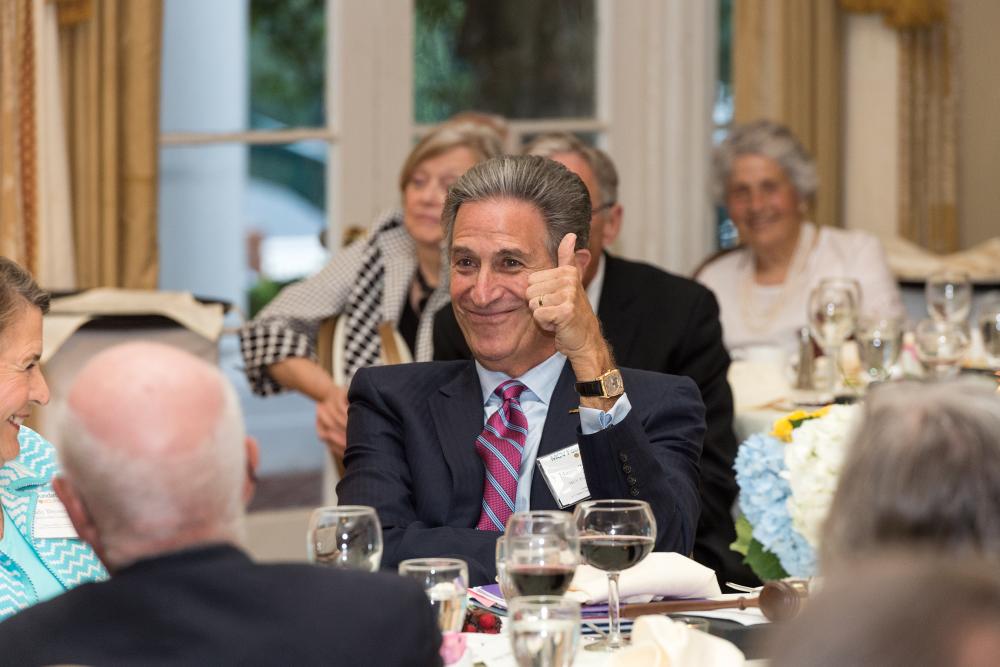 What is a formula you've seen in the foundation's work that is particularly successful?
Our Williamsburg Discovery Series has been a perfect example of how to create trust and a family of loyal supporters. We have made great friends there who have elected to receive medical care at VCU Health and have provided philanthropic support for the MCV Campus. The valuable information and experiences we have provided has created lasting relationships with our friends in Williamsburg with exciting implications for our future.
Bringing that strategy to Richmond through connecting with our friends in the financial and legal spaces at the Health Innovation Forum, and in working to establish the Discovery Series here in Richmond, has set us up for great success moving forward.
Are you optimistic about what the future holds?
Yes, the foundation is in very good hands with Wyatt taking over as chair. His area of focus in law is on healthcare, so he's been in this space for a long time, and he has a strong family history of being involved with this campus.
Wyatt is a smart, committed guy. He's tough, he's focused, he's fair and we share the same values. He and I have talked about why this is important and why VCU Health is important for our community. We respect and trust each other, and that is a great position to be in.
Wyatt Beazley IV, chair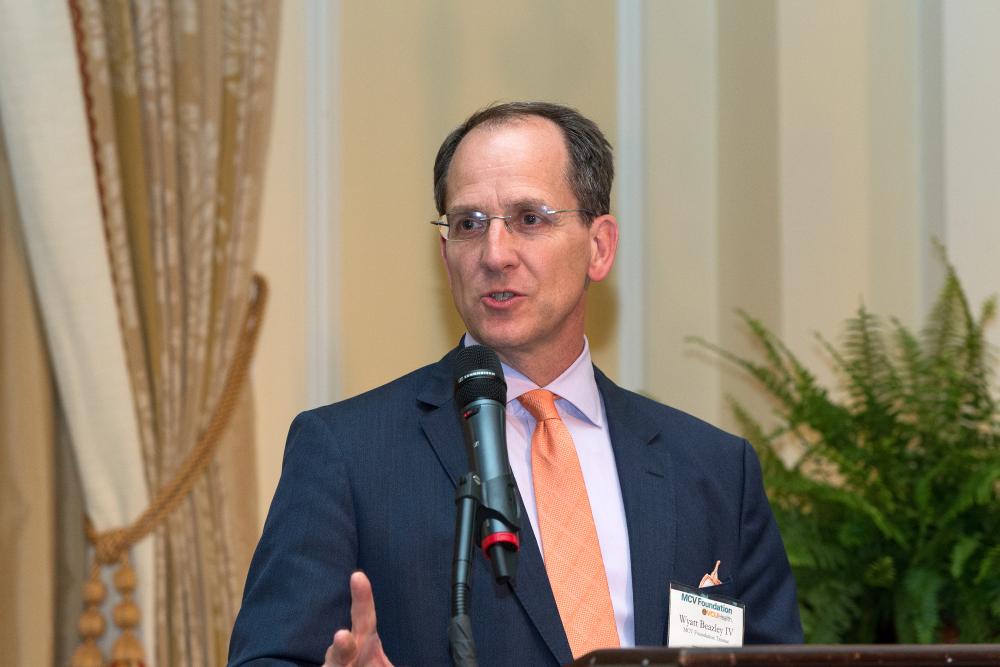 Your father and grandfather both graduated from MCV, but you were called into a different pro
fession. How can your experience as an attorney help you as chair of the MCV Foundation Board of Trustees?
My practice is corporate healthcare. I've worked with hospitals and physician groups across the entire spectrum of care for 27 years. I have a very good understanding of the challenges that healthcare providers face today through shrinking reimbursement, the need to have access to the best technology available, the costs associated with that technology and increasing demand for services.
Those are a lot of different forces at play right now on healthcare and there are a lot of challenges as a result. That means the folks at VCU Health need to spend their time addressing those issues. By helping VCU Development and Alumni Relations and other campus partners spread the word about needs, and raising funds for campus, we can help address some of these issues. 
What are some of the challenges and opportunities the MCV Foundation faces?
One role of the MCV Foundation is to make sure that we are going out into the community and spreading the word about the great things happening here at the academic health center. The truth is, there is a broad swath of our community that doesn't quite understand what a great jewel we have, and how important it is to the vitality of our city. That's our biggest challenge, we must continue making sure we are opening the doors of the health system. As we do so, we can help develop a broader network of support going forward.
While that's the biggest challenge, it's also the biggest opportunity. What I'm excited about is really exposing newcomers to all the great things the health system is doing, because it's eye-opening for a lot of people.
At the end of your time as chair, what do you hope your legacy will be?
Harry did such a fantastic job of focusing our board on being impactful. With that focus in place, and with the help of an incredibly strong staff that has grown to be excellent in every area we need — finance, development, marketing and leadership — we are really at a position of strength right now.
What I intend to do is help the foundation take the necessary next steps to capitalize on this unique position for the benefit of our community. I hope my legacy is that I took the vision that was in place and crystalized and further mobilized the foundation's role in supporting VCU Health, and I'm very excited by that.
If you're also excited about supporting the dedicated health care providers, leading researchers and motivated students on campus at VCU Health, please visit our giving page to learn about all the tools we have available that you can use to impact and save lives.