Anyone who visits the MCV Campus has likely encountered a few of our most popular team members. They don't roam the halls in white coats or scrubs. In fact, none of them hold a medical degree, but they are clearly experts when it comes to the art of providing great care. You can spot them by the distinctive blue uniform on their back, wagging their tails with a smile as they bring cheer and calm to patients, families, students and VCU Health team members.
For nearly 20 years, the Dogs on Call Therapy Dog Program has provided canine therapy to complement treatments and enhance the well-being of patients, staff and students. Teams of dogs and their handlers visit most areas of the VCU Medical Center and other VCU Health locations including Children's Hospital of Richmond at Brook Road and Stony Point Clinics. Dogs on Call teams also participate in special events such as Paws for Stress for students during mid-term and final exams.
The program always brings a smile to our faces, and we recently heard a heartwarming story about a former patient whose experiences with the program inspired his professional dreams. Warning: this news might be just the pick-me-up folks need here in the dog days of summer.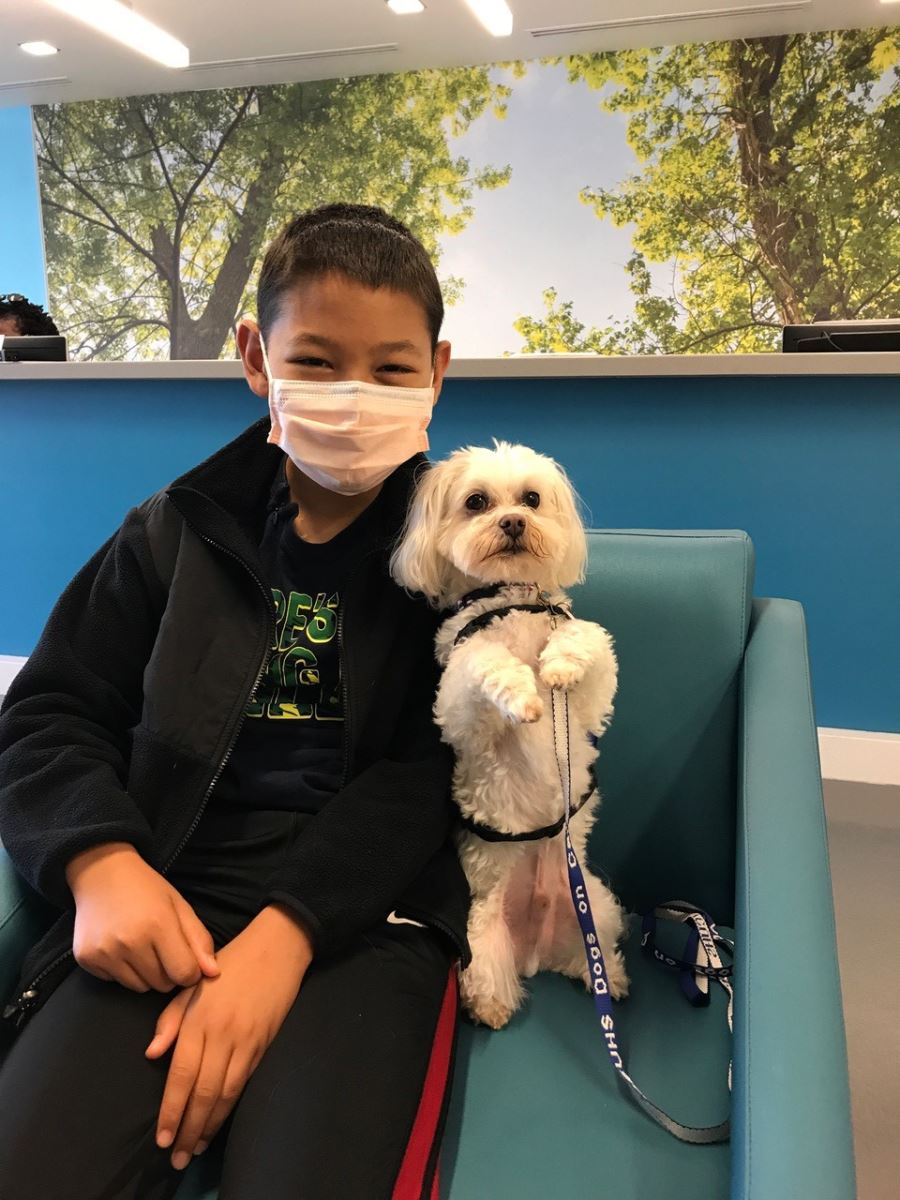 The Waligora family was living in East Asia when Eric was diagnosed with acute lymphoblastic leukemia, a cancer of the blood, when he was 10 years old. To ensure the best care, they returned to the U.S. so Eric could get treatment from VCU Massey Cancer Center oncologists at the Children's Hospital of Richmond at VCU. As he battled leukemia from fourth through seventh grades, Eric looked forward to the visits from his favorite furry friends through the program.
"These animals made my three-year long treatment period a lot easier," Eric wrote, "I was able to meet several different breeds of dogs through this program, such as Stewie the Maltese and Winnie the very tiny Yorkshire terrier."
It turns out our four-legged friends can also inspire more than just a sense of peace and calm. For kids like Eric, they also inspired his career dream to become a veterinarian. He writes that he hopes by learning how to take care of animals he'll be able to eventually repay the favor they did for him when he was sick and fighting cancer in the hospital.
Eric's currently in South Korea, and his parents recently wrote to VCU Health staff to thank them for both the great patient care and for how much the Dogs on Call program has shaped Eric's future goals in life beyond high school.
"The Dogs on Call program at VCU helped with the curing process of our son, and we are very grateful and thankful," wrote Jeff "Wally" and Rose Waligora. "The program also motivated our son to pursue a career as a veterinarian."
The feeling is mutual among the dogs and their handlers.
"It is one of the most rewarding experiences that I've ever had," said Joan Nuttle, an 11-year volunteer of the program and dog mom to Stewie. "It's heartwarming and sometimes heartbreaking, but it's so meaningful to be able to visit with the children and families and take their mind off what's going on at the moment — to see their faces light up for just a few moments means the world to me."
The Dogs on Call Program is guided by a growing body of research that documents the health benefits of human-animal interaction. The VCU Center for Human-Animal Interaction has published research showing how patients benefit through decreases in blood pressure and the stress hormone cortisol to increases in oxytocin, a hormone that stimulates feelings of love, social bonding and well-being. And, according to Nancy Gee, Ph.D., director of VCU's Center for Human-Animal Interaction (CHAI), similar benefits are observed in the dogs, making the program a win-win.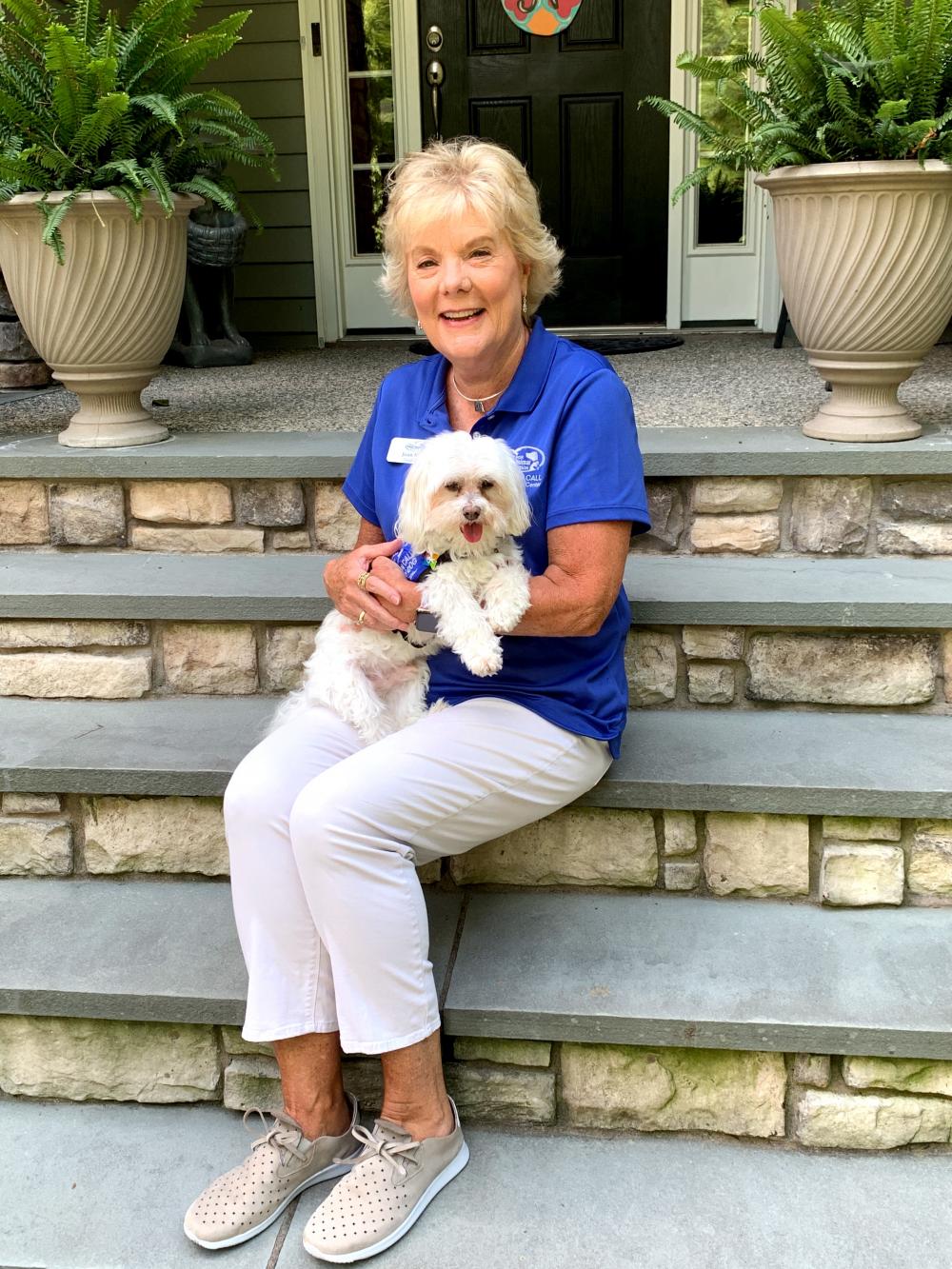 "We have 91 therapy dog teams, and the vast majority of them are volunteers," Dr. Gee said. "They often tell me how grateful they are to VCU Health for the opportunity to be a part of this experience of helping patients, staff and students in the hospital to feel better."
Unfortunately, the program was temporarily suspended due to VCU Health's pandemic safety measures, but program organizers are sharing a steady stream of Dogs on Call photos through social media and remain eager to resume the program as soon as they safely can.
"We are in the process of finding ways to interact with the VCU Health community," Dr. Gee said, "Our volunteers are making cookies and bookmarks and attaching their Dogs on Call trading cards on each item to show their support even when they can't be physically present."
The volunteers and their handlers are eager to be back in the hospital when it is safe to do so. For now, they have created life-sized carboard cut-outs that feature some of the quadrupeds who would normally visit the hospital. Dr. Gee shared they are exploring how to start virtual visits for their therapy dogs. And when the case rates go down, they hope the dogs and handlers may be able to greet VCU Health staff from a safe distance as they arrive for work.
We are so touched by this program's commitment to enhancing the wellness of everyone at VCU Health.  It's just the kind of good news we all can use, especially during the dog days of summer.
If you'd like to learn more about VCU's Center for Human-Animal Interaction, contact Nancy Gee, Ph.D., the center's director, at CHAI@vcuhealth.org or by calling 804-827-7297. If you would like to support the Dogs on All Program, visit chai.vcu.edu/gift-support to learn more about the various ways to give online.