Electrifying the Brain to Treat Symptoms of Parkinson's Disease
Editor's Note: During Parkinson's disease awareness month, we're revisiting a story from NEXT magazine about the research team led by Kathryn Holloway, M.D., a professor in the Department of Neurosurgery at VCU School of Medicine and neurosurgical director of the Hunter Holmes McGuire VA Medical Center Parkinson's Disease Research, Education and Clinical Centers.
Dr. Holloway specializes in what has been called the most complicated object in the known universe – the human brain.
She sounds like an electrician when she talks about the circuits, electrical signals and switches that she works with daily, but it's clear she is not working with a typical circuit board. For years, her electrical focus in the brain has been an "off switch," which despite what the term might suggest, actually restores in her patients the ability to move more normally and helps them do everything from drink a cup of coffee to walk.
Through a procedure called deep brain stimulation, she accesses this "switch" to treat those who suffer from several movement disorders, including Parkinson's disease, a chronic and progressive movement disorder that causes tremors, slow movement, stiffness and impaired balance.
Dr. Holloway is a pioneer and leader in deep brain stimulation, which works by implanting neurostimulators and two electrodes in the shape of thin wires that send electrical impulses to specific targets in the brain.
She formed a team in the late 1990s dedicated to understanding and perfecting what was a new procedure at the time, and now she uses it to treat Parkinson's disease, essential tremor and other neurological disorders.
"Deep brain stimulation allows patients to return to activities that they had to give up due to Parkinson's, which can be as basic as walking or feeding themselves, or as complex as riding a bicycle or painting," Dr. Holloway said. "The most important thing we provide is more years of enjoyable living."
With Success Comes Challenges: Targeting Dementia
As Dr. Holloway and her colleagues continue to improve deep brain stimulation and maximize the years of enjoyable living for those who are fighting Parkinson's disease, their success is leading to questions and challenges that they are determined to meet.
One of the major challenges is dementia, which is one of the later-stage symptoms of Parkinson's disease.
"Dementia hasn't garnered much attention in the past because patients would often be so debilitated that it was sort of just a footnote in their decline," Dr. Holloway said. "Now that we have people functioning so well through deep brain stimulation that they're up and walking longer, we're really seeing the dementia much more clearly."
Dementia in Parkinson's disease patients is caused by deterioration in the nucleus basalis of Meynert, an area of the brain that essentially writes short-term memories down and distributes them throughout the rest of the brain for long-term storage. Because this is the area of deterioration, and especially because of its important cognitive role, it is a focus for Dr. Holloway's team as they prepare to address dementia through deep brain stimulation.
Before the team begins treating dementia, they're conducting three preclinical studies to ensure they can make the best possible impact. Dr. Holloway's post-doctoral trainee, Deepak Kumbhare, Ph.D., is critical to these efforts, and he had help this summer from an enthusiastic group of medical students, including Evan Hughes, Adel Azghadi and Zi Huang.
These projects, all of which focus on the nucleus basalis of Meynert area within the brain, are (a.) creating a guide or map to ensure the correct parts of the brain are targeted, (b.) investigating whether stimulation can have a regenerative effect on parts of the brain and (c.) examining how deep brain stimulation signals can integrate with the brain's various types of oscillatory patterns, or brainwaves.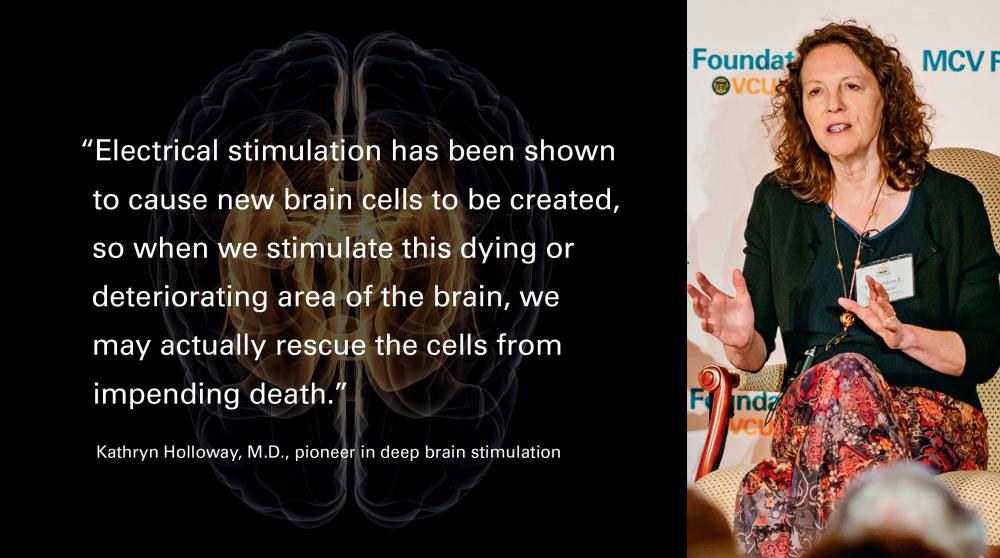 As these initial studies contribute to a growing overall knowledge of the universe's most complicated object, teams like Dr. Holloway's are ready to change the way we all live, grow, thrive and, hopefully, remember.
If you're interested in learning about ways to support this research to help guide surgeons in using deep brain stimulation to treat dementia related to Parkinson's and other diseases, please visit www.MCVFoundation.org/Give. If you would like to give directly to a Parkinson's disease fund, click on the Give Now link at the top of this page, choose "Search for other funds" in the dropdown menu and type "Parkinson's."