Establishing a Standard of Care for COVID-19
Editor's Note: This story is excerpted from a feature published in the winter issue of NEXT magazine. Read the full story in our digital version of the magazine.
---
Arun Sanyal, M.D., describes the early part of 2020 like seeing, without any defenses in place, an army advance around the globe toward Richmond.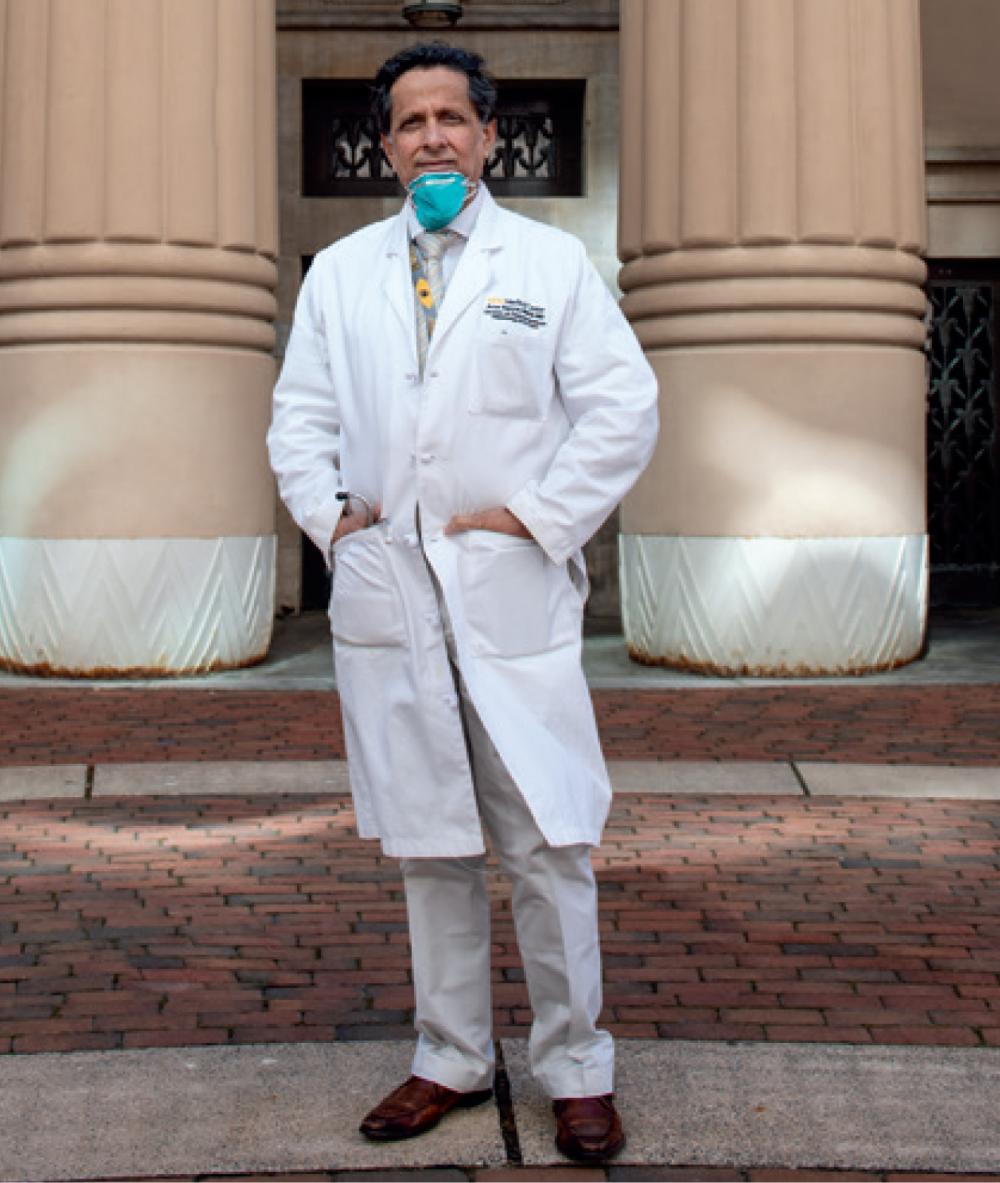 "As we were watching COVID-19 march through China, through Singapore, and then through Europe, we knew it was only a matter of time before it landed on our doorstep," he said. "Then the first cases started occurring in the U.S., and I was concerned that we would have a large number of cases without any real evidence-based medicine to tackle the problem."
Dr. Sanyal, a liver specialist and gastroenterologist at VCU Health, started exploring opportunities to bring possible treatments to VCU Health, and he found that an antiviral drug called remdesivir seemed promising. It had been used in previous SARS (severe acute respiratory syndrome) outbreaks and to fight Ebola. The research and data was limited because of the relative speed at which Ebola was contained, but there was enough preliminary data to make a clear-cut rationale for remdesivir's use, to see some signs it might be effective, and to know that it was safe.
A company called Gilead Sciences manufactures remdesivir, and in early spring it was selecting sites for the global trial testing the drug's efficacy against COVID-19. Dr. Sanyal had previously conducted many trials related to liver disease for the company, so he gave them a call.
"I told them that, as a major academic health center in Central Virginia, we are care providers to many people," he said. "While the rest of the country was just throwing whatever came to mind at the patient, hoping something would work — which is sort of like throwing a stone in the dark and hoping you'll hit something or someone — we needed a more targeted approach. Gilead ended up taking us on as a site."
Clinical Trials: A Targeted Approach to Treatment
Dr. Sanyal and his team participated in two trials that enrolled participants with documented COVID-19 infection who had fever and symptoms warranting hospitalization. Doctors at VCU Health administered remdesivir intravenously in five- or 10-day regimens and followed up 28 days later.
To make remdesivir available to patients through this trial, the VCU Health team worked exceptionally fast. "From the first phone call to actually enrolling our first patient was five days," Dr. Sanyal said. "That process would normally take three to six months. It goes to show how when everybody is aligned with a mission just how fast things can move."
The team included physicians, pharmacists, nursing specialists and support staff, and there were daily calls in the mornings and in the afternoons to review every case that came in and make sure all patients who might benefit were included. "This all happened at the early stage of COVID where we were still learning how to keep ourselves safe while taking care of patients," Dr. Sanyal said. "We also were training the nursing staff on the floors how to administer study drugs, do it correctly and safely, and complete all the documentation needed to make sure we were compliant with federal regulations while treating a very sick population."
This seamlessly integrated approach is something that Dr. Sanyal said makes VCU Health a special place. "There is an established infrastructure here for doing patient-oriented research," he said. "We have, through the Wright Center for Clinical and Translational Research, a very well established mechanism to evaluate all of the different research ideas that come through and to be able to evaluate them to see which have the greatest scientific and clinical merit, evaluate their feasibility and safety, and then create prioritization schemes to decide what treatments we want to take on. We have a lot of experience and expertise in taking on diseases for which no one has answers, finding the answers, then bringing them back so the rest of the world can use them."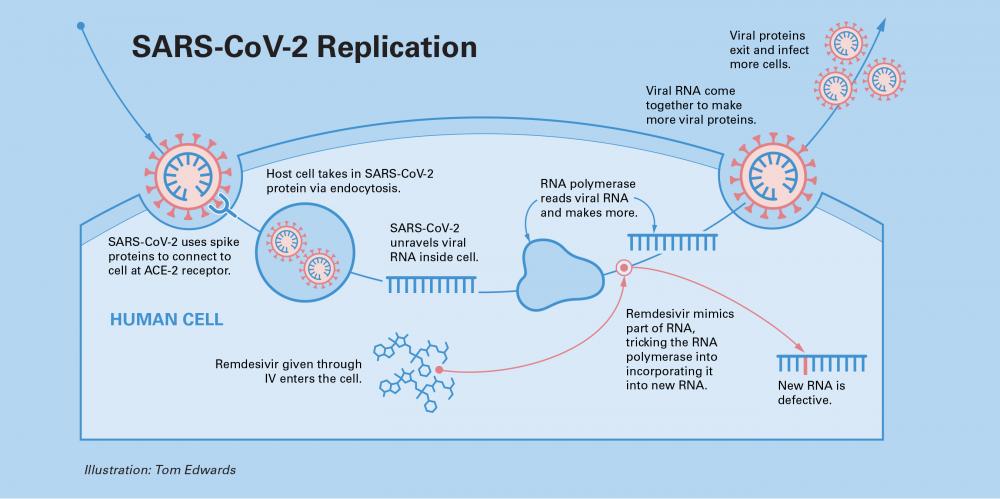 A Fast-Tracked Treatment
The remdesivir studies at VCU Health concluded in May, and the early nationally aggregated results showed enough promise to make it one of the first treatments for COVID-19 to receive an emergency use authorization from the U.S. Food and Drug Administration. This made the drug available to patients across the country, and it became part of the standard of care.
"Here at VCU, what we did was help translate research into an evidence-based drug that is available not just in the U.S., but around the world for patients with COVID," Dr. Sanyal said. "The ideal approach in fighting COVID is to take a drug like remdesivir that attacks the virus, and to use another drug that helps reduce the immune reaction to the virus. Together, you can get both ends of the disease process."
Dr. Sanyal also reminds those he speaks with that there is always news coming out about COVID-19. It is such an important health issue at the moment that enormous amounts of research are being conducted. Since the remdesivir study, for example, there has been work on dexamethasone, which is a steroid. Other studies have been completed or are underway involving plasma exchange and compounds to control the immune system.
As additional research is completed and released, remdesivir may not continue to be the standard of care, but Dr. Sanyal highlighted the benefit VCU Health created for its patients and many others by being part of early clinical trials during a pandemic.
"First of all, remdesivir helped our patients clinically," he said. "And now we have the data to say it helped them get out of the hospital faster. For the rest of the world, this provided the evidence that led to approval of remdesivir. And now it is part of standard of care throughout the world. We actually changed how medicine is practiced around the world by participating in this trial. It was a global trial, it was not just us, be we were part of that global effort to establish a scientifically sound basis for treating COVID."
What's Next?
Dr. Sanyal hopes to be involved with upcoming trials that will make remdesivir available to outpatients with COVID-19.
"We are excited by this because what we find in people who have a mild form of the disease is if they get two or three doses of remdesivir, they have no mortality," he said. "So if we can replicate that and then catch people early and get remdesivir on board, then we might bring mortality down to something like 0.5%, and that would be awesome. Then you would be talking about an overall mortality closer to influenza."
If you would like to support the MCV Campus in its ongoing response to COVID-19, contact Brian Thomas, MCV Foundation's vice president and chief development officer.