In Gratitude for a Return to the Joys of Everyday Life
In 2016, Williamsburg couple Nancy and Craig Canning were both beginning to enjoy the relaxation of retirement when they encountered two unexpected hurdles: anxiety and depression.
Partners in every sense of the word, this was a battle they would face together.
To that point, neither had any experience with mental illness, and they were involved in their Williamsburg community through a shared love of music and history. Nancy plays the violin and is a retired high school social studies teacher, while Craig prefers the flute, clarinet and saxophone and is a retired East Asian history professor from The College of William & Mary.
Through connections made during Craig's travel to Asia, the couple adopted their daughter Leslie, a Chinese orphan who is now an adult with a child of her own.
It was just after Thanksgiving in 2016 that Nancy and Craig found out Leslie was getting a divorce, and the news triggered an anxiety level that Nancy had never experienced.
"I got worried about her situation, and then I transferred that anxiety about her to anxiety about me," Nancy told us. "What if something happened to my husband? What would I do? How would I handle our finances, remember all our passwords and deal with everything around the house?"
Nancy was initially taken to the emergency room in Williamsburg, but was then transferred to the MCV Campus of VCU Health where she was treated for acute anxiety disorder over three days. Though she returned home and sought help from a local counselor, her condition deteriorated and she came back to the MCV Campus for treatment. She would end up spending 45 days here in early 2017, including two three-week treatment sessions.
"Nancy became delusional and was diagnosed with severe depressive disorder," Craig explained. "She didn't want to eat, shower or brush her teeth, and her weight dropped by more than 25 pounds in less than two months."
Nancy doesn't remember everything — she relies on her husband whom she adoringly calls "Craigie" to fill in the missing pieces — but she does remember being transported to the hospital in handcuffs. Craig told us, "In the beginning, Nancy spent a lot of time sitting on the edge of her hospital bed with her eyes closed, in pain."
Doctors at VCU Health's Department of Psychiatry tried treating Nancy with medication, but to no avail.
They then suggested electroconvulsive therapy (ECT), and though Nancy was initially reluctant, she started feeling better after the fourth treatment.
"We're so grateful to Drs. Adam Rosenblatt, Ananda Pandurangi and Vasu Venkatachalam, all the people in the ECT program, and the staff in the geriatric psychiatry section who basically saved me," said Nancy. "I've returned to my former self. I'm happy every day — I started taking yoga classes and I'm playing the violin again. I joined a Scottish fiddling group and have formed a quartet with three other women. My favorite activity is to eat lunch out with my friends. We are indebted to the people on the MCV Campus."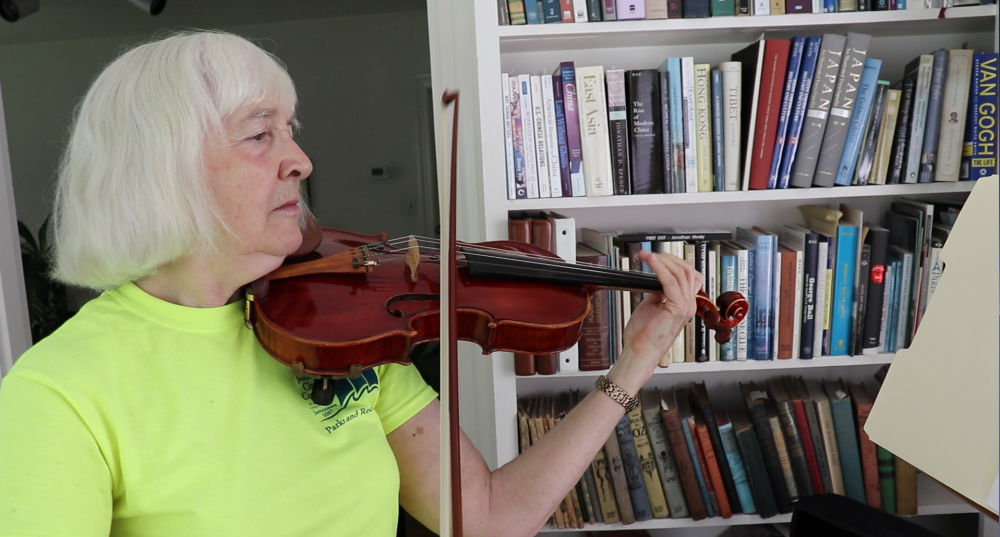 Nancy and Craig returned to VCU Health on an outpatient basis for her maintenance ECT treatments, and in February they celebrated her last treatment as she's doing so well with no sign of relapse.
"Every time we went back we saw how the staff worked so well together," Nancy said. "They're cheerful and warm and friendly, and you can tell people really like each other. There's a certain atmosphere there that's hard to reproduce. The nurses and doctors always hugged me and it just makes you feel so good."
In gratitude for the treatment that helped Nancy, the Cannings wanted to do something to show their appreciation for the doctors, nurses, social workers, medical students and staff in the Department of Psychiatry. Therefore, they established the Craig and Nancy Canning Education Enhancement Award using an IRA charitable rollover. They also have included a bequest in their estate plans that will enable the fund to make an even bigger impact.   
"We liked the idea of an endowment because it will reach beyond our lives," Craig said. "But we're not the Rockefellers. We have some savings and consider ourselves fortunate. It's a modest gift that we hope will help the staff."
Craig and Nancy's gift is an award that any doctor, nurse, social worker, resident or medical student in the Department of Psychiatry can apply for, with the goal of improving patient care in the adult inpatient and geriatric psychiatry units. The award will help cover various expenses related to continued education and training, such as giving conference presentations and participating in seminars and workshops.
Ananda Pandurangi, M.D., medical director and chair of VCU Health's inpatient psychiatry division, is the head of the committee that awards the annual gift.
"Since Craig and Nancy wanted the benefits of their generosity to start right away, four people were given awards this past December. These awards encourage young psychiatric providers to think about better standards of care for patients, and develop projects and papers on that subject. We were able to help the Cannings and now they are helping us develop ideas — it's a great partnership."
If you're interested in helping improve the MCV Campus's world-class patient care, education and research like the Cannings have done, please explore our giving page where you can learn about all the tools we have available for you to improve and save lives through giving.