How Augmented Reality Helped VCU Health Surgeons Save a College Student's Life
Walking through campus in 2017, Fredericksburg college student Aldrin Castillo didn't pay much attention to his fatigue and slight chest pain.
A year earlier, Aldrin had undergone emergency heart surgery to remove two tumors that were blocking some of his blood flow, but he wasn't overly concerned about his new symptoms because, he said, they were quite mild compared to what he had experienced in the past.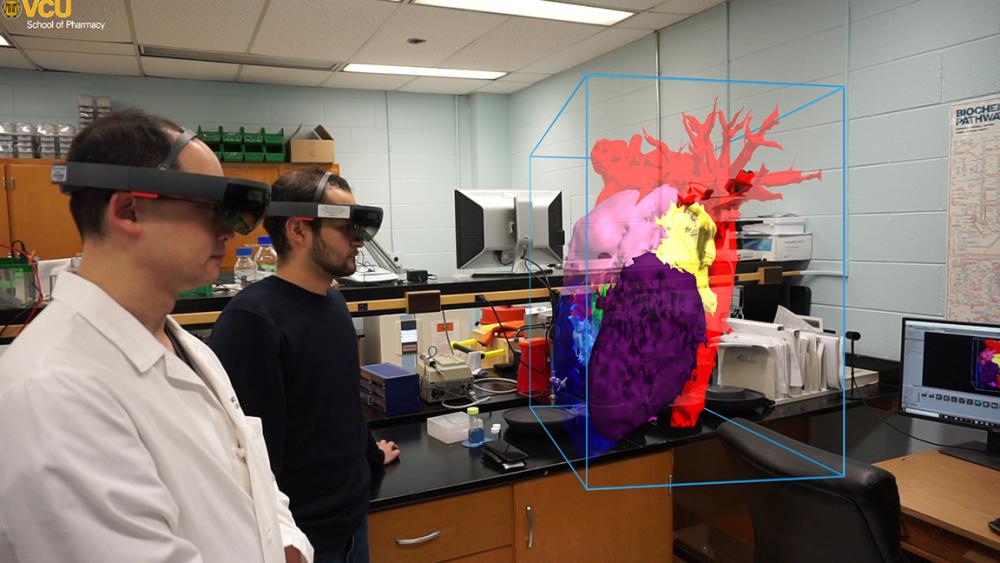 What Aldrin didn't realize was that there was a new tumor growing from his heart's left atrium, and this time it was developing into a much more serious situation than before. The tumor was extending into a hard-to-access part of his heart and was beginning to affect the electrical system responsible for keeping his heart beating.
Around the same time Aldrin was experiencing some of his new symptoms, about 60 miles south of him on the MCV Campus at VCU Health, a pharmacy researcher and a surgeon talked casually over lunch about an idea that would help to save Aldrin's life.
A Fortuitous Lunch Encounter
As Dayanjan "Shanaka" Wijesinghe, Ph.D., an assistant professor in the department of Pharmacotherapy and Outcomes Sciences in the VCU School of Pharmacy, ate lunch one day in the faculty lounge at VCU Medical Center, Vigneshwar Kasirajan, M.D., the Stuart McGuire professor and chair in the Department of Surgery at the School of Medicine, sat down at his table and sparked up a conversation.
Dr. Wijesinghe began explaining how his lab had developed augmented reality technology to help its members better view the complex metabolic networks it studies. Augmented reality superimposes digital information onto real world surroundings, and Dr. Wijesinghe's lab uses it to transform 2-D models, which can be hard to interpret, into complex 3-D representations that researchers can explore and manipulate with hand movements or voice commands.
Dr. Kasirajan explained that he and his colleagues in surgery face issues like Dr. Wijesinghe's when looking at 2-D CT scans of organs like the heart. Surgeons usually look at three flat CT images, and from there many can reconstruct 3-D models in their mind, but they have no way of showing what they have recreated to colleagues.
It was in thinking of this challenge that Dr. Kasirajan asked a simple question that turned out to be very important for Aldrin and many patients like him: "Can we use your technology for medical images?"
"I had never thought about our augmented reality for medical images because that's not my line of research," Dr. Wijesinghe told us later. "But I said, 'there's no reason why it can't be done.'"
Modeling and Repairing Aldrin's Heart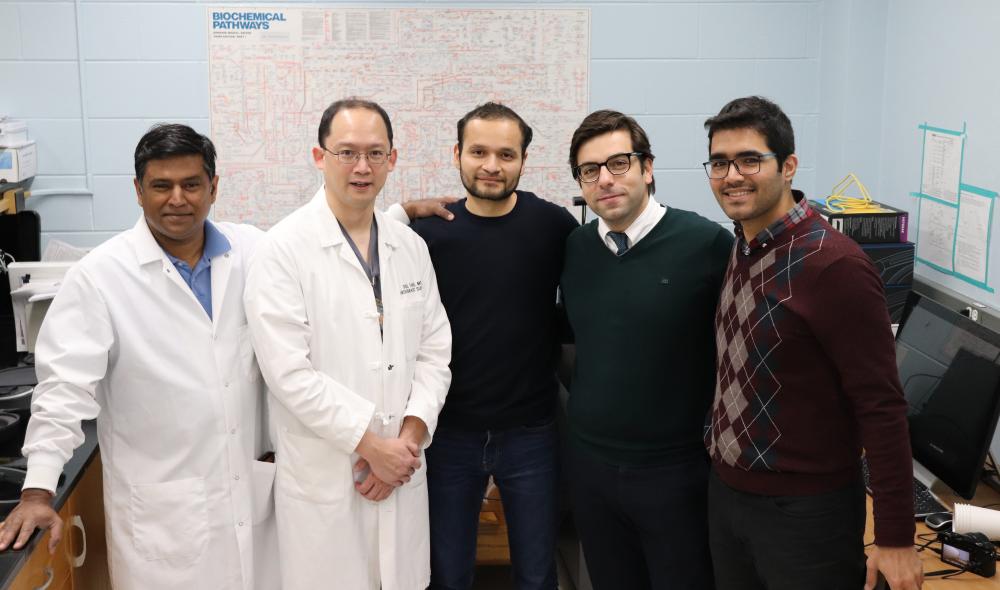 Dr. Wijesinghe went to work with two graduate students, Vasco Miguel Pontinha from the School of Pharmacy and Ali Panahi from the College of Engineering, to create a tool that would transform 2-D CT scans into complete 3-D images that surgeons could interact with and share while planning for surgeries. They identified existing software and wrote code to help everything they found communicate seamlessly, and they worked closely with Dan Tang, M.D., the Richard R. Lower Professor in Cardiovascular Surgery in the VCU School of Medicine, to better understand what information surgeons need in looking at anatomical models.
For example, Aldrin's cardiac sarcoma was surrounded by the rest of his heart and was difficult to access, but Dr. Tang and his team were able to study the 3-D model in augmented reality, which allowed them to view the model whole, remove certain portions, see just the tumor and see it from all possible angles before starting surgery.
Dr. Wijesinghe said this partnership and its outcomes are unique not because of the technology, but instead because somebody who knew about the technology interacted with somebody who had the need for the technology. He said this can only happen at an academic health center like VCU Health.
"We are at a place that humans are generating so much knowledge, that nobody really knows everything that's out there," Dr. Wijesinghe said. "So we need more of these collisions of expertise, if even just for a little bit at lunch one day, to exchange ideas and think creatively. Those interactions are not possible at facilities that are just hospitals or just basic research organizations."
An Eye Toward the Future
Thanks to the interdisciplinary partnership formed over lunch on the MCV Campus at VCU Health, Aldrin's surgery was a success and he barely missed a step in pursuing his dreams.
Now cancer- and symptom-free, he works as a certified nursing assistant on the oncology unit where he was first treated in Fredericksburg, and he's back to walking through campus at Germanna Community College, where he's taking prerequisites for nursing school. Once he becomes a nurse, he plans on studying to become a physician's assistant.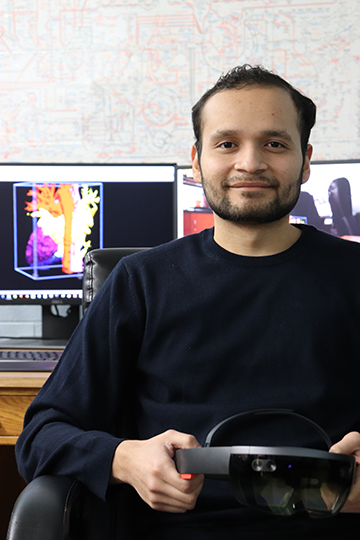 He also has goals at home.
"The ultimate goal is to have a family," he said. "Dr. Tang made that possible by keeping me alive through the surgery."
And because Dr. Tang holds an endowed professorship, the life-saving surgery that Aldrin received was made possible by generous donors who supported that endowment and decided to make an impact on patient care, research and education on the MCV Campus.
Endowments and other giving tools are extremely important to the quality of our campus programs and to the success of our students, faculty and research. To learn more about these tools and how you can be a part of saving lives on the MCV Campus, please visit our giving page.