Massey-led Program Advances Diversity in Clinical Trials
Toward a Healthier Virginia for All
This article is part of an ongoing series of stories highlighting VCU Health programs and initiatives aimed at addressing issues of access and equity in health care.

For both Amy Tran and Shem Kentish, the soft ping of an email alert turned them on to a transformative summer research opportunity on the MCV Campus. Both heard about the program through professors who emailed them about research opportunities.
"I was really interested in the mission of the program to help expose students to clinical trials and research," said Amy Tran, a fourth-year medical student at Lincoln Memorial University-DeBusk College of Osteopathic Medicine in Tennessee. "I had no prior experience with anything like this, and the mission of the program to address the issues of health disparities and diversity resonated with me personally as the child of immigrants."
An undergraduate VCU alum, Tran arrived back in Richmond this summer and partnered with Kentish, a second-year medical student at the VCU School of Medicine, on a project developing protocols for a clinical trial to evaluate the efficacy of a therapy for prostate cancer.
The pair are part of a group of four students that VCU Massey Cancer Center hosted this summer for the Robert A. Winn Clinical Investigator Pathway Program (Winn CIPP). Across the country, Massey has led the program and coordinated with 15 sites to welcome 66 medical students to a prestigious and intensive six-week summer service-learning externship that enables them to collaborate on research with world-class mentors and gain valuable experience related to the design, implementation and operations of clinical trials. At Massey, student projects explored various elements of the barriers to recruiting more diverse clinical trials. Some students examined the impact of a patient's financial situation on care and outcomes and how the medical community can better encourage clinical trial participation in patients with financial limitations or stressors. Others worked on clinical trials and assisted with developing protocols and plans for trials. All of them viewed their work through the lens of understanding and working to address health disparities.
Winn CIPP is one of two awards as part of the Robert A. Winn Diversity in Clinical Trials Award Program. In addition to medical students, the second Winn Award provides opportunities for early-stage investigator physicians who are from diverse backgrounds and/or committed to increasing diversity in clinical trials participants. The Winn Awards program aims to train, develop and mentor more than 290 diverse and community-oriented clinical trialists and 290 medical students by 2027. Initiated in 2020, this five-year program was established by the Bristol Myers Squibb Foundation with a $100 million commitment to train and develop community-oriented clinical trialists. In April 2021, Gilead Sciences joined as a program supporter with a funding commitment of $14 million. The Winn Awards program is based out of VCU Massey Cancer Center under the direction of Robert A. Winn, M.D., the center's director and Lipman Chair in Oncology.
We cannot eliminate health disparities if clinical trial participants don't reflect the diversity of our population.

Robert A. Winn, M.D., VCU Massey Cancer Center director and Lipman Chair in Oncology
The program is named in honor of Dr. Winn, a leader in establishing a 21st century model for promoting diversity, equity and inclusion in the oncology workforce. Dr. Winn is nationally recognized for community engagement efforts in promoting new approaches to building trust among populations previously disenfranchised from health care or excluded or abused by research. The only African American director of a National Cancer Institute-designated cancer center when he was appointed in 2019, Dr. Winn also serves as chair of the National Advisory Committee and his vision and guidance were instrumental in shaping the program.
"We cannot eliminate health disparities if clinical trial participants don't reflect the diversity of our population," Dr. Winn said. "This collaborative effort will allow us to support the education and careers of students and physicians who will play a crucial role in ensuring that we can offer everyone — no matter their background or geography — equal access to the latest treatments, and that we connect the needs of the community with the research we perform."
The program aspires to build a national network of individuals committed to clinical trial diversity across the clinical research landscape. It includes a multilevel mentorship model that is designed to ensure that Winn scholars and students have access to supportive mentors and further provides them with an opportunity to serve as a mentors themselves.
For many medical students, clinical trials are something they know only in the abstract. For Winn CIPP participants, they're involved behind the scenes gaining practical experiences and perspectives on clinical trials.
"One of the most valuable things about this program is they really do a great job of walking through every part of what a clinical trial entails from beginning to end," Kentish said. "Now that I see how much work goes into a clinical trial, I'm more comfortable with recommending participation for future patients who might be good candidates."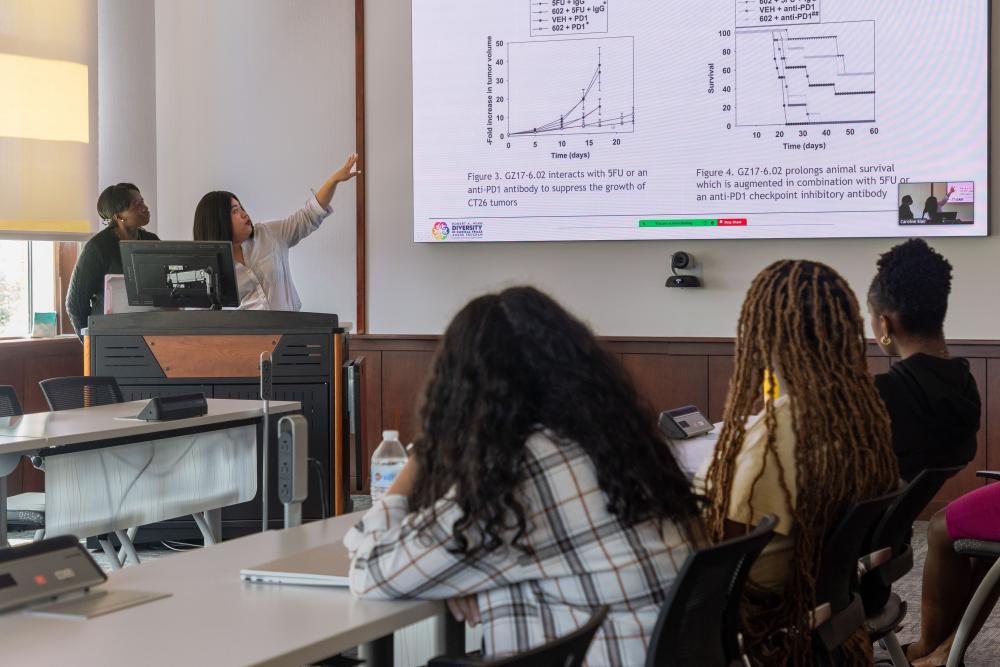 Kentish also enjoyed the opportunity to shadow the principal investigators on a clinical trial as they meet with patients and discuss with standard care vs. clinical trial options. In one case, she remembers being inspired by the hopeful atmosphere and meeting patients whose health had been rapidly declining prior to clinical trial enrollment.
Tran agrees. For her, the program also opened up her potential career paths.
"This has been a turning point for me," Tran said. "The program really opened my eyes to the possibility of doing clinical research. When I was doing bench work research, I didn't enjoy it as much, but clinical research has been far more enjoyable and fulfilling. I'm now considering oncology as a specialty, which isn't something I had ever done before."
Winn CIPP has helped equip future physicians with a strong understanding of how clinical trials are an important option to share with their classmates and future colleagues.
...giving patients access to cutting edge medicine should be our standard of care.

Shem Kentish, VCU School of Medicine student
"This experience has taught me a lot about clinical trials, and I'll be talking more to my peers about what it means to be involved in clinical trials," Kentish said. "I'm hoping to talk to my instructors too about how we can include more information on clinical trials in the curriculum so future doctors know the importance of encouraging participation. My personal goal is to also look at what trials I can be a participant in."
Beyond this summer, both Kentish and Tran hope to stay involved with the clinical trial after helping develop the informed consent form and trial protocols as part of their program experience.
"This program has changed the way I view medicine now, and I feel more aware of my responsibility to encourage my future patients to take part in clinical trial to help improve their personal outcomes and enhance our understanding for all patients." Kentish said. "Dr. Winn shared a quote that stuck with me: 'When the standard of care fails, clinical trials are the next step.' I had never really thought about that before, but giving patients access to cutting edge medicine should be our standard of care."
---
If you would like to support Massey's efforts to address health disparities in cancer, please consider making a gift online or contacting Jasmine Davis, Massey's interim senior director of development, at 804-484-4903 or jjdavis3@vcu.edu.