MCV Campus Research Earns National Media Attention
Shortly after COVID-19's spread dominated news around the world in 2020, doctors and patients began noticing a common symptom among those who contracted the coronavirus – the loss of taste and smell, or anosmia.
On the MCV Campus, clinicians and researchers at the VCU Health Smell and Taste Disorders Center quickly developed a project to begin documenting how long COVID-related anosmia may last and what short-term and long-term impacts may be for patients who lose their sense of taste and/or smell.
Evan Reiter, M.D., medical director of the Smell and Taste Disorders Center and a member of the team that created the research survey, says the health and safety concerns stemming from these responses give insights into the larger picture of the long-term health impacts of COVID-19. The project was a collaboration with fellow researchers Daniel Coelho, M.D., lead author and a professor in the Department of Otolaryngology — Head and Neck Surgery at the VCU School of Medicine; Richard Costanzo, Ph.D., senior author, the center's research director and professor emeritus in the Department of Physiology and Biophysics; and Zachary Kons, a medical student on the MCV Campus.
The initial survey launched in April 2020 to learn more about how long COVID-19-related smell or taste loss might last. To date, more than 2,800 people nationwide have participated in the survey, which tracks symptoms over time. The group shared its findings in a paper published this spring in the American Journal of Otolaryngology and showed new data on the safety, emotional and mental health impacts of long-term smell loss related to COVID-19.
"People who have had smell or taste loss are exposed to these risks of having personal safety events, depression or reduced quality of life," Dr. Reiter said, "so it's important for their health care providers to have real discussions with people about what they can or should do to compensate for their loss, whether it's short term or long term. The hope is that they can avoid some of these patient safety issues or nutritional issues due to food aversions."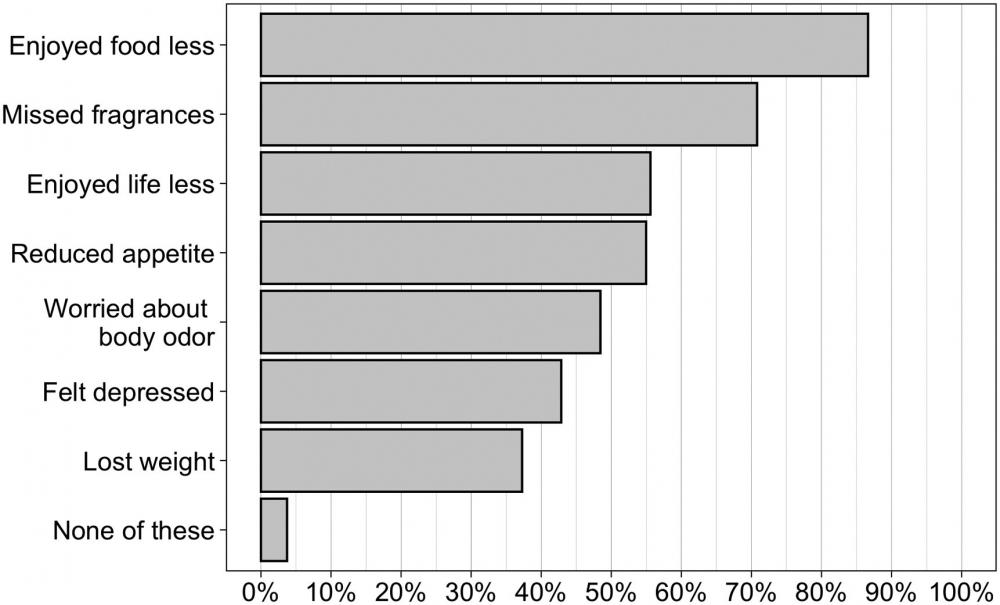 While the majority of COVID-19 survivors' sense of smell and taste improves or returns within one or two months, those who lose their sense of smell for longer than two months — approximately 33% or more, according to the group's previous research — may experience problems even if it comes back. Data from the center's study shows that over 45% of respondents indicated alterations in odor perception. In addition to new data on the impact of loss of smell and taste, the study shares potential considerations for those interested in options to recover their smell or taste.
"Unfortunately for patients with persistent olfactory deficits, no definitive treatments exist to effectively restore function," the authors wrote. "A number of treatments have been explored specifically for post-viral olfactory dysfunction; however, current evidence only supports a potential benefit of olfactory training therapy."
The researchers are hoping the increased attention brings more resources to the real issues faced by those experiencing loss of smell and taste, whether related to the coronavirus or not.
"COVID-19 has brought attention to the field of smell loss and its lasting impacts on patients," Dr. Costanzo said. He and Dr. Coelho are continuing efforts to develop an implant device to restore sense of smell, much like a cochlear implant restores hearing for those with hearing loss. The project, which they have been working on for several years, has received international interest and support for the research as more cases of smell loss arise.
"While it may be some years out, we are working on a solution for those who might have longer-lasting effects of smell loss, whether from COVID-19 or from other causes," lead author Dr. Coelho said.
If you would like to support the research into smell loss related to COVID-19, please consider donating online or you may contact Brian Thomas, MCV Foundation vice president and chief development officer.