MCV Foundation Discovery Series: Recognizing and Treating Mental Health Conditions
Mental health and neurological issues affect millions of people in the United States each year, and it can often be challenging to understand when an issue changes from a normal struggle to a serious mental health concern.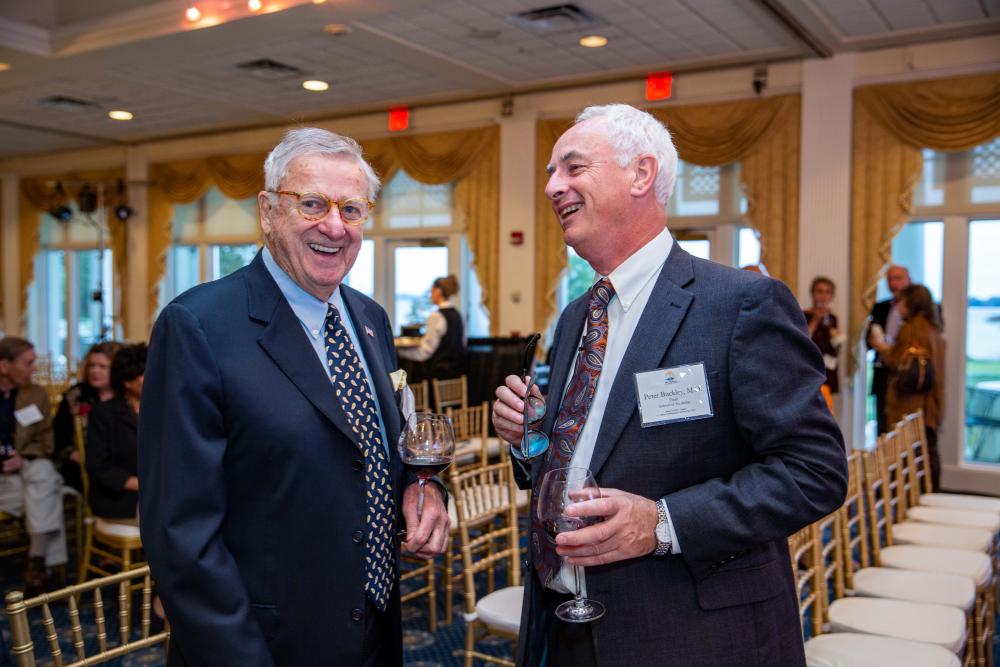 At this year's MCV Foundation Discovery Series Williamsburg, a panel of experts represented two areas of excellence on the MCV Campus: psychiatry and neurology. The event, titled "Mind Over Matter: Recognizing and Treating Mental Health Conditions," helped demystify and define the science behind a broad array of mental health issues. The panelists also provided insight from the latest research on depression, anxiety, dementias and addictions.
"These conditions are ubiquitous," said Peter F. Buckley, M.D., dean of the VCU School of Medicine. "And they are very often poorly understood."
More than 200 people attended the event, where they heard thought-provoking dialogue and received research-driven advice on how to reduce risk for cognitive disorders. After the panel discussion, guests had the opportunity to talk individually with the scholars, researchers and leadership from VCU Health's MCV Campus.
"Our goal with the Discovery Series was to introduce greater Williamsburg to the amazing healthcare available at VCU Health, and the MCV Foundation was the perfect partner to do that," said Judi Forehand Starkey, a member of the event's host committee and the MCV Foundation board of trustees. "I can always guarantee attendees will have an enriching evening and have the opportunity to learn from some of the top physician-researchers in the country."
Some common mental health concerns were discussed, including how to react to loved ones who may be struggling with depression or anxiety. These discussions often revealed insights from the medical field's latest understanding of issues like attention deficit hyperactivity disorder (ADHD).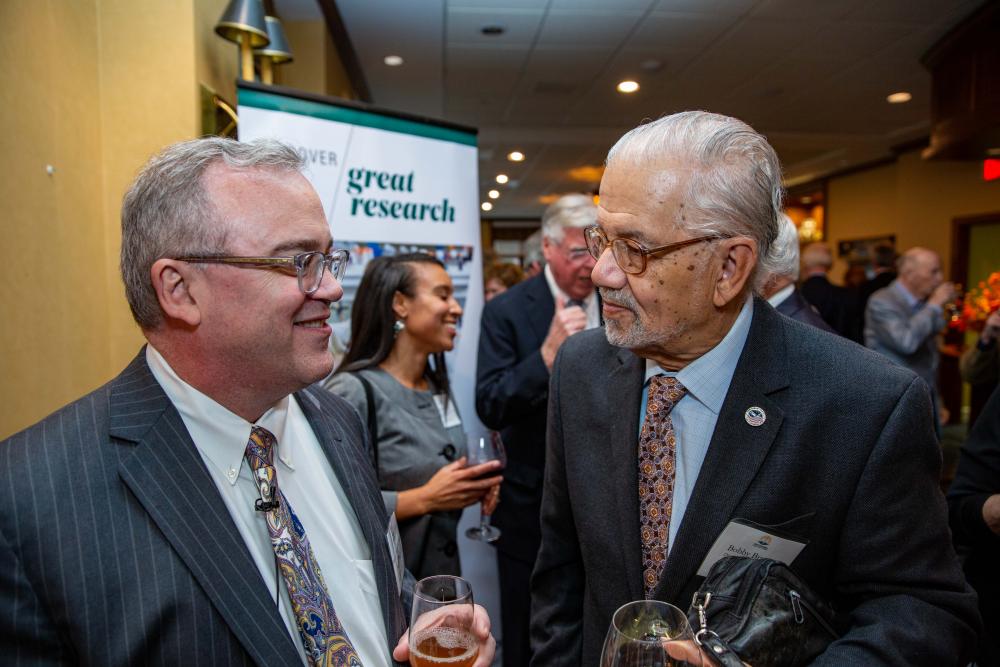 "Although some people grow out of it, most people grow into it," said Robert L. Findling, M.D., incoming chair of the Department of Psychiatry. "And it's important because this can cause all kinds of difficulties later in life." Dr. Findling shared that studies show higher rates of divorce, unemployment and automobile accidents among adults with ADHD.
Attendees also heard about the latest research concerning dementias from A. Gordon Smith, M.D., professor and chair of the Department of Neurology at the School of Medicine. Dr. Smith explained several causes for dementia, including Alzheimer's disease, and highlighted studies that show the presence of multiple pathologies in individuals with dementia, meaning a person with the plaques and tangles associated with Alzheimer's disease is also likely to have signs of other dementias or vascular changes that contribute to a decline in cognitive function.
"That's actually an important discovery because it informs how we might think about preventing and treating dementias," Dr. Smith said.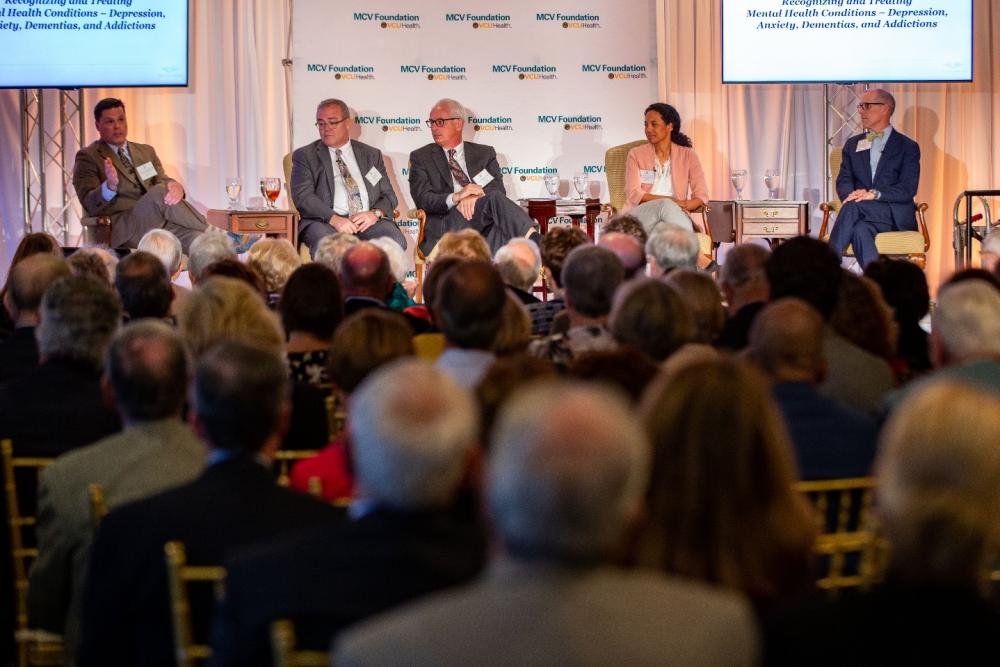 Perhaps the most important advice of the evening came from Rashelle B. Hayes, Ph.D., an associate professor in the Department of Psychiatry who researches how personal behaviors affect disease progression and mortality. Dr. Hayes, a clinical health psychologist, explained how the top 12 causes of death are conditions and disorders that are all worsened by personal behaviors like smoking or having an inactive lifestyle. She offered a positive outlook.
"There's a lot of research that shows that when we help patients change their behavior that we can reduce some of the severity of some of the symptoms, and mortality as well," Dr. Hayes said. From her perspective, Dr. Hayes said that quitting smoking is the best example of behavior change that can dramatically improve one's health outcomes.
When it comes to addiction, Albert J. Arias, M.D., an associate professor of psychiatry, shared his expertise on the topic of precision medicine. He is working on ways to treat addiction disorders, specifically alcohol use disorder, through therapies that combine medicine and an individualized approach.
"We really are on the cusp of some great new discoveries," Dr. Arias said. "We're using new methods as the science evolves and with translational genomics being incorporated into this approach."
The Discovery Series is possible thanks to a dedicated host committee. In addition to Judi, the committee includes Julie Baxter and Paul Dresser, Louise and Bob Canfield, Ginny and Charles Crone, and Jane and Jim Kaplan. Now in its sixth year, the Discovery Series Williamsburg is also a great opportunity to recognize more than 160 members of the Discovery Society, who support the medical care and research highlighted by the series and serve as ambassadors for VCU Health in their community.
Plans are already underway for the next event in 2020. Learn more about the Discovery Series Williamsburg. Learn more about the Discovery Series and watch a full video of the fall 2019 event by clicking here.