MCV Foundation Trustees Honor Individuals Who Have Made an Important Impact on Campus
Each year, our board of trustees honors people who have made significant contributions to the world-class patient care, research and education that VCU Health delivers on the MCV Campus and beyond.
This year, we gathered at the Country Club of Virginia again to celebrate those individuals and the advancements they've helped catalyze.
Our board chair Harry Thalhimer presented the evening's awards and recognitions, saying that the time, resources and connections that people commit to the MCV Campus and VCU Health are provided because of a shared vision of what a great medical enterprise is and can be.
Among those we honor each year are four MCV Foundation award recipients.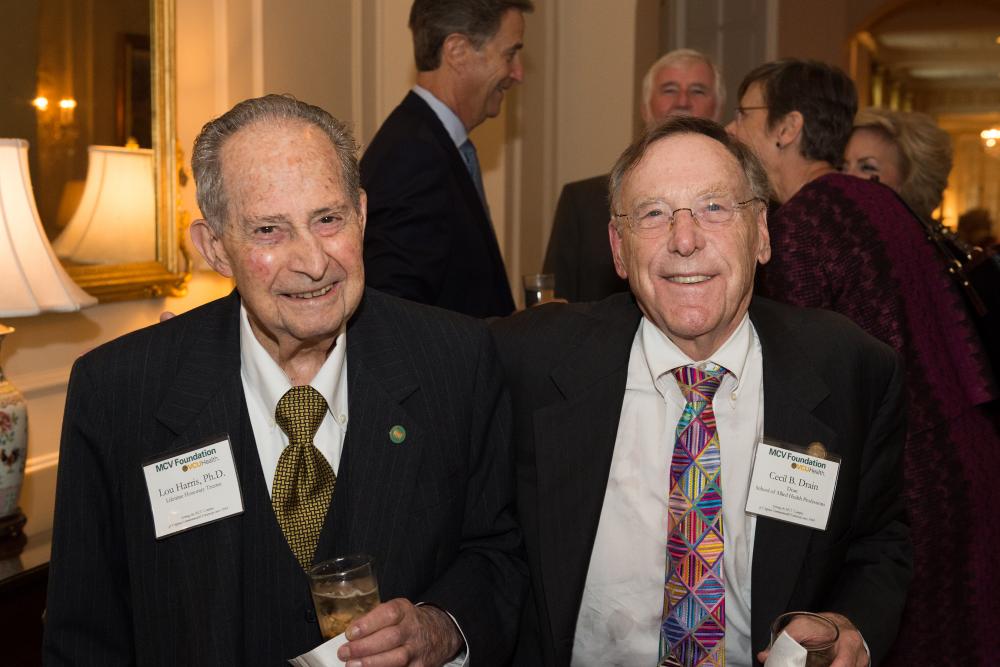 Dean Cecil Drain, Ph.D, received the Robert Irby Award. Established in memory of Robert Irby, M.D., an MCV rheumatologist who was devoted to securing financial support for the MCV Campus, this award is presented to a faculty member who has assisted with major fundraising efforts.  
Having led the College of Health Professions for 21 years, Dean Drain is the senior dean on the MCV Campus. His steadfast contact with donors through the years has aided the college's philanthropic efforts tremendously. He also successfully led efforts to unite the college's various units, which have occupied as many as 13 buildings in the past 45 years, under 154,000-square-foot facility that will open in 2019.
Dean Drain's leadership in bringing multiple departments in the college toward the top of the national rankings has been exemplary. Three of the college's nine programs rank in the top five of their respective disciplines' national rankings while five of the nine rank in the top 20.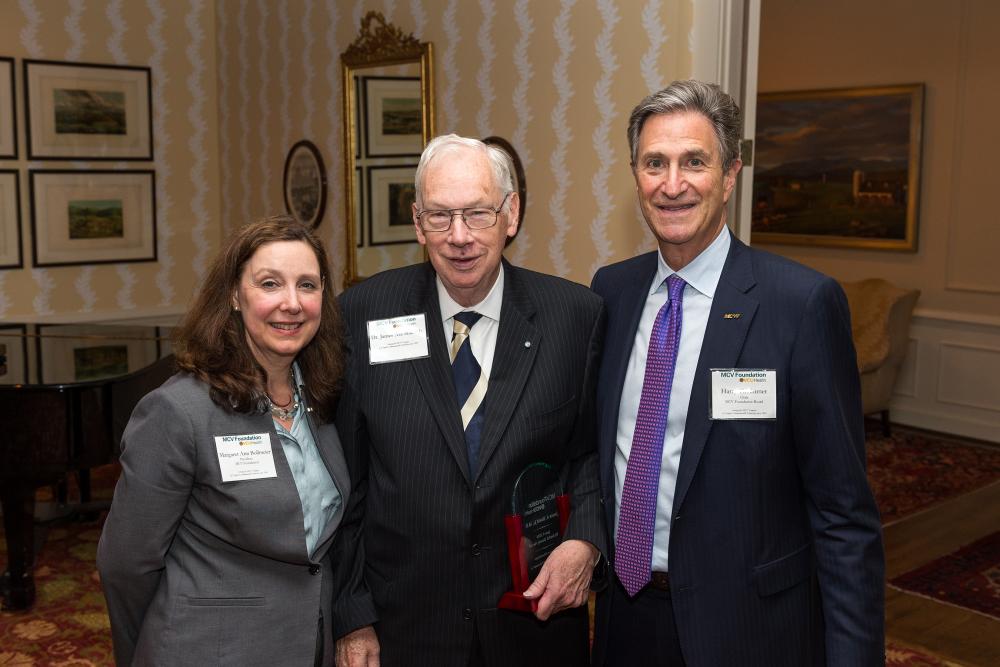 James Shield Jr., M.D., received the Michael B. Dowdy Award. Established in honor of Mickey Dowdy, who served as president of the MCV Foundation from 1993 to 2006, this award recognizes a volunteer who has played a lead role fundraising for the MCV Campus.
Dr. Shield has been a longtime advocate of medical education on the MCV Campus. One of his grateful patients arranged for a $1 million gift to establish the James A. Shield Jr., M.D., Chair in the Department of Psychiatry, and he has been active in raising funds for the Virginia Treatment Center for Children. He also has been instrumental in securing a $400,000 bequest to benefit the departments of Psychiatry and Neurology.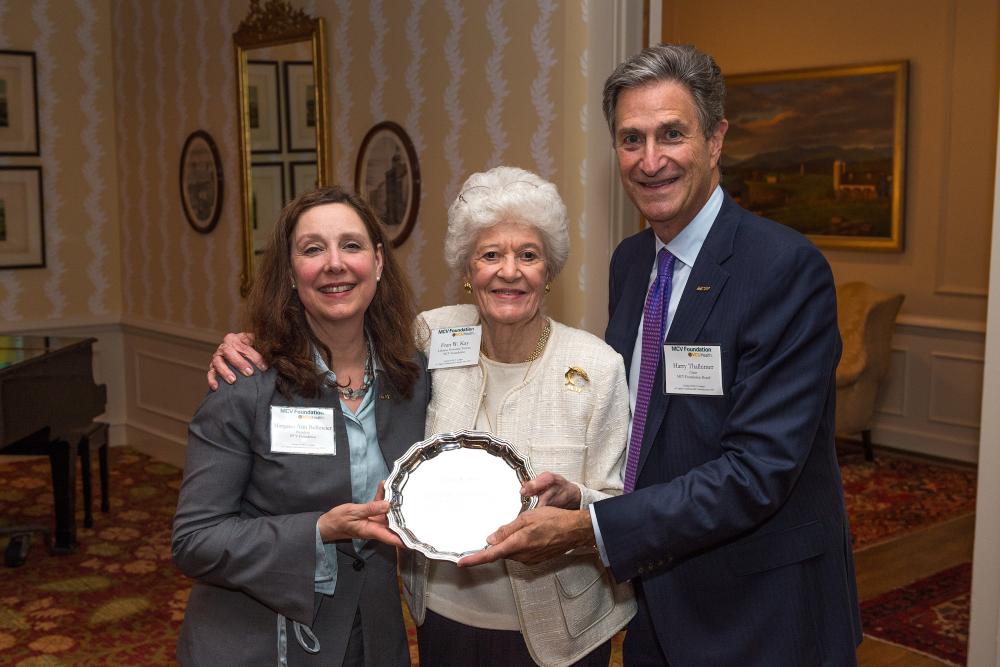 Fran Kay received the Eugene P. Trani MCV Campus Leadership Award. Established in honor of Eugene P. Trani, Ph.D., who served as president of VCU from 1990 to 2009, this award recognizes exceptional dedication and support of the MCV Campus.
A 1959 alumna of the School of Nursing and former nurse administrator at MCV, Fran served as the first female president of the MCV Alumni Association and is one of the namesakes of the MCVAA Hodges-Kay Service Award, named in appreciation of the dedicated service of Fran and Edward Hodges Jr., D.D.S.
In addition to investing her time, Fran has contributed financially to support almost every one of our MCV Campus partners, most notably co-creating and funding the Class of 1959 Endowment to support the School of Nursing's Heritage Room, a mini-museum that celebrates the school's rich history.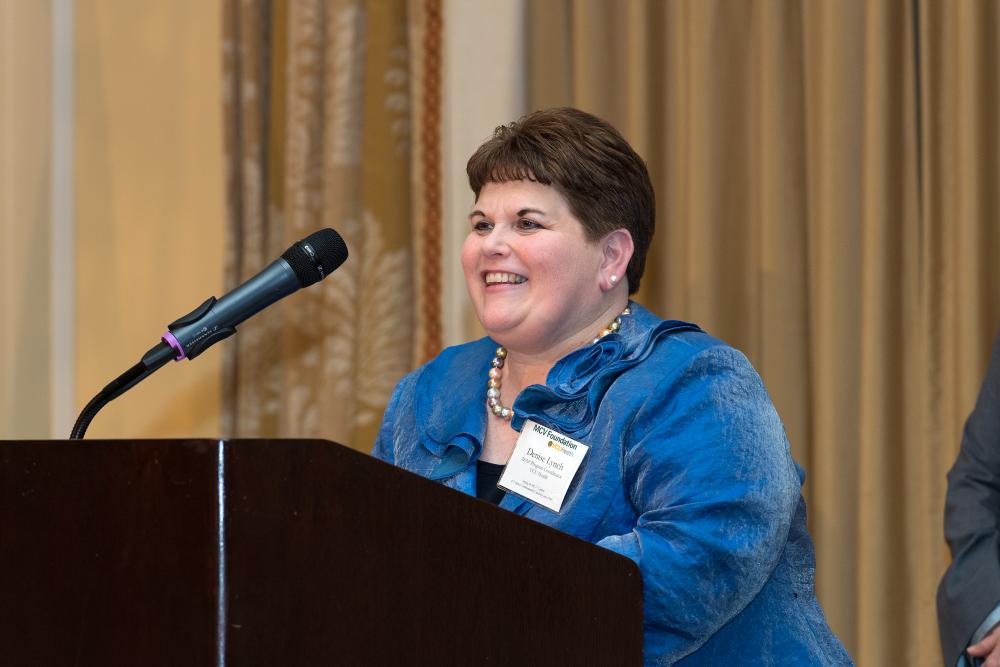 Denise Lynch, RN, received the Jerome F. Strauss Award. Established in honor of Jerry Strauss, M.D., Ph.D., former dean of the School of Medicine, this award is presented to a VCU administrator, faculty or staff member who has demonstrated extraordinary service and stewardship to MCV alumni, donors or other members of the community to support and advance the mission of the MCV Foundation.
Denise provides compassionate care and around-the-clock support to a growing number of patients at VCU Health. As the director of the Access Support and Assistance Program (ASAP), Denise helps anyone who needs assistance navigate the VCU Health system. She often makes the appointment with appropriate physicians or specialists, accompanies patients on visits, meets them at the curb and provides other needed assistance and support. She often works very long days and takes calls in late or early hours. When needed, she rushes to the ER to support patients who call.
We also awarded several former board members lifetime honorary trustee status for their significant contributions over the years and thanked our trustees who rolled off the board.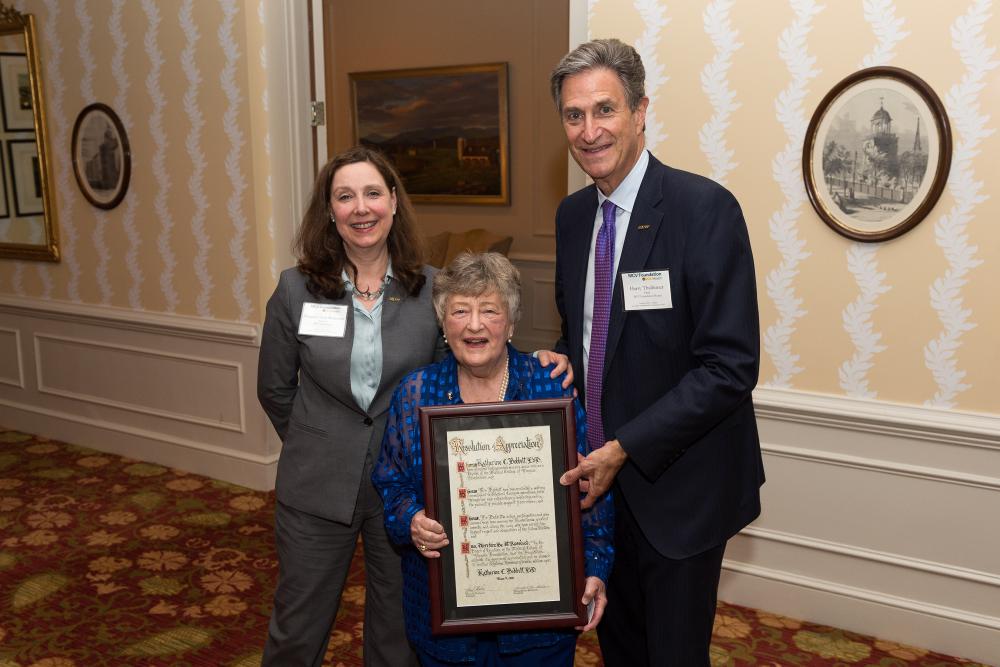 Kathy Bobbitt, Ed.D., served on our board for 25 years. A 1956 graduate of the School of Nursing, Kathy began her career on campus that same year as an ER nurse. Her career here resumed after graduate school when she accepted the position of clinical nurse specialist at MCV Hospitals, and she continued to serve on the faculty at the School of Nursing. She served as associate professor with the Department of Community and Psychiatric Nursing until her retirement in 1992.
Gail Johnson, RN, served on our board for 22 years, the last several of which were as chair and immediate past chair. Harry, her successor as chair, said, "I'm particularly proud of recognizing Gail because she taught me a tremendous amount. Gail was a consummate professional leader — she cares and she's smart. Gail always looked for a solution that was an 'and' solution, and that's something I learned: The solution is not always 'either/or,' but many times involves an 'and.'"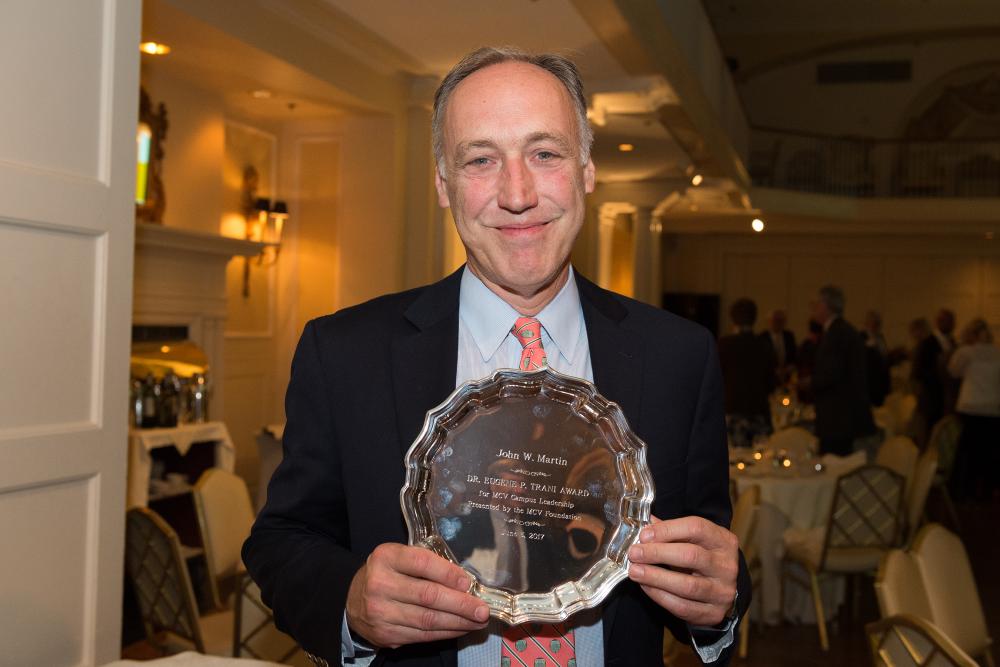 John Martin served on our board for 27 years, chairing the communications committee and playing a key role in our brand refresh and brand research project. He also provided input for the Discovery Series Host Committee and contributed to the program's success by increasing the visibility of VCU Health in the Williamsburg area and beyond. In 2017, he received our Eugene P. Trani MCV Campus Leadership Award.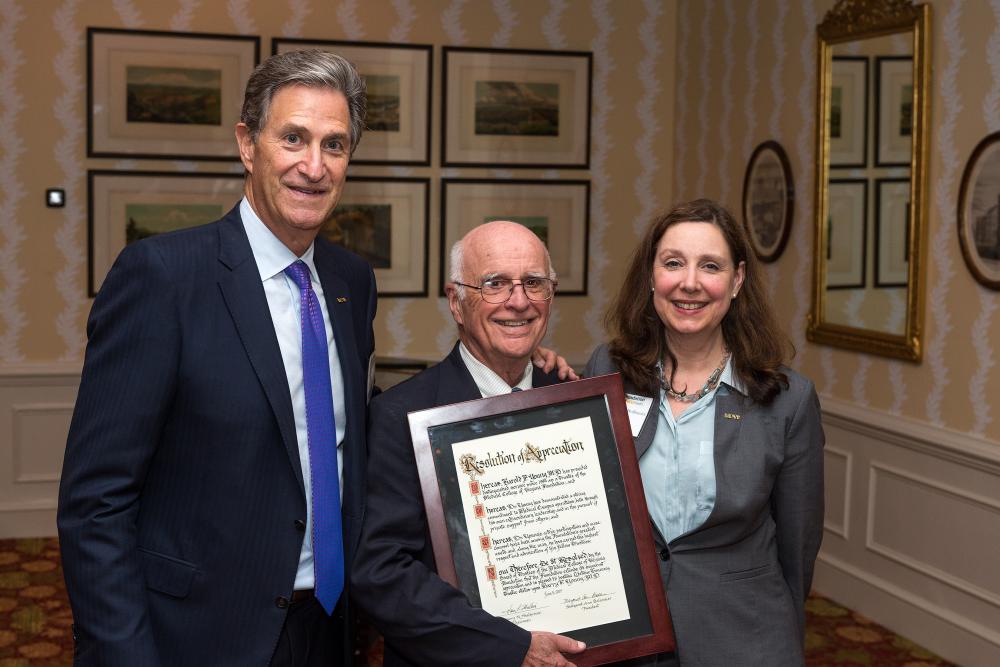 Harry Young, M.D., was awarded lifetime horary trustee status in 2017, but could not attend the event. He did attend this year's event and received a warm reception from those in attendance when we recognized him. 
Dr. Young came to the MCV Campus in 1972, began serving on our board in 1994 and today is professor of neurosurgery and director of the Harold F. Young Neurosurgical Center. In 2014, the VCU School of Medicine opened the McGlothlin Medical Education Center, funded, in part, by a gift of $25 million from the McGlothlin family in honor of Dr. Young's compassionate clinical care and excellence in teaching.
Trustees rolling off the board this year were Judy Collins, RN, WHNP, who served 21 years and chaired the Development Committee; Joe Teefey, who served nine years and chaired the Personnel and Compensation Committee; and Preston Hale, who served 13 years and chaired the Finance and Audit Committee. Judy, Joe and Preston will continue to work with us as part of the Leadership Council, which is in place to enable former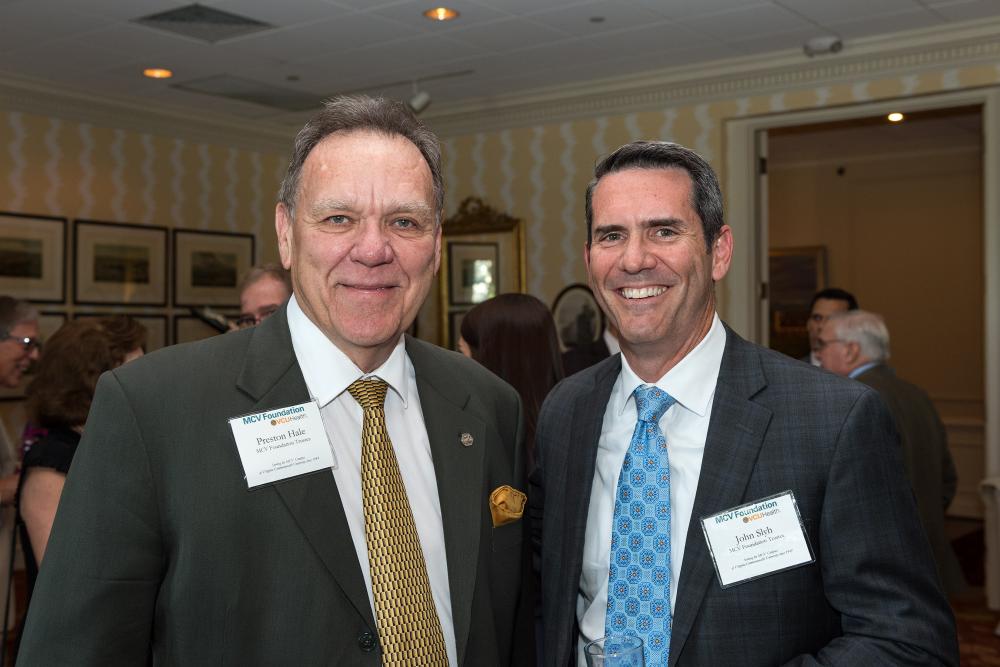 board members to continue to be involved with the foundation.
Finally, we welcomed those who will join our board in the coming year.
Bob Canfield, director of branch development for Ferguson Enterprises, and his wife Louise are members of our Discovery Series Host Committee and Discovery Society.
Brenda Snow, founder and CEO of Snow Companies, is a global leader in bringing strategic, regulatory-compliant, real-life patient stories to direct-to-patient communications initiatives within the life sciences industry.
Michele Romano, M.D., is a retired family practice physician who earned her M.D. from VCU School of Medicine in 1984 and served on VCU Board of Visitors from 2002 to 2010.
If you're interested in supporting and being a part of the life-saving care, research and education that happen on the MCV Campus every day, visit our giving page to learn about the various ways to make contributions across campus.