MCV Foundation Welcomes New Trustees (Part 2 of 2)
Editor's Note: The foundation is excited to welcome eight newly elected trustees in addition to a new representative from the MCV Alumni Association. In this article, we conclude a two-part series with profiles to highlight their expertise and talent. Read Part 1 of the series to learn about the first set of trustees profiled.
***
Organizations fortunate to recruit strong board members have strong results. At the MCV Foundation, we've been exceptionally fortunate.
Our volunteer trustees are chosen for their exemplary leadership in the community and in business, for their professional expertise and for their devotion to our mission. They help develop and direct the vision, policies and goals of the foundation.
At the board's annual June meeting, eight new trustees were elected. We also are excited to welcome a new representative from the MCV Alumni Association.
"Our newest trustees represent a tremendous amount of talent," said Becky Perdue, outgoing chair of the foundation's Governance Committee. "Their collective talent and expertise will help the foundation continue to achieve its goals, and I look forward to working with them."
Our trustees work hard to advance the MCV Campus through efforts to secure philanthropic gifts and commitments in support of VCU Health's mission to provide excellent patient care to all, advance lifesaving research and educate tomorrow's healthcare professionals.
"Identifying and recruiting new members are some of the most rewarding tasks we have as a Governance Committee," said Farhad Aghdami, incoming chair of the foundation's Governance Committee. "Under Becky's leadership, we have worked to build a pipeline of potential trustees that ensures diverse expertise in our volunteer leaders that will benefit the foundation long term."
Below are the remaining stories of the new trustees. A trustee representing the VCU Board of Visitors will be identified at a future date.
MIKE BISCEGLIA
Mike Bisceglia is the president and co-founder of Stauer Watch and Jewelry Company and the president and founder of Metrix Media. He earned his B.A. from The University of Virginia. His board memberships include the Virginia Museum of Fine Arts Foundation, The Powell Center and Connect Network.
A successful entrepreneur, Michael is currently chair of the board of directors for the Virginia Foundation for Public Media (VFPM), formerly the Community Idea Stations. VFPM owns many Virginia PBS and NPR stations and manages a $190 million endowment. Stauer Watch and Jewelry Company, his latest business venture, is one of the largest gemstone dealers in the world. Last year, his company purchased more than 9 million carats of amethyst, 1 million carats of emeralds and 500,000 carats of tanzanite. 
Mike shared he is very interested in helping the MCV Foundation build its financial resources because there is so much good work to do.
"I am enthusiastic to join this board because MCV/ VCU health is such an integral part of the Richmond community," Mike said. "Especially in light of the current health crisis, a top-rated research and teaching hospital is so vital to our ability to handle such an extraordinary challenge." 
What excites him most, he says, is the educational mission the foundation supports: "Training our future doctors, pharmacists, nurses, and administrators is so vital as we have an aging population, but also because we have just started to scratch the surface of what medicine can do."
SHEILA CORCORAN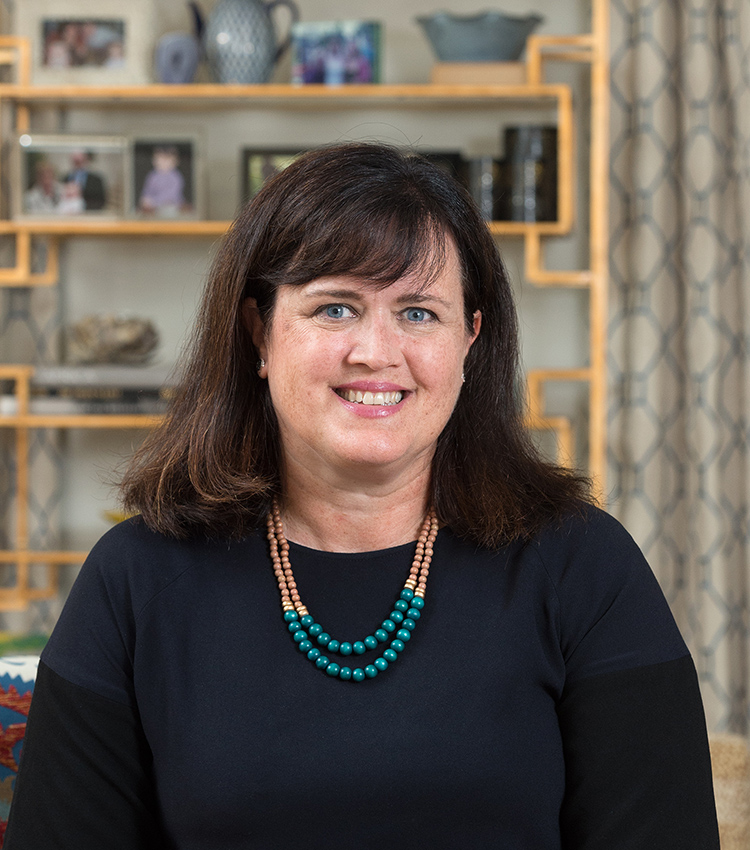 Sheila Corcoran's professional experience spans more than 20 years in finance and asset management. Most recently, she was a partner with Empyrean Capital Partners for 13 years. Prior to that she was a vice president at Goldman Sachs in the equities division for six years and spent four years in the corporate banking division with SunTrust.
She earned a B.S. and M.B.A. at the University of North Carolina at Chapel Hill. She serves as a member of the Virginia529 College Savings Plan's investment advisory committee and is on the board of governors for St. Catherine's School.
Her connection to the MCV Campus starts at home. "My husband is a professor at VCU who collaborates with several professionals on the MCV Campus," Sheila said. "We would not have relocated and remained here without the exceptional people, facilities and culture present at VCU." Sheila says the excellence and the breadth of research happening on the MCV Campus is part of what convinced Sheila and her husband to relocate to the East Coast after positions at other premier institutions.
Sheila says she is impressed with how the foundation supports excellence in research, patient care and education. She believes world-class academic health centers are a critical building block for great communities.
"I hope my background will allow me to help support the foundation's professional team as they manage the foundation's assets in a thoughtful, deliberate, process-based, best-in-class manner," she said.
PAUL CROSTON
Paul Croston is the managing partner of the Richmond and Roanoke offices of KPMG LLP, a global network of professional firms providing audit, tax and advisory services. He received his B.A. in mathematics from the State University of New York at Potsdam and his M.S. in accounting from the University of Virginia.
His earliest memories of the MCV Campus are through the friends and family who have been patients at VCU Health. He has also worked with VCU Massey Cancer Center for more than 12 years as a volunteer and member of the Massey Advisory Board.
What excites Paul the most about serving on the board is the ability to be involved and to help with so many different organizations within VCU Health. "The diversity of healthcare goals and outcomes supported by MCV Foundation creates an exciting foundation for the future," he said. "I am honored to be a small part of that effort."
Paul and his wife Jenn grew up in upstate New York and moved to Virginia when Paul attended the University of Virginia. They have four kids and keep a very active lifestyle. Paul's interests include basketball, golf, triathlons, fitness and hanging out by the firepit.
OSCARLYN ELDER, CFA, CAIA, Ed.D.
Dr. Oscarlyn Elder is Truist's wealth investment platform executive. Her work involves the intersection of high and ultra-high net worth clients' investment experiences, technology, and the experiences of client-facing investment professionals. She has more than 25 years of experience in financial services, including experience in mortgage and retail banking, investment banking, equity research, investment strategy development and portfolio management.
Her first memories of the MCV Campus are the visits her family made to neighbors and family from rural Charlotte County, Va., whose serious health issues meant they were at MCV to receive the best available care.
"I'm a firm believer in innovation and healthcare is such an essential need in our immediate community and beyond," Dr. Elder said. "I'm energized about the opportunity to better understand the great care, research and education happening on the MCV Campus."
She graduated from the University of Richmond, earning both summa cum laude and Phi Beta Kappa honors. Dr. Elder also earned an M.B.A. and the Fuqua Scholar designation from The Fuqua School of Business at Duke University. She is a holder of the Chartered Financial Analyst charter as well as the Chartered Alternatives Investment Analyst charter. She earned a Doctor of Education degree in leadership from Lynchburg College.
Dr. Elder is active as a community volunteer. She currently serves as a board member and on the Executive Committee of the Virginia Council on Economic Education.  She also serves on the board of The Doorways and chairs its investment committee.
"To develop a deeper connection with MCV Foundation and VCU Health through my professional expertise will be incredibly meaningful for me," Dr. Elder said. "Stewardship of the foundation's resources is such a necessary element in ensuring the continued positive impact of MCV and VCU Health."
LOUIS FORMICA, D.D.S.
Dr. Louis Formica is president-elect of the MCV Alumni Association board and serves as the MCVAA representative on the foundation's board. He earned his Doctor of Dental Surgery from the VCU School of Dentistry, where he is an assistant professor and general practice group director. Dr. Formica also is part of the faculty's private practice at VCU Dental Care.
"The MCV Foundation is rooted in service and helps further the missions of VCU Health to grow and expand their caring reach," Dr. Formica said. "I feel humbled to be a member of the foundation board and surrounded by so many great leaders."
Originally from New Jersey, Dr. Formica completed his undergraduate education at NYU and attended Columbia University to earn a master's degree in nutrition with honors. Dr. Formica's background provides a unique lens to assist his patients in identifying and improving both their oral and systemic health, and he has been recognized for his research bridging the fields of nutrition and dentistry by the prestigious Pierre Fauchard Academy and American Dental Association.
"As one of the youngest members of the board I am excited about bringing a unique perspective to engagement and growth," he said.
Dr. Formica's earliest memories of the MCV Campus are driving down Interstate 95 on a cold, rainy day to interview at the School of Dentistry. Looking back, he says he never realized that day would change his life, leading him to a profession, community and city that he loves.