At $104 million, the largest gift in VCU's history lays the foundation for a new liver institute.
Inside leading academic health systems across the nation and world, centers focused on heart disease, cancer and diabetes are commonplace and essential, but what patients don't have access to at most of these leading health systems are multidisciplinary institutes focused on the human body's most unsung organ – the liver.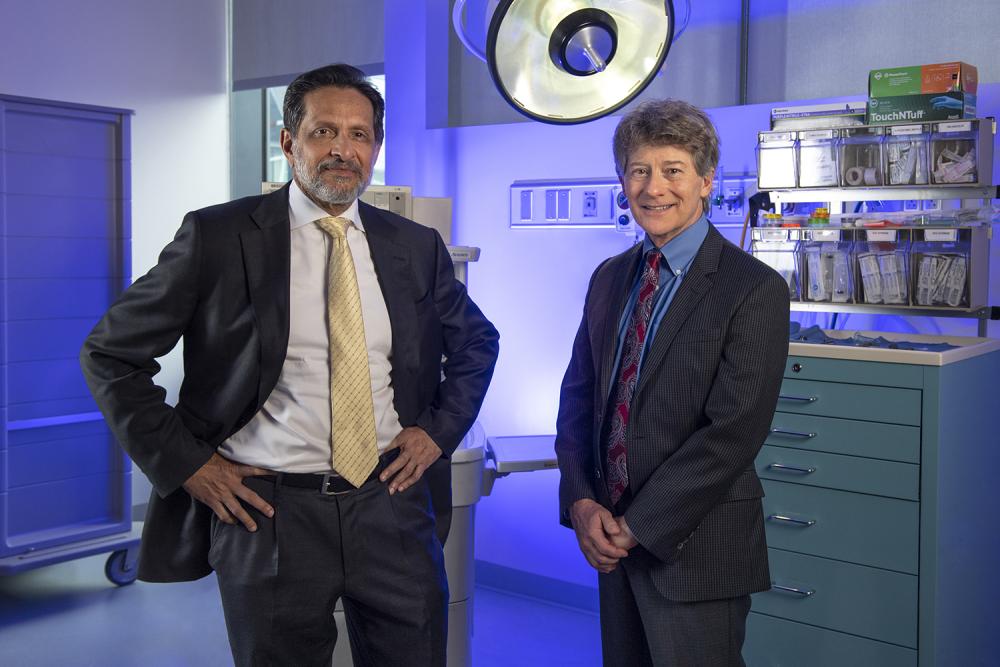 Announced this month, a transformational $104 million dollar gift from the Barbara Brunckhorst Foundation is addressing that international deficit by laying the foundation for the Stravitz-Sanyal Institute for Liver Disease & Metabolic Health. The institute will build on the success of nationally recognized hepatology and liver transplant programs at VCU Health. The MCV Campus and VCU Health have been a beacon of research and care in this field for nearly 50 years.
The gift is the largest in VCU's history, the second largest publicly shared gift in Virginia, and is the largest publicly shared gift for liver research in U.S. history by a factor of four.
With the help of these resources, the Stravitz-Sanyal Institute will fortify VCU Health a global leader in research and education around liver diseases and metabolically driven disorders, and as a model of how to care for patients with these conditions.
"Right now, the only cure for end-stage liver disease is a liver transplant … and nine to 10 people die for every one person who makes it to transplant," said Arun Sanyal, M.D., who serves as the institute's inaugural director and has practiced hepatology at VCU Health for nearly four decades. "Our goal is to seamlessly integrate scientific discovery into clinical care, ultimately improving the health of the people we serve here in Virginia, as well as those suffering from liver disease around the world."
The generous donor helping make this vision a reality knows Dr. Sanyal well. Todd Stravitz, M.D., was a clinical professor, hepatologist and Dr. Sanyal's VCU Health colleague for 30 years.
"Arun is, quite simply, the most recognized liver physician in the world," Dr. Stravitz said. "He will attract the best people because of personal relationships that he's developed over the years all over the world."
Dr. Stravitz said the new institute is greatly needed and will meet various needs because of its focus on such a vital piece in the entire human body's wellbeing.
"The liver is a complicated organ and is responsible for thousands of different reactions," he said. "It plays a role in all of digestion, some hormonal function, and regulatory function whereby all organs fail if the liver isn't working properly. So, we often are driven to the point of having to replace the liver as a form of therapy, but that is not a very attractive treatment."
Dr. Sanyal agrees, and said that pursuing new tools and tactics in the fight against liver disease will be paramount.
"It is urgent that we engage in more research to find better treatments, and we must also educate society about the many causes of liver disease — which cut across every stratum of society — and reduce the stigma," Dr. Sanyal said. "Alcohol is not the only cause of liver disease, but many people don't know this."
A Global Need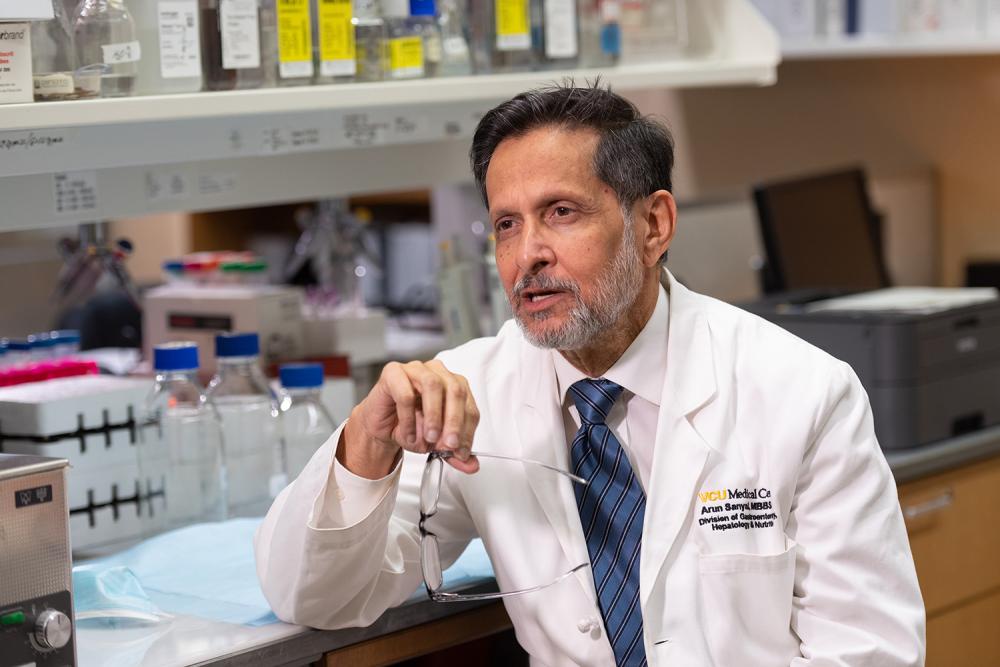 Approximately one out of three adults in the U.S. has excess fat in their liver, and one out of 20 has enough fat that it scars the liver over time, leading to cirrhosis and liver cancer and ultimately causing the liver to shut down.
By better managing liver disease, physicians not only prevent related deaths, but they reduce the ill effects of high blood pressure, diabetes, heart and kidney disease and even Alzheimer's disease.
Left untreated, the buildup of fat in the liver can cause inflammation, scarring (fibrosis) and full-blown cirrhosis, which leaves the liver permanently damaged. Patients typically are diagnosed when the disease is advanced and a transplant is the only option.
In 2021, a national study led by Dr. Sanyal provided the first clear picture of the true rates of outcomes in those with nonalcoholic fatty liver disease and showed that people with advanced liver scarring caused by obesity, diabetes and related disorders are dying of the disease.
Published in The New England Journal of Medicine, the research brings new urgency to tests for liver disease, particularly for those with type 2 diabetes, and creates a road map for future treatments of nonalcoholic fatty liver disease — treatments that could prevent the need for liver transplants.
The Stravitz-Sanyal Institute will enable Dr. Sanyal to build on this and other work by strengthening existing programs that span translational science and develop the infrastructure to support precision medicine approaches.
"By bolstering collaborations with neurosciences, cardiology, critical care, renal disease, infectious disease, endocrinology, psychology, addiction medicine and transplant sciences, the institute will promote research that explores multifaceted aspects of liver disease and its interconnectedness to health, recovery and well-being," said Art Kellermann, M.D., senior vice president for VCU Health Sciences and CEO of VCU Health.
It will also advance VCU Health's ability to care for patients and their families with liver disease and metabolic disorders, said Patricia Sime, M.D., chair of the Department of Internal Medicine.
"The cutting-edge translational research fostered by the institute will enable us to develop new diagnostics, therapies and preventative strategies to relieve the tremendous burden of liver and metabolic disease globally," Dr. Sime said.
The gift also funds two endowed chairs, The Arun J. Sanyal Endowed Professor of Medicine and The Phillip B. Hylemon Endowed Professor of Medicine and Microbiology.
The Power of Philanthropy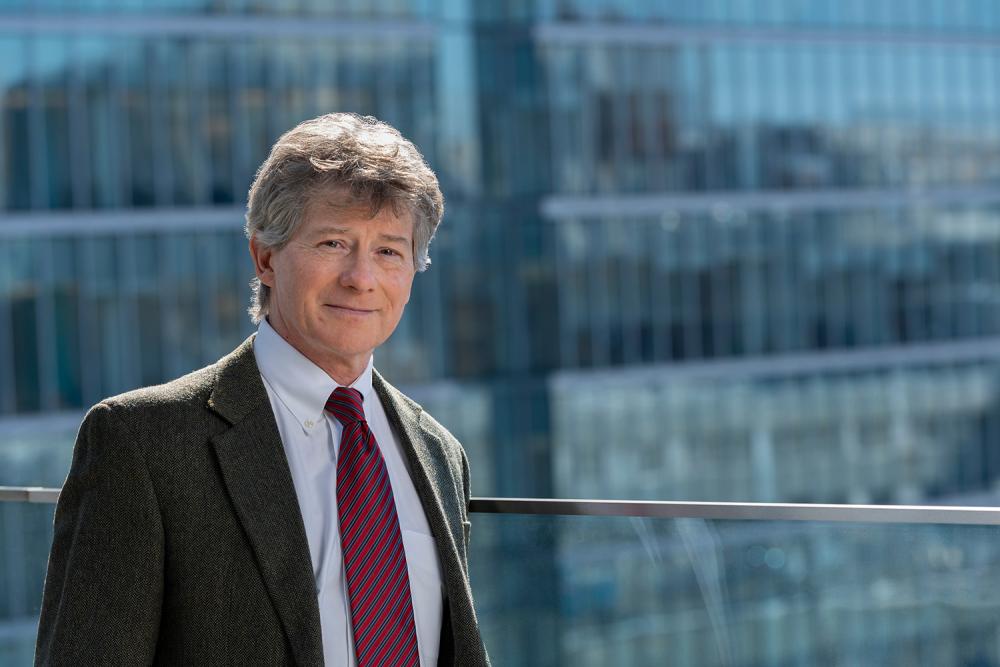 "I want to make sure this institute shines, does good for patients, and that the world benefits from the work that's done here, but I don't take any credit for that," said Dr. Stravitz. "This is my family's gift over generations, and I'm a very lucky guy because I was able to choose what I wanted to do with it."
Margaret Ann Bollmeier, MCV Foundation president and CEO, said that an extraordinary gift like this one can change a field of research.
"We are so excited about the medical breakthroughs this gift will ignite," she said. "There may be a day in which liver transplants are rare and liver disease is treated in completely new ways — and these changes will be the result of passion, vision and philanthropy here on the MCV Campus at VCU Health."
Dr. Stravitz added that choosing where he made a gift was as important as choosing what he wanted to accomplish.
"VCU is a cohesive group of people who want to do the right thing for patients. We all seem to be on the same page and that's a cool feeling — I'm not sure that's the case everywhere," he said. "VCU has never turned a patient away because they couldn't pay — it's never been about the bottom line here. I'm hoping this gift will enable research in the lab and at the patient's bedside, and ultimately, patients will benefit.
Sanyal has no doubt about how patients will benefit.
"Our institute will end up saving hundreds of thousands of lives in this country," he said. "And perhaps millions around the world."
If you are interested in learning about ways to align with and support the Stravitz-Sanyal Institute for Liver Disease & Metabolic Health, contact Priscilla Cash, senior director of development at the School of Medicine, at 804-827-4933 or priscilla.wiggin@vcuhealth.org.