NEXT Magazine: Exploring Innovation at VCU Health
We are proud to have published our third issue of NEXT magazine this February.
We launched the magazine in 2017 to share the incredible, innovative pursuits in patient care, research and education happening every day on the MCV Campus at VCU Health. The exciting advances made by world-class healthcare providers improve and save lives right here in our community, and the impact is felt around the world.
In this issue, the research and innovation we explore range from a lab reimagining how medicines are made around the world, to projects covering a broad spectrum in neurosciences, to a relatively new discipline — cardio-oncology.
Medicines for All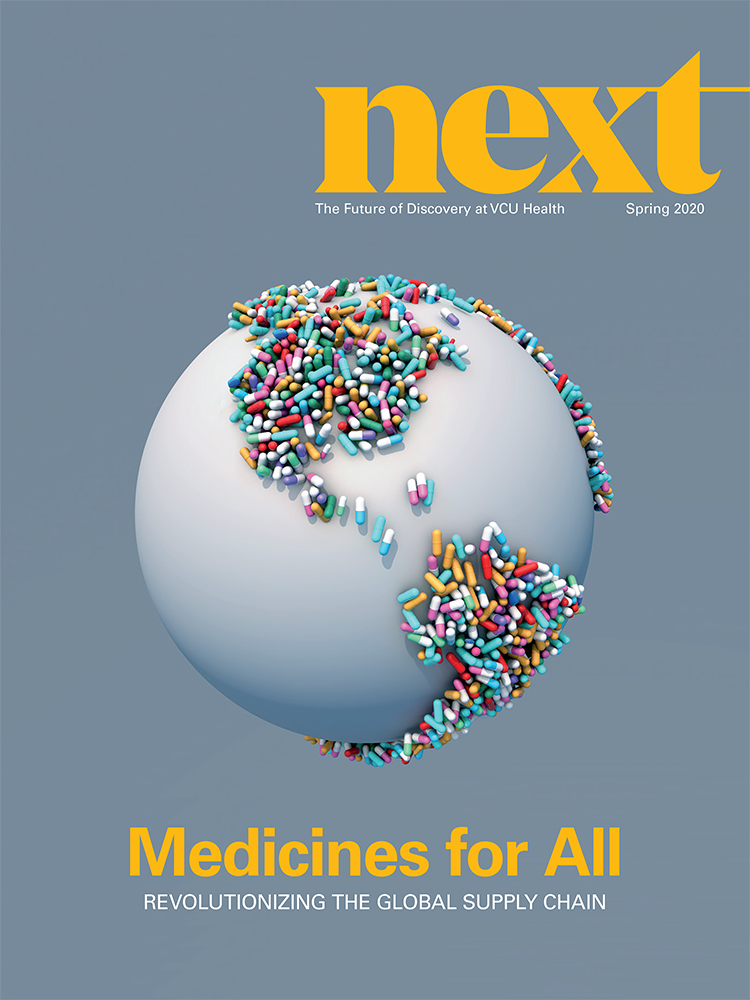 In our cover story, we meet Dr. Frank Gupton, a former pharmaceutical industry executive who leads the Medicines for All Institute at VCU. His lab examines commercial drug manufacturing processes and makes them cheaper and more efficient, then passes the savings on to patients around the world. The new processes are securing drug supply chains and improving human health across the globe.
Neuroscience
In 2013, the Departments of Defense and Veterans Affairs awarded VCU a $62.2 million grand to lead the Chronic Effects of Neurotrauma Consortium (CENC). And this fall, the university received another $50 million to pursue the earlier research through the Long-term Impact of Military-relevant Brain Injury Consortium (LIMBIC), which will focus on two epidemiologic studies to learn about the long-term impacts of concussions on service members and veterans. This issue of NEXT explores the research that is so critical to helping our military heroes recover after serving our nation.
We also explore the ways in which breakthroughs for treating Alzheimer's disease may rest in novel compounds that stop inflammation responses in the brain's nerve tissues. Emerging research suggests that chronic inflammation may be linked to the buildup of cellular debris that causes neurological dysfunction in Alzheimer's patients, so disrupting this inflammation could yield significant results.
Another neurological disease, Parkinson's, often presents a symptom known as "freezing of gait" that for a time completely stops a person's ability to move forward. In this issue of NEXT we talk with a researcher who is using vibration to help people beat this symptom.
A condition that isn't quite as well known as Alzheimer's or Parkinson's is anosmia, which is the complete loss of a person's sense of smell. NEXT readers will learn about two researchers on the MCV Campus who are working to bypass damage caused by head trauma to stimulate the nervous system and restore the sense of smell.
Cardio-oncology
As cancer treatments become more effective, a new challenge has begun to present itself in recent years. While the treatments are effective at beating cancer, they can be harmful to cardiac function. This issue of NEXT explores research in cardio-oncology, a relatively new specialty that has emerged to address the cardiovascular conditions in those being treated for cancer.
This level of research and development requires significant funding to bring ideas from the bench to the bedside. VCU Health is fortunate to garner public and private research awards, and philanthropic funding is playing an increasingly important role, especially in moving early stage research projects forward. In fiscal year 2019, the MCV Campus health science schools and college received $179.9 million in new research awards, raising the total MCV Campus sponsored research amount to $683.7 million.
We hope you enjoy learning about the innovative work being accomplished at VCU Health and feel inspired to join our community and be a part of the next great discovery.
If you would like to view past issues online, please click here. If you aren't on our mailing list and would like to be added to receive future issues, please subscribe here.