From One Killer to Another
This summer, U.S. News & World Report recognized VCU Medical Center as the No. 1 hospital in the Richmond metro area for the 10th year in a row and the No. 2 hospital in Virginia.
Part of the medical center's ranking was supported by its prestige in cardiology and heart surgery, which ranked best in Virginia. While VCU Pauley Heart Center offers the full spectrum of clinical cardiac services, it also is a national leader in research. The MCV Foundation highlighted some of that research in its latest issue of NEXT magazine. Excerpts are shared below, and the full article can be found at https://www.mcvfoundation.org/news/publications/next/medicines-all. 
---
After battling and beating the second leading killer on Earth, what could be more demoralizing and daunting than going right into a fight with the leading killer on Earth?
This is the reality for a growing number of people who survive cancer — the No. 2 cause of death on the planet — because, as a result of their treatment, many face cardiovascular disease — the No. 1 cause of death on the planet.
As cancer therapies become much more successful, survivors are experiencing this series of events due in part to traditional chemotherapy, radiation therapy, immunotherapy, transplantation therapy and endocrine modification therapies having adverse effects on the heart and the blood vessels.
One remarkable example that illustrates this phenomenon has to do with women who are battling breast cancer. Studies now indicate that the leading cause of death among those women is actually not breast cancer. It is heart disease.
To address cardiovascular conditions in those being treated for cancer, a relatively new specialty — cardio-oncology — has emerged to investigate and preserve heart health among cancer patients. A top researcher in the field is Greg Hundley, M.D., who graduated from the VCU School of Medicine in 1988, went on to the University of Texas Southwestern Medical Center and Wake Forest Baptist Medical Center, then returned to the MCV Campus in 2018 to serve as director of the Pauley Heart Center.
Dr. Hundley uses magnetic resonance imaging (MRI) in the clinic and in his research to help measure outcomes in four ongoing or recently completed studies, described below, focusing on cardiovascular diseases that are accelerated or newly developed as a result of having cancer or receiving treatment for cancer.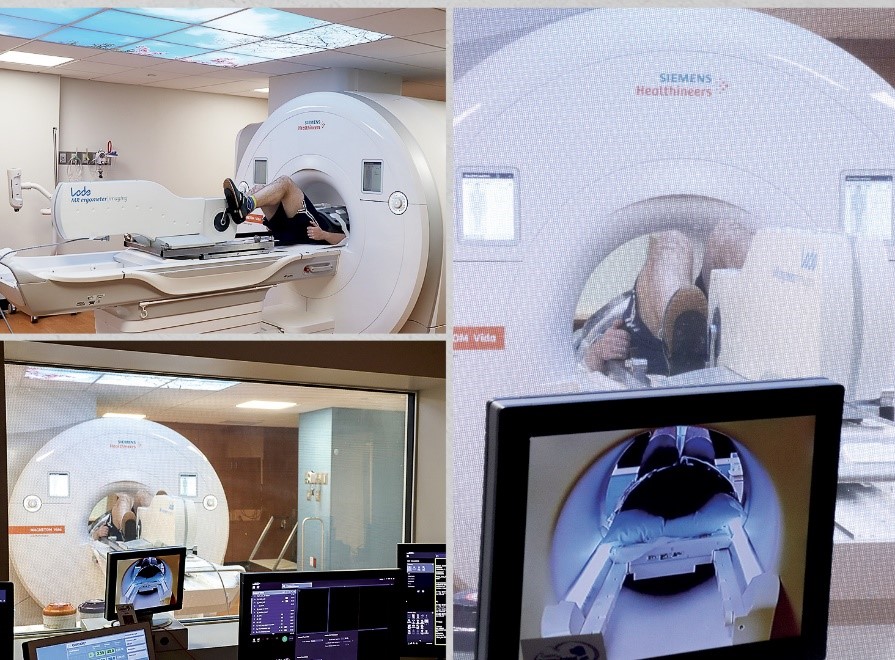 DETECT
Dr. Hundley's Detect study was funded by the NIH and ended last fall. It involved women with breast cancer and both women and men with lymphoma, exploring whether cardiovascular magnetic resonance imaging (CMR) could identify subclinical cardiac disease in patients receiving potentially cardiotoxic cancer treatment regimens.
Subclinical disease is not yet detectable by the usual tests, but diagnosis in this stage can be critical for initiation of early treatment to improve quality of life and survival.
PREVENT
Prevent is a 24-site placebo-controlled, double-blind clinical trial funded by both the Heart, Lung and Blood Institute and the National Cancer Institute at the NIH. It is examining whether receipt of a statin during breast cancer treatment reduces heart and vascular dysfunction.
Statin therapies are used today to lower cholesterol, but they also have pleiotropic effects, meaning they reduce systemic inflammation, a condition that contributes to heart dysfunction after cancer treatment.
UPBEAT
Another problem for women who are treated for cancer relates to the development of fatigue, which occurs in about one-third of women undergoing treatment. In one-third of that one-third, women don't go back to work, and they may experience unwanted changes in their family units, including divorce, as a result.
"It's unrelenting, it never goes away," Dr. Hundley said. "And we don't understand why that fatigue is developing. What better than to perform a noninvasive imaging modality that looks at multiple aspects of your body — your heart function, your blood vessel function, your body composition — to try to gain some understanding about the precipitating factors of that fatigue?"
PALS
The Physical Activity in Lymphoma Study, or PALS, is Dr. Hundley's newest study, and is the project in which he is approaching cardio-oncology with the most unique lens.
As care providers and researchers learn how adverse heart conditions develop during cancer treatment, they're looking at many ways to approach the issue. The Prevent study, for example, is investigating a statin therapy, and studies around the world are looking at other heart failure therapies in the form of administering pills. PALS is quite different.
"We've noticed in cancer survivors, after their treatment, if we can get them exercising, they tend to do better," Dr. Hundley said. "So, one thing we might consider, which is a total paradigm shift in medicine, is to actually get people to start exercising during their cancer treatment."
---
If you are interested in helping the Pauley Heart Center continue to utilize the best resources and technology available, which enable preeminent patient care, research and education here in Central Virginia, please contact Carrie Mills, senior major gifts officer at VCU Health, at carrie.r.mills@vcuhealth.org or 804-828-0423.