Pauley Gift is Charting a Future for Heart Arrhythmia Treatment
The Pauley Family Foundation has once again made an investment to fortify VCU Health as a national leader in cardiac care.
The foundation has announced a $5 million gift to the Pauley Heart Center that will provide resources to research, diagnose and treat atrial fibrillation and ventricular tachycardia, which are two types of irregular heart rhythms.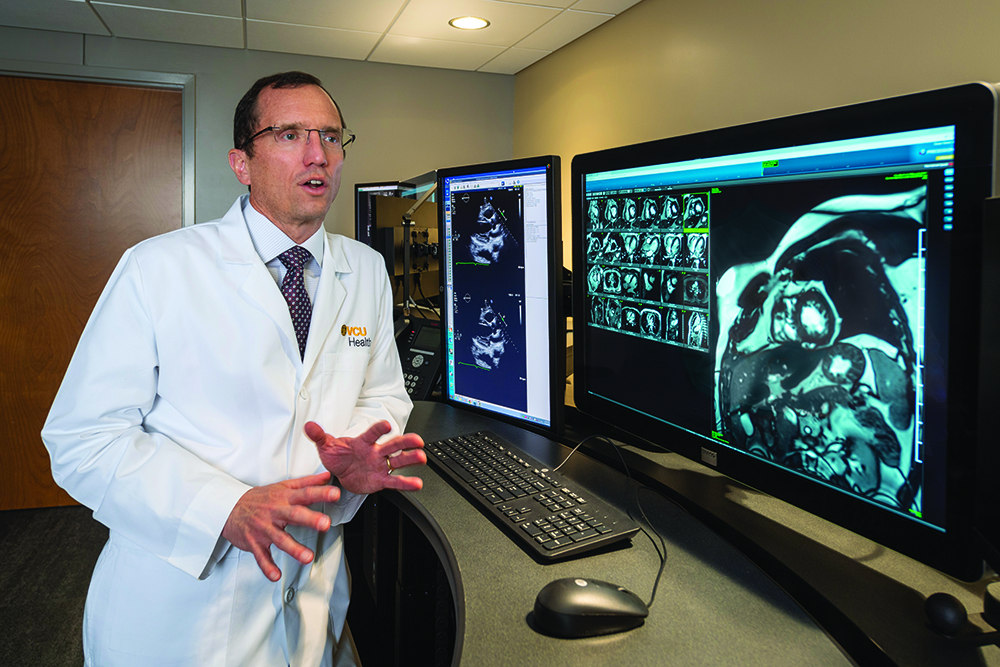 "The gift will fund the equipment necessary to diagnose and treat arrhythmia disorders, one of the major adverse consequences of cardiovascular disease," said Greg Hundley, M.D., director of the center.
These rhythm disturbances increase mortality, reduce quality of life and limit a person's ability to perform everyday activities. As the population ages, atrial fibrillation is increasingly common.
"With the growing number of patients worldwide who develop atrial fibrillation, the gift from the Pauley family will help us work to develop new and more precise methods of mapping the heart to better identify and destroy the circuits causing atrial fibrillation," said Kenneth Ellenbogen, M.D., the Martha M. and Harold W. Kimmerling, M.D., Chair of Cardiology.
Under Dr. Ellenbogen's direction, VCU Health has gained international recognition in managing irregular harmful heart rhythms. To ensure the health system continues providing the best possible care and producing industry-leading research, Dr. Ellenbogen has created a four-component plan to develop new technology, select patients in need of arrhythmia interventions and procedures, perform advanced electrophysiology procedures to cure adverse rhythms, and monitor the efficacy of these procedures in a physician offices.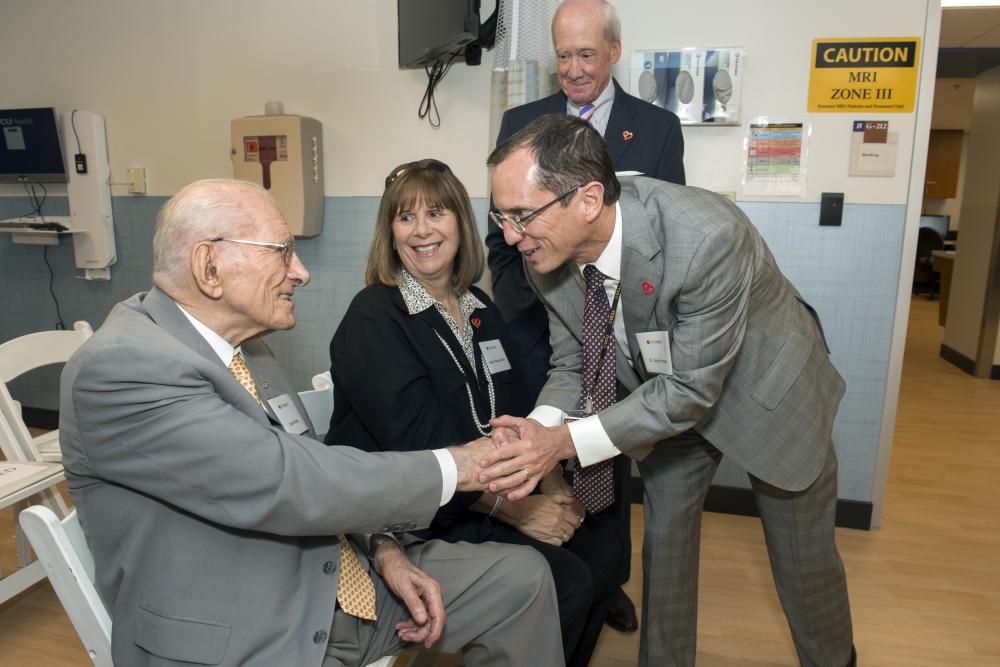 The new funds from the Pauley family will help expand VCU Health imaging capabilities into the field of electrophysiology, Dr. Hundley said. New imaging devices will allow physicians to see precisely where — and most importantly, why — electrical issues in the heart are originating so they can be most accurately ablated or defibrillated.
The gift also plans to fund a research operating room in the Cottrell Surgical Innovation Suite and outfit the Pauley Heart Center Imaging Clinic with an advanced cardiac MRI scanner and CT scanner, expanding non-ionizing radiation (or non X-ray) imaging capabilities. The ability to provide cardiac imaging to patients with implanted devices will allow VCU Health to more efficiently and effectively diagnose and treat diseases like atherosclerosis, cardiomyopathy, heart failure, aorta aneurysm, heart valve disease and cardiac tumors.
In 2016, the Pauley Family Foundation helped purchase the imaging center's first 3T MRI scanner, which has proven to be an invaluable investment. Thanks to the scanner, Pauley has increased the number of cardiac MRIs by 95% in the first year and prevented at least 87 heart attacks. Additionally, five researchers were recruited to develop and test innovations toward management of patients with coronary heart disease and heart failure.    
Gifts from donors like the Pauley family and philanthropy at all levels of giving are critical in keeping the best infrastructure and tools available here in Central Virginia at VCU Health. If you would like to learn more about how to support patient care, research or education on the MCV Campus at VCU Health, visit our giving page.
To learn how Dr. Hundley is using advanced imaging techniques to help improve and save lives, click the image below and flip to page 16.